Our family's day in New York City – touring the Guggenheim, attending a Broadway show and dining at The Stardust Cafe.
Just as predicted, the weather in New York City today left a lot to be desired.  Temperatures hovered just above freezing and we encountered rain, snow, sleet and hail over the course of the day.  We had already planned to spend the afternoon at the theatre so we only needed an indoor diversion for the morning.
We decided to head to the Upper East Side to the Guggenheim Museum on Fifth Avenue at 89th.  This New York City landmark was designed by American architect Frank Lloyd Wright and completed in 1959.  The museum is home to one of the world's finest collections of modern and contemporary art.  Ascending the rotunda toward the dome is a very cool experience.  Emma liked the impressionist paintings and was quite taken by Kandinsky as well.  Katie announced that the building was cool but she wasn't interested in being at an art gallery today (I think she was distracted by our afternoon plans).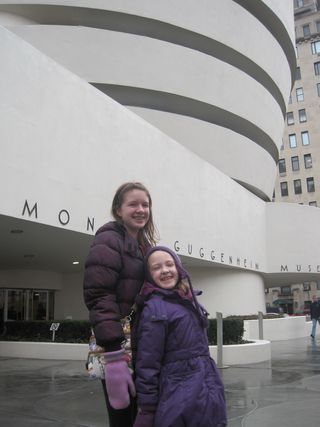 Katie and Emma outside The Guggenheim
In the afternoon, my husband and Emma went to Wicked while Katie and I went to see Daniel Radcliffe in How to Succeed in Business Without Really Trying.  How to Succeed in Business was great fun.  Daniel proved himself to be a very talented singer, dancer and comedy actor and brought the enthusiastic audience to its feet in a standing ovation at the end of the show.  We were fifth row centre and Katie was thrilled that we were so close to Daniel Radcliffe that we could see his twinkling blue eyes.  After the show we stood with a crowd outside the stage door, enduring hail and rain only to learn that no one would be coming out to sign programs because of the weather – the only disappointment of the day.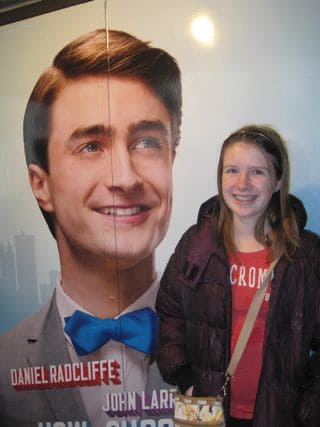 Katie outside "How to Succeed in Business Without Really Trying"
We met J.A. and Emma for dinner at Ellen's Stardust Diner (at Broadway and 51st), a kitschy 50s diner where the waitstaff entertain by belting out show tunes, oldies and pop songs.  Apparently 2 of the waiters had recently received golden tickets and advanced to Hollywood on American Idol.  The food was nothing special but the singing waiters were a lot of fun.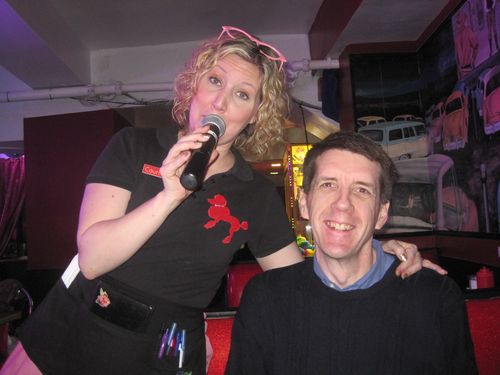 A singing waiter at Ellen's Stardust Cafe
Despite the bad weather, it was a great day in New York City and we still have three full days to go! 
Related Link
Have you liked our Facebook page yet? I post articles from the blog there as well as photo albums from our travels and other travel news. Or, if you prefer, you can subscribe to the free RSS feed or sign up for an email subscription to keep up-to-date on our travel adventures.