A day trip into Toronto for a show and dinner at the CN Tower.
We didn't go away for the long weekend – the ostensible reason being that Katie has exams starting this coming week and she was going to need to study all weekend.  Instead we planned a day out in the city starting off with some culture and finishing with one of Toronto's tallest and most popular tourist attractions.
First off was a matinee performance of the hit show Billy Elliot at the Canon Theatre on Yonge Street.  The show was brilliant!  It was the debut performance for the young actor playing Billy and he did an incredible job.  The dancing in the show is amazing – particularly Billy's Angry Dance and Electricity.  Emma studies ballet and also started tap dance this year and she would love to be able to tap as effortlessly as the boys in the show.  The enthusiastic audience was brought to its feet more than once in appreciation of the wonderful performances.  It is definitely a show that is worthy of the praise that it has been receiving.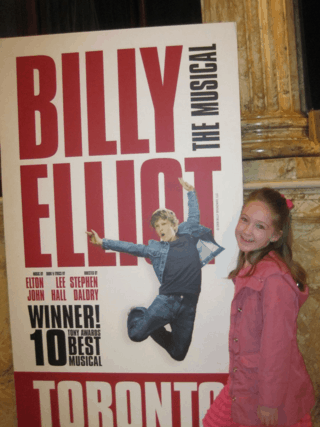 Emma at Billy Elliot (playing at the Canon Theatre)
After the play we walked to the CN Tower where we had dinner reservations at the revolving restaurant 360°.  The elevator ride up takes a mere 61 seconds and we were soon seated at our table next to the window looking out at the city of Toronto and beyond.  It takes about 70 minutes for the restaurant to complete one revolution affording the diners views of the harbour front, the islands and the city itself.  Dinner was fine but the amazing view is the star attraction.  Emma was giddy with excitement as this was her first time at the CN Tower.  After dinner we went to the observation deck to check out the views from there (it was a bit of a hazy evening so the view was limited) and to walk on the glass floor.  The glass floor is the one thing that makes me feel a bit queasy about being 116 stories off the ground, however, it seems to be a highlight for just about everyone else.  A trip down the elevator and an exit through the gift shop and we were done for the day.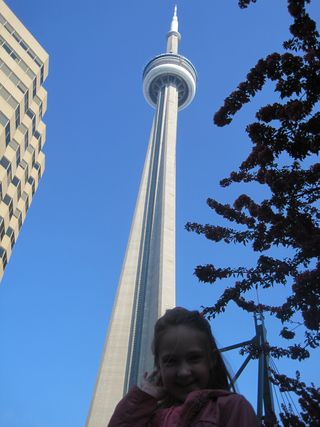 Attempting to get a photo with the CN Tower in the background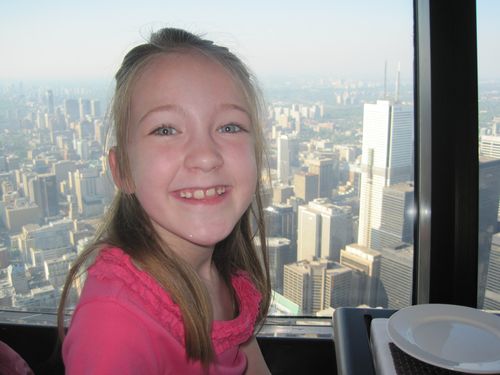 Dinner in the revolving restaurant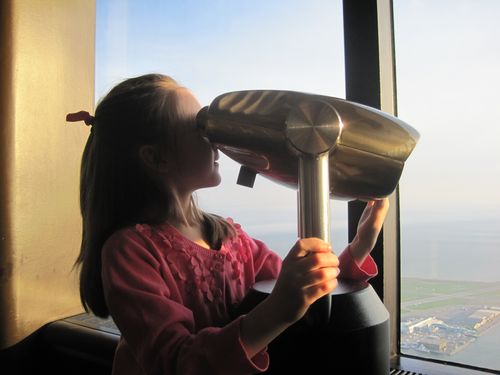 Emma on the Observation Deck of the CN Tower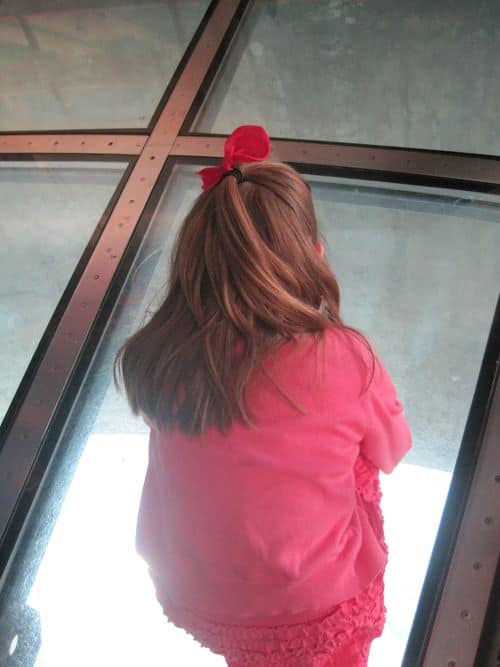 Emma checking out the view from the glass floor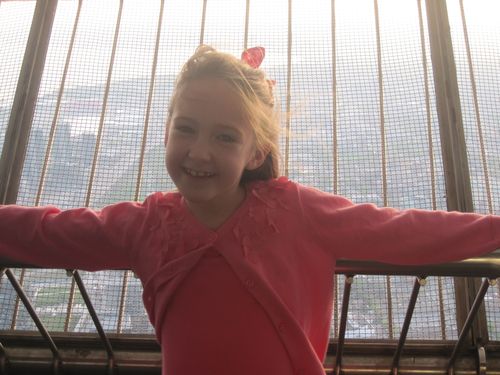 Emma on the Outside Observation Deck
It was a great family day out in Toronto and today Katie is back to studying – or at least she says she is!!
Related Links