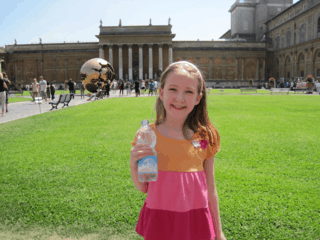 This summer our family will be in Rome for three days in August prior to a Mediterranean cruise.  After a great deal of deliberation I have decided to engage the services of Context Travel (www.contexttravel.com) for a private guided tour of the Vatican.   
Context Travel is a company that provides walking seminars in 14 cities around the world (Rome, Florence, Venice, Naples, Paris, London, Madrid, Barcelona, Berlin, Athens, Istanbul, New York, Philadelphia and Boston).  On it's website the company describes itself as "an in-depth alternative to traditional tours" with walks conducted by a network of architects, historians, art historians, and other specialists.  Context Travel's walking tours are highly recommended by a number of industry professionals, including Pauline Frommer, but what I found most appealing is that they have a Family Program which recognizes that children learn differently from adults.  The family tours were designed by museum educators and are conducted by docents who have been specifically trained in teaching children and who are experienced in getting the whole family involved in a collective learning experience.
Our private walking tour of the Vatican will be 3 hours in length and will begin at 2pm when the museums are traditionally not as crowded.  It will begin with a general introduction to the history of the Vatican and will be followed by a visit to the museums and an interactive seminar on some of the paintings in the Pinacoteca picture gallery focussing on Da Vinci and Raphael.  The docent will also give a primer on the Sistine Chapel before we enter it and will continue with a general discussion of art, the Church and Rome.  The tour will end at St. Peter's Basilica which we can then tour on our own. 
The Vatican is of great cultural significance but definitely not kid-friendly so I recognize that I am taking a risk in attempting to tour it with my children (particularly Emma, who will have just turned 8).  I feel that I would be disappointed, however, if we went to Rome and did not visit the Vatican so we are going to give it a try.  I'm hoping that with the proper preparation ahead of time and with a family-friendly guide that it can, at the very least, be a positive learning experience that will make a lasting impression on all members of our family.  Failing that, it is only three hours and I can promise a gelato break immediately after for everyone who refrains from whining during the tour!
Related Links
Touring the Vatican with Context Travel
9 Tips For Taking Kids to an Art Museum
Have you liked our Facebook page yet? I post articles from the blog there as well as photo albums from our travels and other travel news. Or, if you prefer, you can subscribe to the free RSS feed or sign up for an email subscription to keep up-to-date on our travel adventures.