On the final day of our Mediterranean cruise this summer we will be in the port of Naples where there are more activities to choose from than any cruiser can possibly do in one day.  The most popular activities are excursions to the ancient city of Pompeii, drives on the Amalfi Coast, treks to the top of Mount Vesuvius, boat trips to the island of Capri and tours of the city of Naples itself.
We decided quite some time ago that our priority for this port of call would be touring the ruins of Pompeii.  Both of my kids have read about Pompeii at one time or another and have expressed a desire to see the ruins.  I agreed that it is crucial that we see Pompeii because of its historical significance.  We are going to be there in the heat of August so I think that the duration of our visit will, realistically, be no longer than 2-3 hours.  We are in port from 7am – 6:30pm so that leaves plenty of time for another activity.  My second choice would be to drive the scenic Amalfi Coast from Sorrento to Positano, however, the more I thought about it the more I became convinced that it wasn't the best choice for our family.  This will be the last day of a port-intensive cruise and I feel certain that Katie and Emma will be exhausted by then and not particularly interested in the spectacular scenery of the coastal drive.  So a compromise had to be made.           
After a great deal of consideration, I have now booked a private tour with Rome in Limo, company which is highly recommended by fellow cruisers on the forums at Cruise Critic.   The tour that I have selected is a "kid-friendly excursion" which is designed for families with children of all ages.   We have combined aspects of two separate tours in order to get the activities that we want for our day in Naples.  Our driver/guide is going to pick us up at the port of Naples around 8:30 in the morning and drive us to Pompeii.  We have also requested a private licensed guide to escort us around the ruins.  After a tour of Pompeii, which is expected to last about 2 hours, our driver will then transport us to the picturesque coastal village of Sorrento where we will be taken to a restaurant for a pizza cooking class.  The pizza will be our lunch and then we will have the rest of the afternoon to explore Sorrento before our driver returns us to our ship.
I am hoping that having a more relaxing day for the last day of the cruise will ensure that everyone heads home the following day with happy memories from our two weeks in the Mediterranean.  The Amalfi Coast will just have to wait for another trip!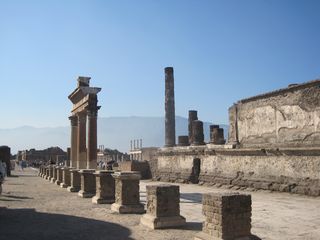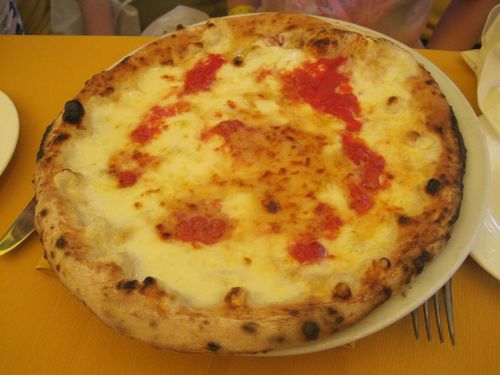 Related Links
Have you liked our Facebook page yet? I post articles from the blog there as well as photo albums from our travels and other travel news. Or, if you prefer, you can subscribe to the free RSS feed or sign up for an email subscription to keep up-to-date on our travel adventures.