I am participating in the Tripbase 7 Links project that is intended to resurrect old blog posts and provide them with the recognition that they deserve.  Once a blog receives a nomination for the project then the blogger publishes his/her links for seven specified categories and then nominates up to five more bloggers to take part in the project.  As my blog is only slightly more than four months old, I wasn't sure that I should take part in a project designed to provide a retrospective look at a blog.  Upon reflection, however, I decided that it can never hurt to examine your work and determine what is working and what isn't – the 7 Links project is a perfect opportunity for me to do that.  A big thank you to Jessica from Suitcases and Sippycups (a delightful blog written by a mom who travels with four young boys) for my nomination.   
Most Beautiful Post -  Being a biased mom, I always think that photos of my girls are beautiful but I did get some agreement on this one.  Worn Out in Provence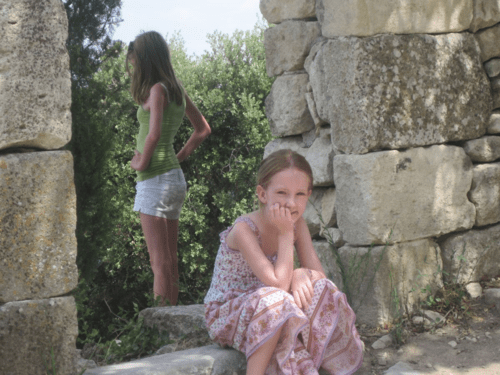 Most Popular Post – Without a doubt, my most popular post has been London Taxi Tours – Harry Potter about a 13 hour tour that our family took from London to Stonehenge, Lacock and Oxford to see places where the Harry Potter films had been set.  Who would have thought that my daughter's obsession with Harry Potter would gain me so much blog traffic??
Most Controversial Post – I didn't really set out to be controversial but I did have a little voice in the back of my head telling me that there might be people who thought I had made a big mistake letting my teenage daughter use her cellphone while vacationing at Lake Rosseau and I pressed publish anyway.  You Can Take a Teen to the Lake, But You Can't Make Her Swim  The prevalence of electronics in our children's lives definitely arouses strong feelings in parents but also a great deal of understanding about how hard it is to fight it sometimes.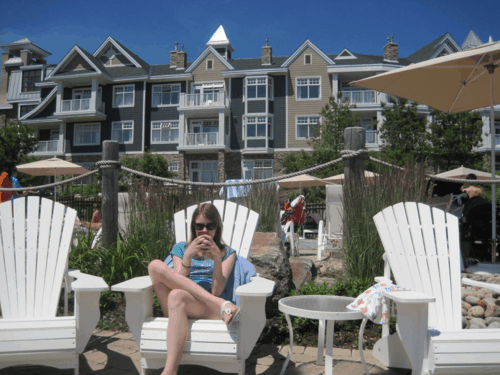 Most Helpful – I believe that my most helpful post, in combination with the one above, was 5 Tips for Traveling with a Teenager.  There may not be any earth-shattering new information in this post, however, I think that it's helpful just to let parents know that travel with teenagers is still a possibility – it just has to be planned as carefully as travel with toddlers and it doesn't always turn out as planned.
A Post Whose Success Surprised You – The post whose success most surprised me is one that I wrote quite quickly after an afternoon spent in downtown Toronto with my daughter and a friend of hers standing outside the Canadian premiere of Harry Potter and the Deathly Hallows – Part 2.  At the Corner of Harry Potter Blvd. and Hogwarts Way  I guess I shouldn't have been surprised given the popularity of the post about our Harry Potter tour in London but I never expected that there would be so many people interested in the events of that day.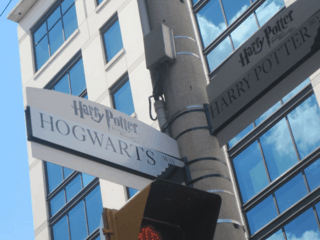 A Post You Feel Didn't Get the Success it Deserved – Until very recently I hadn't realized the importance that social media played in blogging so very few of my posts were being read outside my personal circle of Facebook friends.  As a result my trip report on the summer and winter vacations that our family has spent in Montebello, Quebec has received very few page views.  Montebello, Quebec  Perhaps my report didn't do justice to Montebello, but people should know that this is a great Canadian destination for families in any season.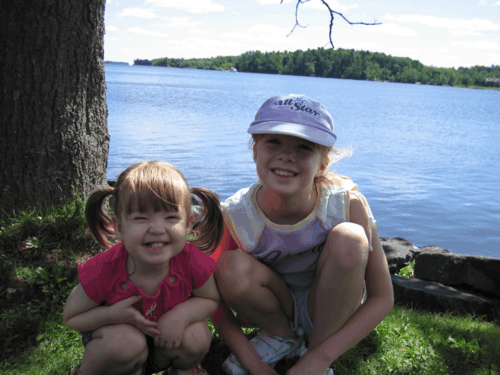 The Post You are Most Proud Of - It has only been a few short months since I started actually writing this blog but the official start followed several months of mulling over the possibilities and wondering if I could actually do it.  My good friends who know how passionate I am about traveling with kids had been encouraging me for so long but I was very afraid of trying and failing.  Eventually in March of this year I got to the point where I was ready to try even though I didn't know what I was doing, even though the technology baffled me (and still does most of the time) and even though I didn't know how it would all turn out.  My first post Gone with the Family – here I go…. has very little of substance in it, however, it is the post that I'm most proud of because I finally got up the courage to press that little publish button and see what happened.  I'm so glad that I did!
And now it is my turn to nominate 5 bloggers to post their 7 Links.  I am so late to this game, however, that I am not sure that I can find anyone to nominate.  If I can find nominees then I will edit this post to add their blog names.