I have read so many articles this week about Disney's new resort, Aulani, on the Hawaiian island of Oahu that I can't stop thinking about our own Hawaiian trip three years ago.  This is Emma on the world-famous Waikiki Beach in Honolulu with Diamond Head in the background.  As you can see, the laid-back Hawaiian lifestyle suits her perfectly!
This article contains affiliate links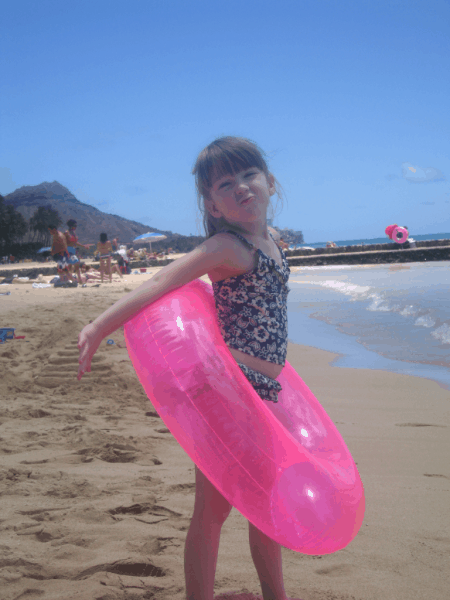 Waikiki is one of the most beautiful beaches we have ever built sandcastles on, however, I wasn't anticipating a return visit to Oahu.  Honolulu is a big, busy city and I had put it firmly in the "been there and done that" category.  I felt fairly certain that any return trip to Hawaii would be to Maui, the Big Island, or Kauai, however, this week's media coverage has me convinced that my family may need some Aulani play time in the not too distant future.  I don't think that I would have to twist any arms to convince my kids either.
Related Link
Have you liked our Facebook page yet? I post articles from the blog there as well as photo albums from our travels and other travel news. You may also subscribe to the free RSS feed or sign up for an email subscription to keep up-to-date on our travel adventures.