We cruised with Disney Cruise Lines when Emma was 2.5 and she developed a serious crush on Peter Pan. 
Peter listened intently to all the stories that Emma had to tell him.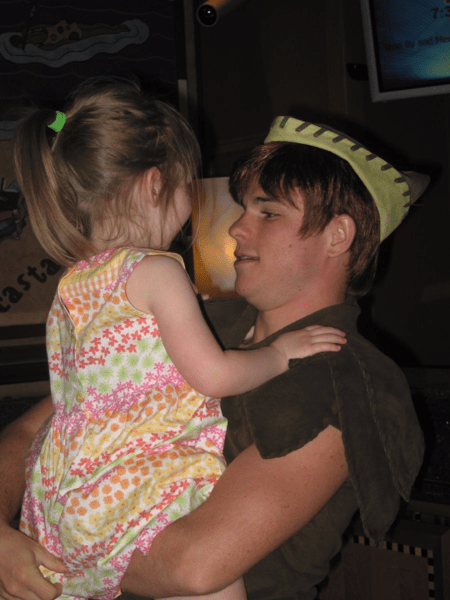 And happily posed for photos with her, thus ensuring that she disembarked from the Disney Magic with lots of wonderful memories.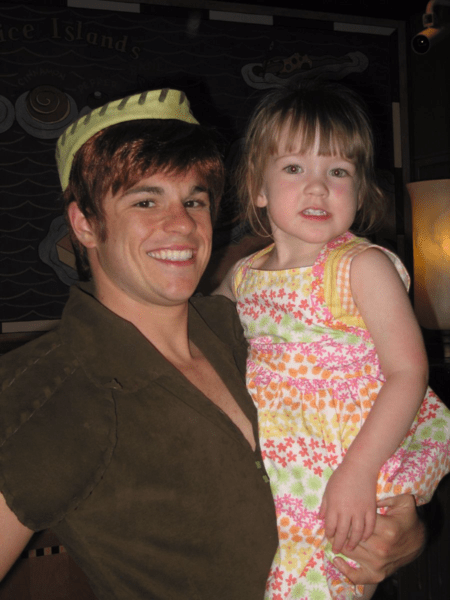 One of the biggest advantages of a Disney Cruise for families traveling with young children is the accessibility of the characters.  When both of my daughters were this age Disney was all about the characters.  It didn't matter if we saw Pluto five times in one day, we would have to line up each and every time to give him a hug and take a photo.  This is much easier to manage on a ship where (a) the characters are only out at specified times; (b) lines are shorter because there are far fewer kids on the ship than there are in a theme park; and (c) line ups are in comfortable air-conditioned areas rather than the scorching Florida heat.  The most compelling reason to take small character-obsessed kids on a Disney cruise, however, is the individual attention they get.  After a couple of days on our cruise the characters that Emma cared about the most recognized her, called her by name and took the time to interact with her on a more personal level.  Memories like that are what make a Disney cruise special and worth every penny.  
You May Also Like
A Guide to Cruising for Families
Have you liked our Facebook page yet? I post articles from the blog there as well as photo albums from our travels and other travel news. You may also subscribe to the free RSS feed or sign up for an email subscription to keep up-to-date on our travel adventures.