A Disney Wordless Wednesday post with the theme of a photo that could be used as the month of April on a calendar.
My daughters have been as obsessed as most kids with Disney and our family has spent a fair bit of time visiting the parks, however, I have realized that since starting this blog just over a year ago I haven't written very much about our Disney experiences.  We have been to Disney World six times since Katie was a baby for a grand total of 37 nights.  We have also spent a day at Disneyland in Anaheim, California, a day at Disneyland Paris and cruised the Disney Magic in the Western Caribbean for 7 nights.  Clearly it's an area that I have to ramp up on the blog!
Last week (thanks to a post by my friend, Mary, at The World is a Book) I discovered Focused on the Magic, a blog which is devoted to the magic of Disney and which hosts a weekly Blog Hop called Disney Wordless Wednesday. This week I am participating for the first time, although after this long preamble I'll have to call it Disney (Almost) Wordless Wednesday.
When I read that the theme for this week's blog hop was "April Calendar Shot" – a Disney photo that could be used for the month of April on a calendar – I didn't have a moment's hesitation about the photo that I would pick.  This is a photo of Emma at Animal Kingdom on our most recent trip to Disney World at the end of December.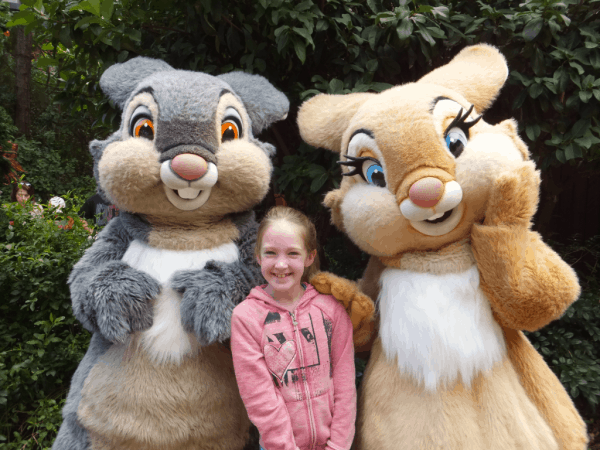 Emma at Animal Kingdom – December 2011
Have you liked our Facebook page yet? I post articles from the blog there as well as photo albums from our travels and other travel news. Or, if you prefer, you can subscribe to the free RSS feed or sign up for an email subscription to keep up-to-date on our travel adventures.