A Disney Wordless Wednesday post with the theme Disney Hats, Caps, Bonnets and Bows.
It's time for another Disney (Almost) Wordless Wednesday post and the theme for this week is Disney Hats, Caps, Bonnets and Bows.  That sounded easy enough until I started perusing old photos and discovered that we have very few pictures of the kids wearing hats at Disney World.  We certainly have brought home mouse ears and headbands so clearly the family photographer (me) was asleep on the job!
I did, however, find these shots of Katie and Emma dressed in pirate headgear for the Pirates in the Caribbean party aboard the Disney Magic.  Katie was very excited about dressing up as a pirate so we purchased the Pirate Mickey ears and an eye patch at the ship's gift shop for her.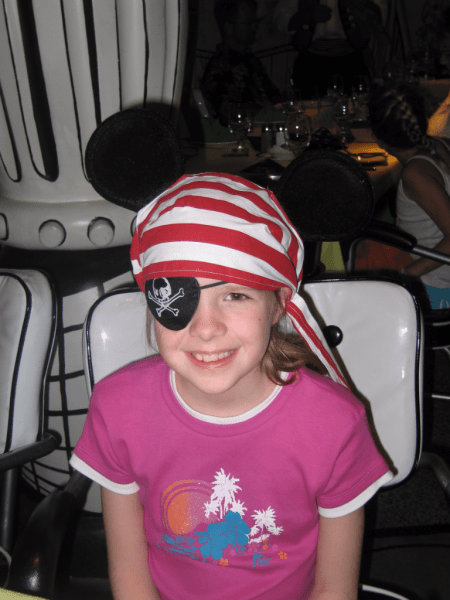 Katie at the Pirates in the Caribbean dinner on the Disney Magic
Emma had so much fun at the dinner wearing her pirate bandanna and playing telescope with her menu that I had to include her photo as well.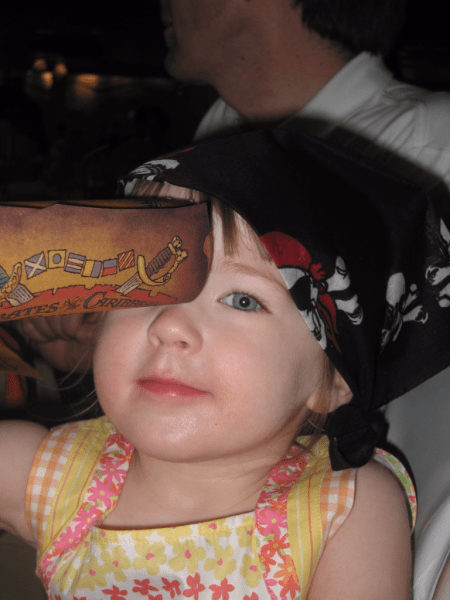 Pirate Emma on the Disney Magic
Have you liked our Facebook page yet? I post articles from the blog there as well as photo albums from our travels and other travel news. Or, if you prefer, you can subscribe to the free RSS feed or sign up for an email subscription to keep up-to-date on our travel adventures.