My contribution to HostelBookers 7 Super Shots series.
I am taking part in HostelBookers 7 Super Shots after being tagged this past week by Mary from The World is a Book.  I agreed to participate even though I have been secretly dreading getting tagged and having to write a post featuring 7 amazing photographs.  I was dreading it because I don't think that I am a particularly good photographer.  I use a simple point and shoot camera, I don't have a particularly good eye and I take far too many photos of my kids to ever be featured in National Geographic.  I do love my photos though because they mean a lot to me even if they don't seem that special to anyone else.
So, at the very least, this has been a great excuse to spend my weekend browsing through all of our old photos.  What I might lack in quality I more than make up for in quantity so I really did spend the entire weekend going through photos and trying to find one that was worthy of each of HostelBookers' seven categories.
This is what I came up with.
A Photo that………..Takes My Breath Away:
The island of Santorini, and the village of Oia in particular, was a highlight of our Mediterranean Cruise last summer.  We didn't have much time to spend in the village, however, we were enjoying a walk and all the beautiful sights when I turned around and saw this view.  It took my breath away – it was exactly the photo that I had seen so many times in books and magazine articles about Greece and there it was laid out before me.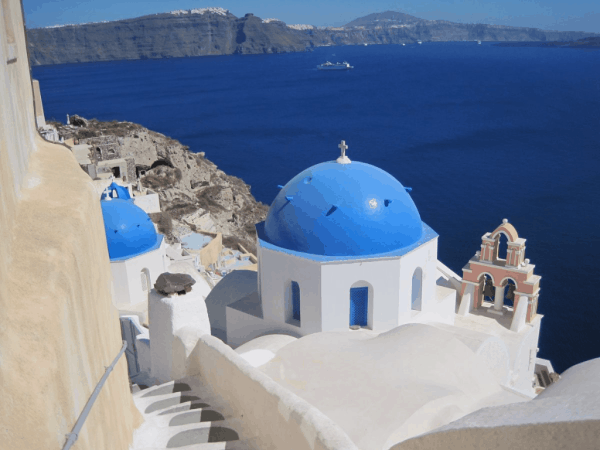 A Photo that……….Makes Me Dream:
I think that I have spent most of my life dreaming about Hawaii and that dream came true in 2008 when our family spent a week on Maui and a week on Oahu.  This photo of the sunset was taken on the last night of our vacation while having dinner at Halekulani on Waikiki Beach.  Every time I look at this photo I find myself dreaming about a return trip to Hawaii.
A Photo that……….Makes Me Think:
A few years ago we went on an Alaskan cruise and one of the ports of call was the capital city of Juneau where we were able to see the Mendenhall Glacier for ourselves.  The glacier has been steadily retreating for some time now providing evidence of the effect of human behaviour and global warming on our environment.  The photos of the glaciers that we saw in Alaska make me think about the role that humans play in global warming and what we should be doing to try and halt the damage so that the glaciers will still be there for future generations to see.   
A Photo that……….Makes Me Laugh or Smile:
This was a difficult shot to select because I have so many photos of my kids that make me laugh or smile.  I took this photo of my daughter, Emma, on the Celebrity Equinox while cruising in the Mediterranean and it never fails to amuse mostly because of the story behind the shot.  We had checked in on embarkation day, however, we didn't have access to our luggage yet so we decided to grab a bite to eat and walk around the ship.  Emma is drawn to fountains like a moth to a flame so when she saw a little gurgling fountain she quickly ditched her shoes and went wading.  The fountain soon surged and I caught her look of surprise and delight at getting wet.  Moments later the fountain of water shot over her head and completely soaked her and I missed the shot because I was laughing too hard!
A Photo that……….Makes My Mouth Water:
I don't take a lot of photos of food – it just never occurs to me to get out the camera when a plate of something delicious is set down in front of me – so I wasn't exactly spoiled for choice but I think this one fits the bill.  The last stop on our Mediterranean cruise last summer was in Salerno and we had arranged a private tour that would take us to Pompeii, to Sorrento for a pizza making class, and down the Amalfi Coast to return to the ship.  The pizza making class ended up being one of the most memorable experiences on our trip.  This pizza was the best that I have ever tasted – and I made it myself!
A Photo that……….Tells a Story:
I took this photo while on an emotional visit to the Canadian War Cemetery in Normandy.  With the graves stretching out before me, the first thing that I noticed was that the age of each soldier was engraved on the gravestones.  I felt quite overwhelmed as it dawned on me that many of these young soldiers were not much older than my own teenage daughter and her friends.  This photo tells the story of supreme sacrifice made by so many young men fighting on foreign soil in order to protect the freedom of their families at home.   
A Photo that……….I'm Most Proud of (aka my Worthy of National Geographic Shot):
I haven't taken any photos that are worthy of National Geographic, however, this is one that I am quite proud of.  On a trip to Paris a few weeks ago we went to my favourite museum - Musée d'Orsay.  Policies have changed since the last time that I visited and photography is no longer allowed in the museum.  When we exited the top floor we found ourselves in this incredible space behind the clock face and joined several other visitors snapping photos where museum staff didn't seem to mind.  This is one of the resulting photos and one of my favourites.     
Have you liked our Facebook page yet? I post articles from the blog there as well as photo albums from our travels and other travel news. Or, if you prefer, you can subscribe to the free RSS feed or sign up for an email subscription to keep up-to-date on our travel adventures.