A Mother's Day tribute sponsored by Mother of All Trips.
During this past week leading up to Mother's Day, Mara at Mother of all Trips dedicated each day to offering tips, inspiration and stories to all the traveling moms out there, especially those who may be wondering how exactly to go about introducing travel to young children.  In each post, Mara has shared the collective wisdom of a group of family travel bloggers and put together a series of informative articles for moms seeking advice on traveling with babies and toddlers.  
I was honoured to participate in Mara's series because our family places a very high value on travel for the enrichment that it adds to our lives.  I love traveling with my daughters and experiencing the world with them.  It may not always be smooth sailing but it is always an adventure and I wouldn't have it any other way. 
I started blogging about our family's travels in hopes of inspiring other parents who might be wondering whether travel with kids was achievable.  I'm afraid that negative media coverage is dissuading parents from attempting to travel with their youngsters and I believe that it's up to all of us who do it regularly to speak up and let those nervous parents know that it is not only possible but worthwhile.  This series provides exactly the information that parents of babies and toddlers need in order to tackle that first (and hardest) trip.
For the final post on Mother's Day, Mara has asked fellow bloggers to share a favourite picture of themselves traveling with their children.  I'm the family photographer which means that I don't actually appear in very many photos but I did find a recent one that I quite like.  This photo of me with Katie and Emma was taken on the island of Mykonos last summer while we were enjoying a Mediterranean cruise.  I love the setting with the beautiful blue waters of the Aegean and the whitewashed houses of Mykonos in the background and I can almost feel the warm Mediterranean sun on my face when I look at the photo.  A friend told me that we look like sisters in this photo which pretty much ensured that it will be my favourite for quite some time. ;-)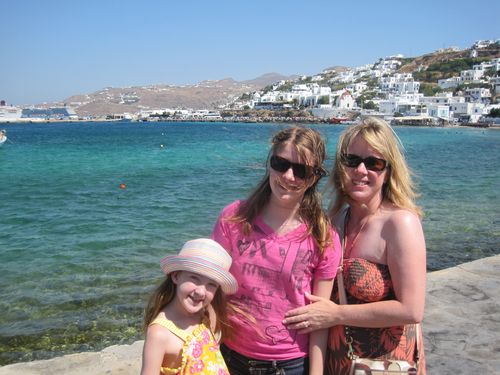 HAPPY MOTHER'S DAY!
This post is part of Happy (Traveling) Mom's Day at Mother of all Trips where you will find links to the Mother's Day photos of other family travel bloggers. 
Previous Posts at Mother of all Trips this week:
Have you liked our Facebook page yet? I post articles from the blog there as well as photo albums from our travels and other travel news. Or, if you prefer, you can subscribe to the free RSS feed or sign up for an email subscription to keep up-to-date on our travel adventures.