Disney Wordless Wednesday – Theme is the letter "B".
The theme for Disney (Almost) Wordless Wednesday this week is the letter "B".
When we visited Disney World in Florida over the Christmas holidays, our household was preoccupied with "a tale as old as time" since both Katie and Emma would be performing in a community theatre production of Beauty and the Beast a few weeks later.  This made it very exciting to discover that there was a character greeting at EPCOT that included both Belle and the Beast.  We had, of course, met Belle many times in the past but this was the first time that we had ever met the Beast in person.  It was late in the afternoon when we arrived in France, the queue was quite long and the characters were about to take a break.  Fortunately for the girls, their Dad was willing to wait in line while they continued to explore the nearby pavilions.  An hour and a half later, the girls got their photo and Dad got lots of Brownie points.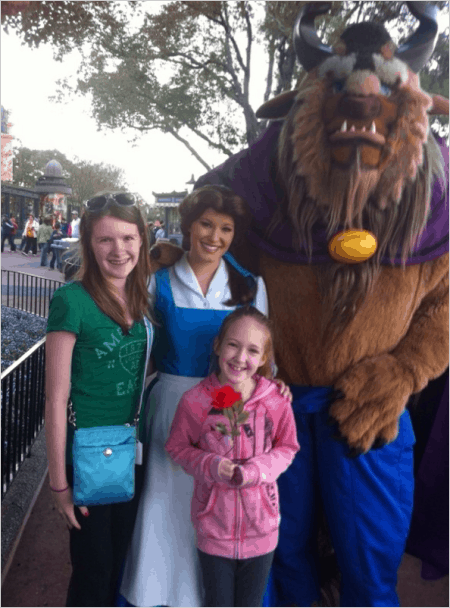 Disney (Almost) Wordless Wednesday is hosted by Deb at Focused On The Magic.  
Have you liked our Facebook page yet? I post articles from the blog there as well as photo albums from our travels and other travel news. Or, if you prefer, you can subscribe to the free RSS feed or sign up for an email subscription to keep up-to-date on our travel adventures.