A photo retrospective of our family and Mickey Mouse.
Mickey Mouse is the character created by Walt Disney, and introduced in the animated cartoon Steamboat Willie in 1928, who has since become the symbol of the Disney company and probably the most recognized cartoon character in the world.  We have seen Mickey numerous times over the last 15 years starting with our first visit to Disney World early in 1997.  It is fun to look back at our photos with Mickey that have been taken during different stages of my daughters' lives and see how they have grown up with Mickey Mouse.
Our very first meeting with Mickey was in ToonTown at Disney World when Katie was just 4 months old.  She was oblivious to the proceedings but I was happy to have the photo.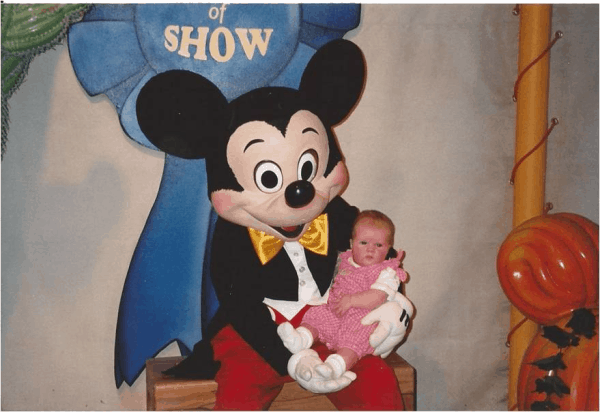 Katie and Mickey Mouse at Disney World in 1997
Emma wouldn't have anything to do with Mickey on her first visit to Disney World when she was 8 months old – she preferred the stuffed version.
But by the time she was 4, they were good friends…
We have seen Mickey at Disney World in Florida, Disneyland in California, Disneyland Paris and aboard the Disney Magic.

Meeting Mickey on our Disney Magic cruise  – 2006
We have seen Mickey (and his sweetheart, Minnie) in shows and on parade.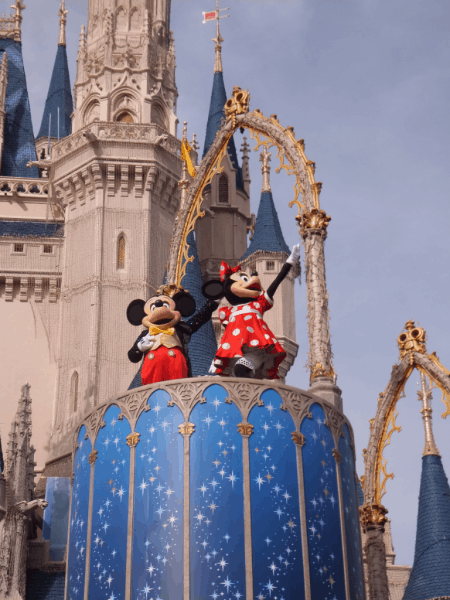 On the castle stage at Disney World – 2012

Minnie in the Move It! Shake It! Celebrate It! Street Party – New Year's Day 2012
My favourite Mickey moments by far have been those when we have seen him dressed in different outfits.  
We have twice seen him dressed as Pirate Mickey – at Pirates in the Caribbean night on the Disney Magic in 2006 and at the Pirate and Princess Party at Disney World in Orlando in 2008.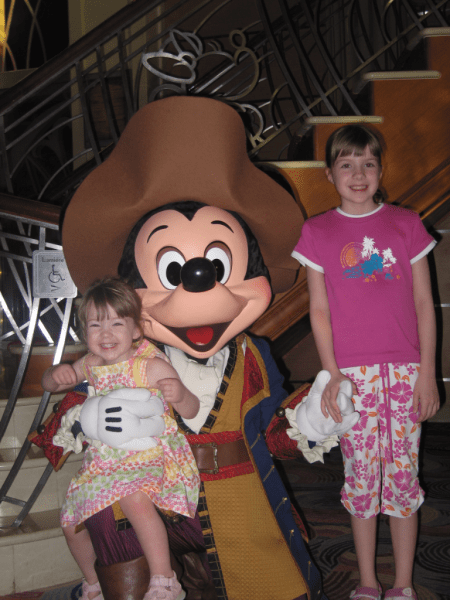 Pirates in the Caribbean Night – Disney Magic 2006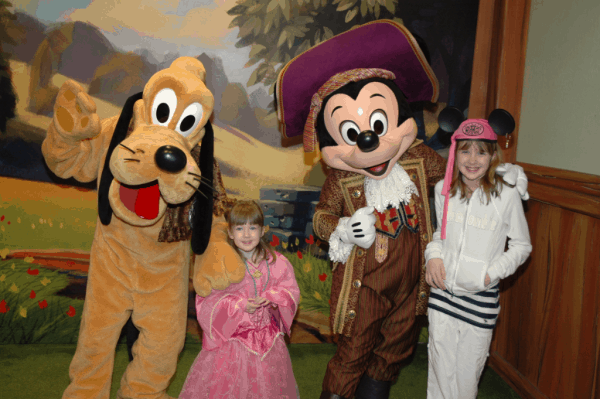 Disney World's Pirate and Princess Party – March 2008
We have seen him playing the role of Director Mickey at MGM Studios in 2001.
A special moment aboard the Disney Magic was having a family photo taken with Captain Mickey and Minnie in 2006.
Mickey looked fabulous dressed in a tuxedo, as did Minnie in her ball gown, for Formal Night aboard the Disney Magic.  They looked ready to attend the Oscars. 
We attended the Holiday Parade at Disneyland California on New Year's Day 2011 and saw Mickey dressed in a beautiful seasonal outfit.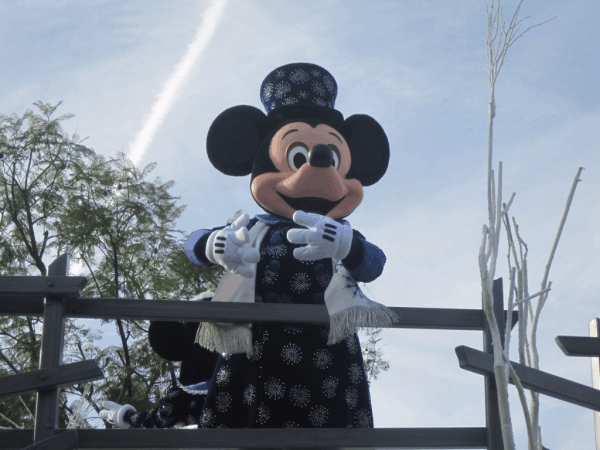 Mickey in the Disneyland New Year's Day parade – January 1, 2011
And this most recent holiday season, we spent my birthday at Animal Kingdom and had photos taken with Mickey looking very festive in his red and green holiday duds.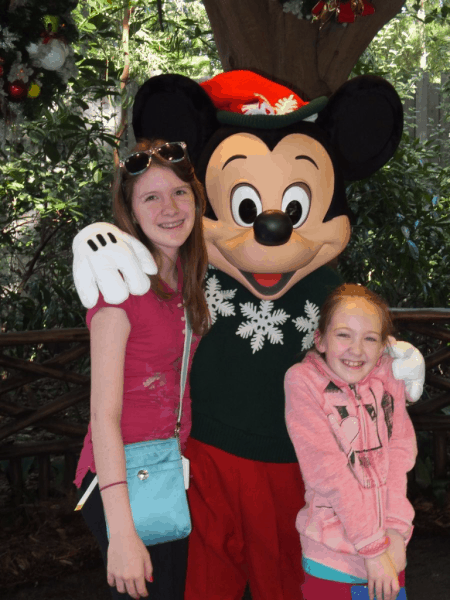 Katie and Emma with Holiday Mickey – 2012
Wherever it is, and however he's dressed, meeting Mickey Mouse is always what makes a Disney holiday complete! 
Disney (Almost) Wordless Wednesday is hosted by Deb at Focused On The Magic.  
Have you liked our Facebook page yet? I post articles from the blog there as well as photo albums from our travels and other travel news. Or, if you prefer, you can subscribe to the free RSS feed or sign up for an email subscription to keep up-to-date on our travel adventures.