My entry in Travel Supermarket's Capture The Colour Contest.
A contest called Capture the Colour is inviting bloggers to select a photo that best captures each of the following colours: Blue, Green, Yellow, White and Red.  Thank you to Lisa from New Life On The Road and Cathy from Traveling With Sweeney who both nominated me to participate.  
Since being nominated, I have been flipping through digital files trying to select photos that would adequately represent each colour.  I had no idea when I started how hard it was going to be to choose but I have enjoyed the excuse to spend most of a day browsing photos and remembering past trips.  Being tagged in a contest such as this always fills me with a bit of dread because I'm not a photographer, but seeing the amazing entries that others submit motivates me to keep working at improving my photography skills as well. 
So here are my selections for each of the colour categories:
BLUE:
It seems a bit too obvious to use a photo from the Greek Islands to represent blue but in my mind the two are inseparable.  When I think of visiting the Greek Islands it is the colour blue that comes to mind before anything else, even the incredible heat of our August visit.  This photo of my daughter was taken in Caldera Square in Oia in front of the Church of Panagia of Platsani, easily one of the most beautiful places that I have ever visited.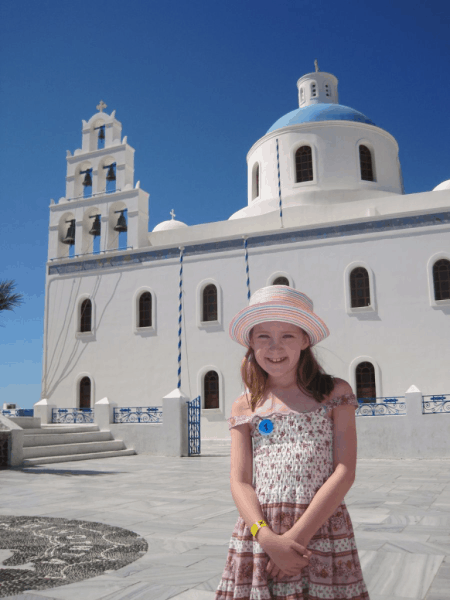 GREEN:
This photo was taken in the medieval village of Fontaine-de-Vaucluse located in the Luberon Valley of Provence.  Tourists trek to this village to see the mysterious underground spring that feeds the Sorgue River.  The spring gushes during the high water season but wasn't doing much of anything when we visited.  Yet it was interesting to walk to the source of the spring and then notice as we returned to the village that the water of the river seemed to become a bright emerald colour and that the colour green seemed to dominate the small village.  (In an interesting coincidence, my teenage daughter was wearing a bright green shirt that day but she wouldn't want me to share the photo.)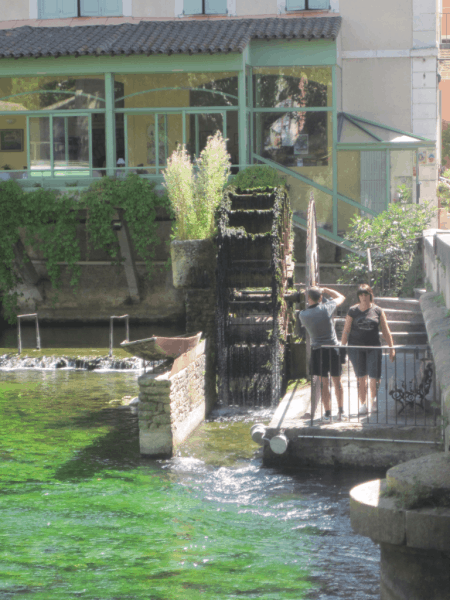 YELLOW:
Hawaii is known for its vivid colours and we were treated to a gorgeous display during the afternoon parade at The Polynesian Cultural Center.  Each of the Polynesian nations took part in a floating "Rainbows of Paradise" parade on the lagoon with the island's representatives dressed in brightly coloured traditional costumes.  The young ladies from Tahiti dazzled the audience in yellow and made a huge impression on my younger daughter who had just turned 5 and thought that they were all beautiful princesses.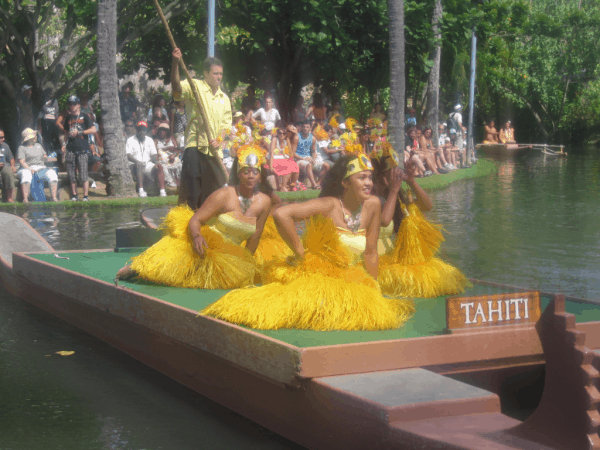 WHITE:
White was one of the harder decisions to make so I decided to select this photo from our day in Mykonos because of the fun memories it recalls.  We were in port while on a Mediterranean cruise and got lost not once, but twice, wandering the twisting streets trying to find the island's famous windmills.  I had also read about Petros the Pelican who is the mascot for the island of Mykonos but I never imagined that we could possibly find him while visiting for only a few hours.  However, while wandering aimlessly we happened on Petros surrounded by a large group of admirers.  He seemed to be preening for the paparazzi but was becoming a bit testy with those that were getting a little too close in order to pose with him.  We snapped our photos from a safe distance and continued with our meandering, content that we had stumbled upon both famous windmills and a famous resident of Mykonos.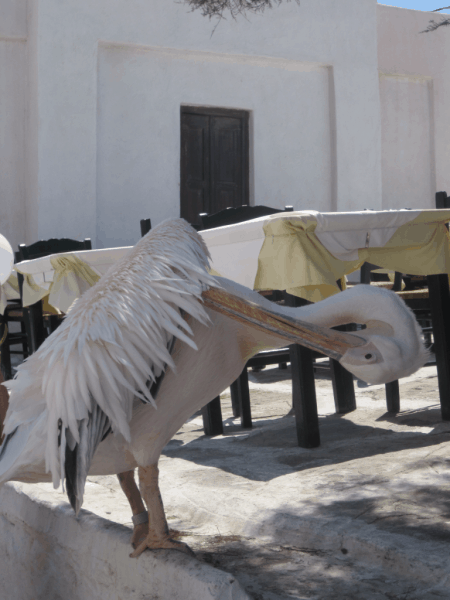 RED:
One of our more memorable travel experiences was visiting the village of Roussillon in the south of France because it is so far removed from preconceived notions of what a Provençal village looks like.  The village sits atop the world's largest ochre deposit and the ochre gives the earth a distinctive reddish colour.  We walked to the south end of the village to take in the breathtaking views of the canyon and paid the small fee to hike through the dusty ochre canyon pathway which meant that we had all taken on a similar hue by the time we left the village.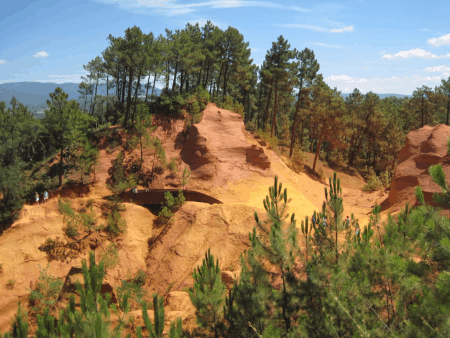 Bonus Photo – This is what Emma's feet looked like after our hike through the canyon and the white sandals she was wearing were never white again.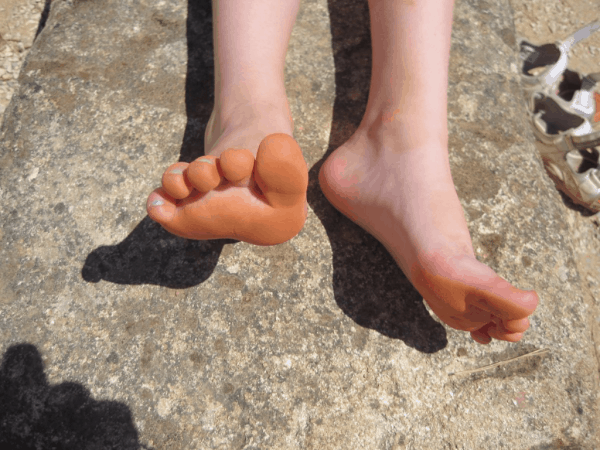 And now it's my turn to nominate 5 bloggers to take part in the competition.  My nominees are:
Keryn at Walkingon Travels

Anita at Travel Destination Bucket List

Becca at R We There Yet Mom?

Margaret at (Sub)Urban Tourist

Sonja at To Europe With Kids
Have you liked our Facebook page yet? I post articles from the blog there as well as photo albums from our travels and other travel news. Or, if you prefer, you can subscribe to the free RSS feed or sign up for an email subscription to keep up-to-date on our travel adventures.