Virtual "postcards" from Newfoundland, Canada.
We are presently traveling in Atlantic Canada and have spent a week in Newfoundland, a day in Halifax, Nova Scotia and have now moved on to Prince Edward Island.  After a week here, we will be spending a couple of days in Moncton, New Brunswick before flying home.  I have been posting some photos on Facebook along the way but I also wanted to publish a quick post for those who haven't seen those photos.  
I find it difficult to find the time to write blog posts while we are traveling because of the amount of time that it takes to put a post together.  Earlier this summer, Mara from Mother Of All Trips posted virtual "postcards" while her family traveled in Europe which seemed a brilliant solution so I thought I would try something similar by posting some picture postcards from each of the provinces that we are visiting in Atlantic Canada.  First up is Newfoundland.
We started our trip in the beautiful city of St. John's where one of our favourite things was the colourful row houses.  Emma thought that living in a purple house would be the best thing ever.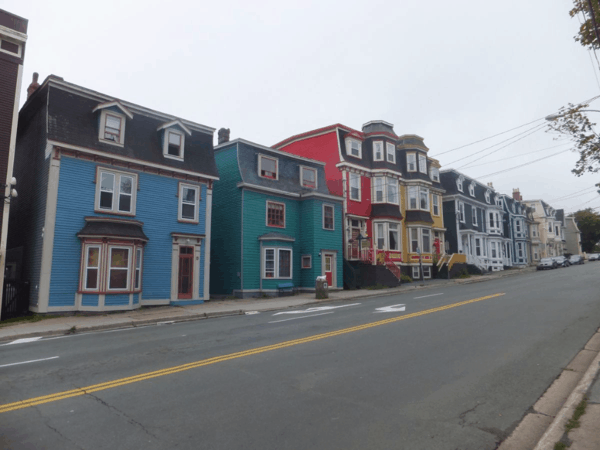 We also made a point of stopping to see the statue that honours Terry Fox on the spot where he started his Marathon of Hope by dipping his leg into the Atlantic Ocean.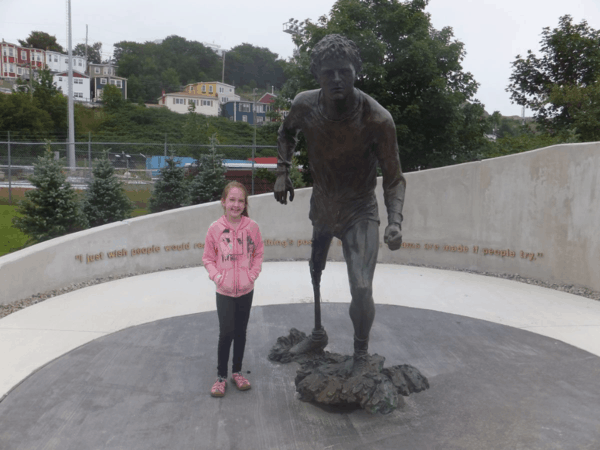 Emma enjoyed posing with these statues of Newfoundland and Labrador dogs.  The province's full name is Newfoundland and Labrador and this statue can be found in two places in the city of St. John's.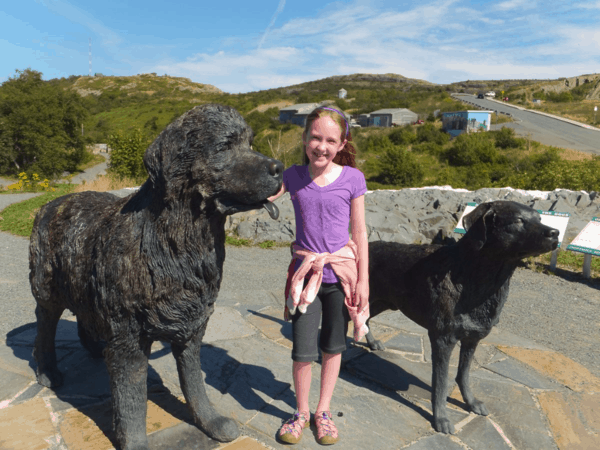 It was very windy and chilly when we visited the Signal Hill National Historic Site but we learned a bit about how the first telegraph signal was sent across the Atlantic Ocean and we had a beautiful view of the city.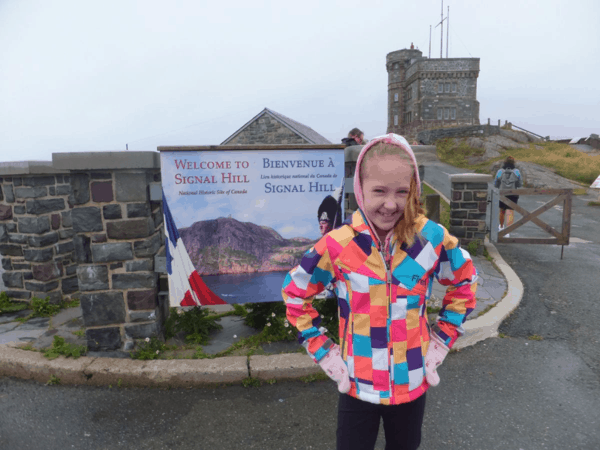 We visited Cape Spear which is the most easterly point in North America.  It was cold and blustery when we were there as well and Emma was a wee bit worried that she was going to blow away.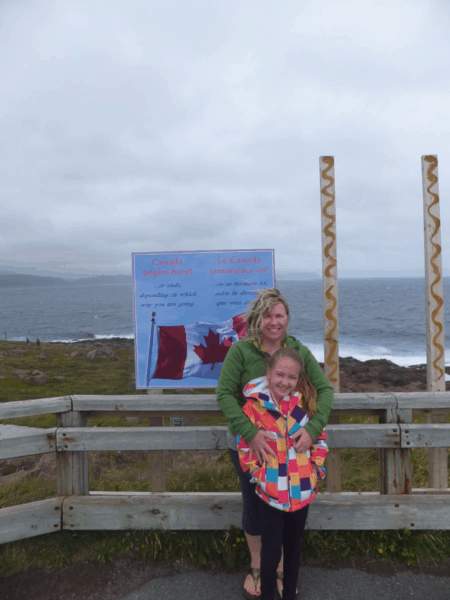 While in St. John's we daytripped partway around the Irish Loop and stopped to see the Ferryland Lighthouse.  The view from the cliffs around the lighthouse was spectacular and we could have sat there for hours.  This is one of my favourite photos of Katie taken there.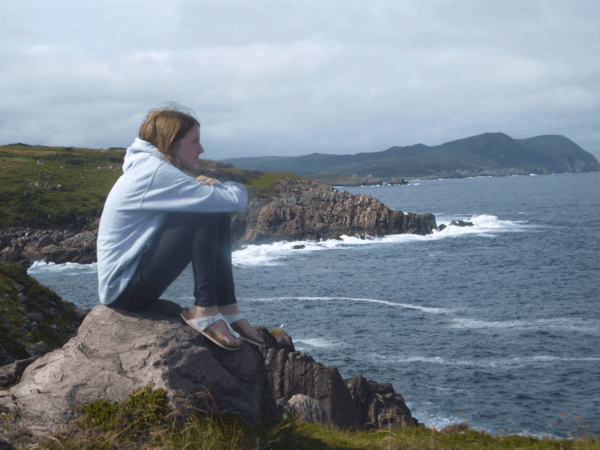 After three nights in St. John's, we headed out of the city to stay at the Terra Nova Resort just outside Terra Nova National Park.  From there, we visited the village of Trinity which is just about as picture perfect a village as one could find.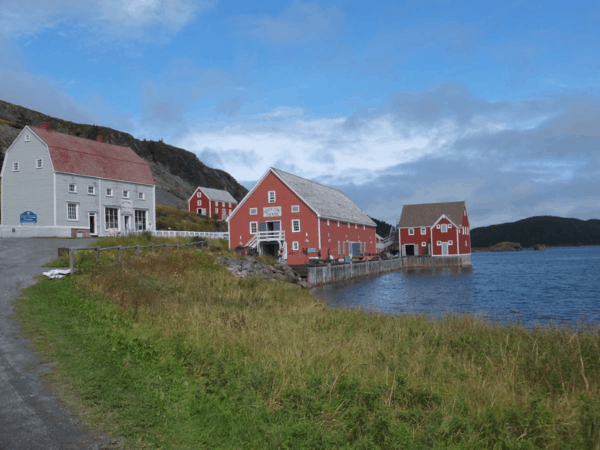 We also stopped in the village of Elliston which declares itself to be The Root Cellar Capital of the World but we were more impressed that we were able to walk out a cliffside path and view puffins on one of the neighbouring cliffs.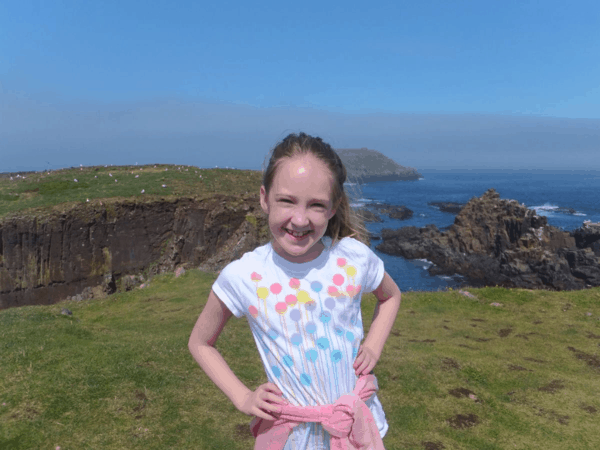 From Elliston we headed to Cape Bonavista's famous lighthouse – a place that I have always wanted to visit because I remember singing as a child, "This land is your land, this land is my land, from Bonavista to Vancouver Island".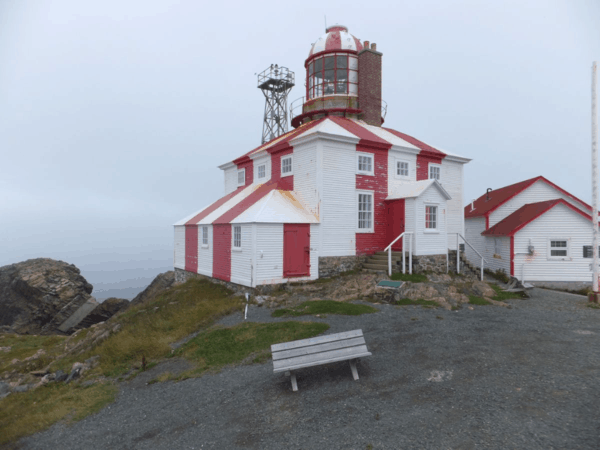 I loved the rugged beauty of Newfoundland and I am looking forward to sharing more about our time there once we have returned home in early September.
Related Links
Standing on the Edge of North America at Cape Spear
Elliston, Newfoundland – Root Cellar Capital of the World
Visiting Newfoundland's Witless Bay Ecological Reserve
A Picnic at the Ferryland Lighthouse
A Closer Look at Puffins in Elliston, Newfoundland
A Titanic Quest in Eastern Canada
Lighthouses of Atlantic Canada
Newfoundland's Terra Nova Resort
Courtyard by Marriott in St.John's, Newfoundland
Postcards From Prince Edward Island
Have you liked our Facebook page yet? I post articles from the blog there as well as photo albums from our travels and other travel news. Or, if you prefer, you can subscribe to the free RSS feed or sign up for an email subscription to keep up-to-date on our travel adventures.