A Disney Wordless Wednesday post. Theme: Magical Memories
The theme for Disney (Almost) Wordless Wednesday this week is Magical Memories.  Any Disney experience seems bound to produce the most magical of memories but, upon reflection, our favourite memories all seem to involve interactions with the characters at the three Disney parks that we have visited and on the Disney Cruise.
Most of my photos from earlier trips are not digital but I had to scan these two from Katie's first trip to Disney World as they are two of my favourite baby photos of her.  We were dining at the Polynesian Resort's character breakfast and both Minnie and Goofy spent a great deal of time playing with Katie.  Of course, she had no idea who the characters were but they must have seemed like giant stuffed toys as she was completely captivated by Minnie's nose and Goofy's beads.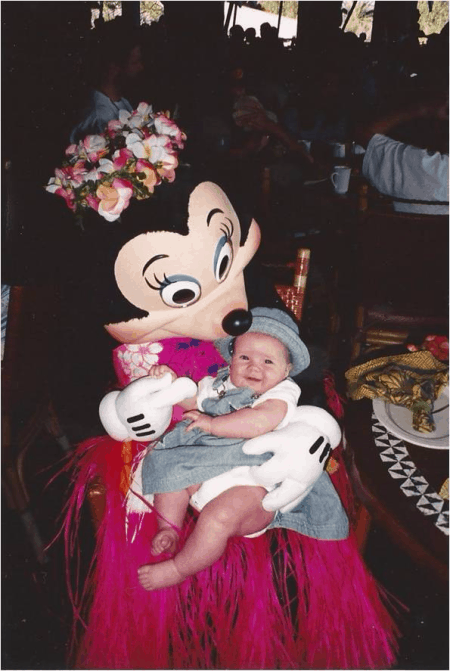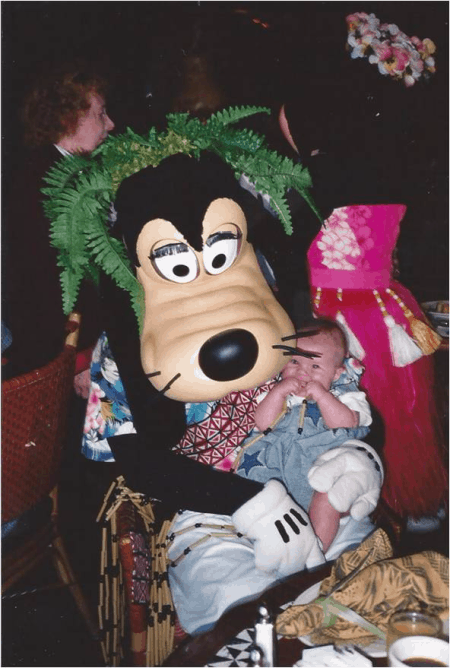 Some of Emma's most memorable character interactions occurred on our Disney cruise when she was 2.5.  She developed a serious crush on Peter Pan and he seemed rather fond of her as well.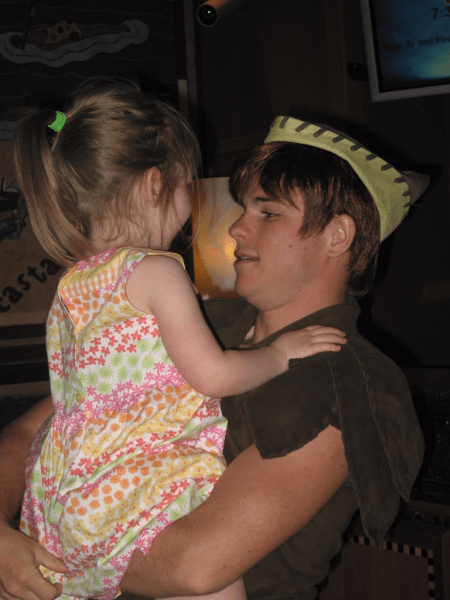 Emma also adored princesses at this age, particularly Cinderella and Snow White, and we had visited with them several times during our first couple of days on the ship.  A few days into our cruise we wandered into the foyer when Emma spied Snow White across the room and made a beeline for her yelling "Snow White".  Snow White didn't miss a beat – she got down on the floor, held open her arms and called out "Emma" as she welcomed her with a warm hug.  That was one of my favourite memories from our cruise.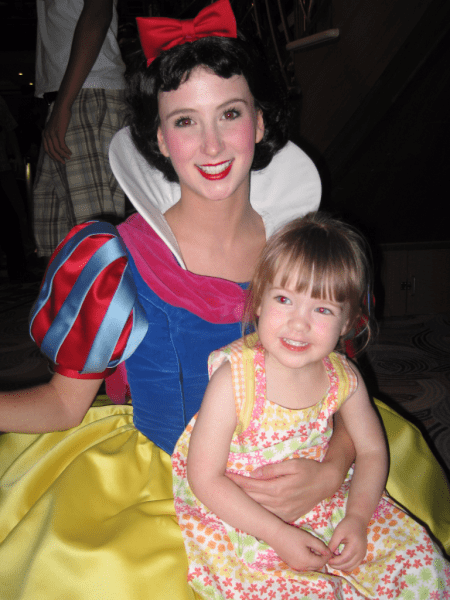 When Emma was 4 we visited Disney World in Florida.  Some of her favourite memories include: 
Laughing with the Little Mermaid…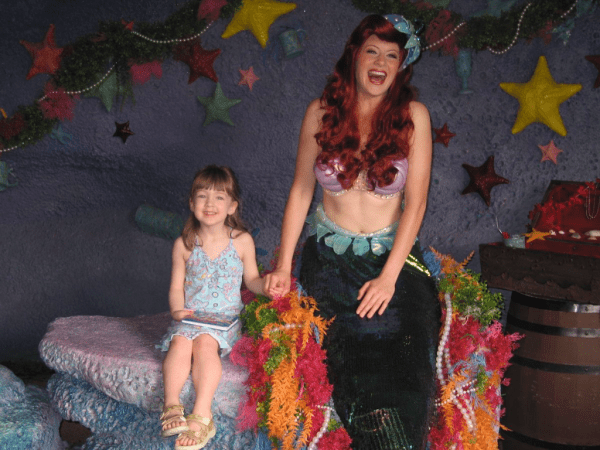 Dancing with Cinderella's mice…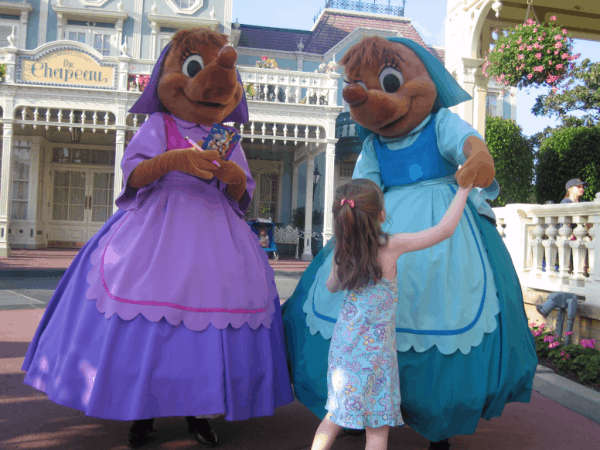 And dancing with Jessie…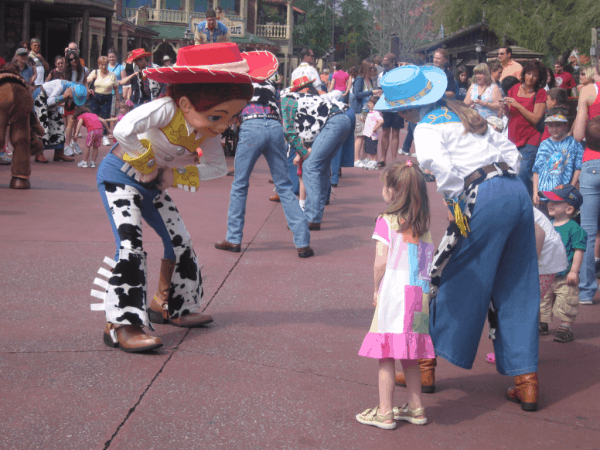 But probably the best memory was falling under the spell of the handsome and charming Aladdin and forgetting that Princess Jasmine even existed.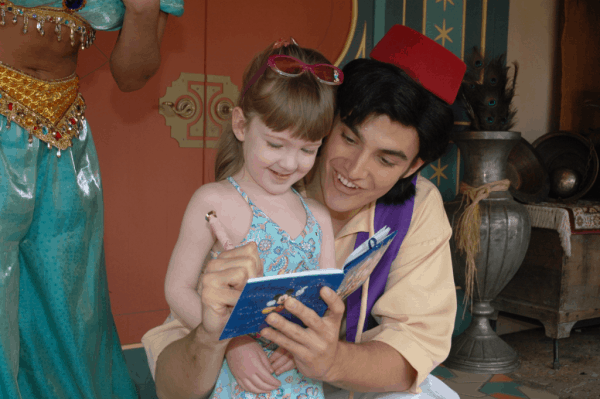 Even as Emma has grown older the characters have continued to be her favourite part of Disney.
Recently she met Pocahontas' furry friend Meeko and he tried to eat her autograph book which brought on a giggling fit.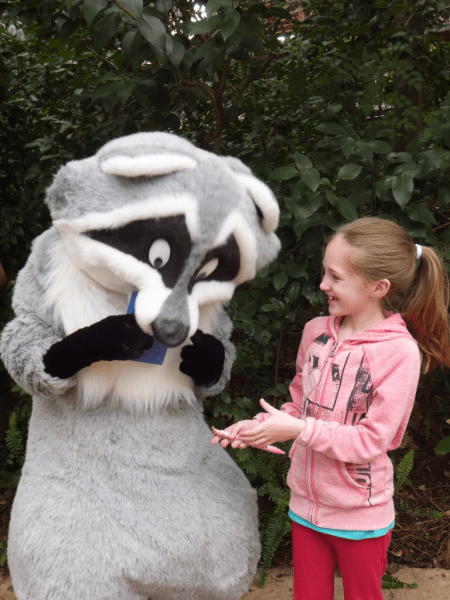 As did a tickle-happy Mickey Mouse.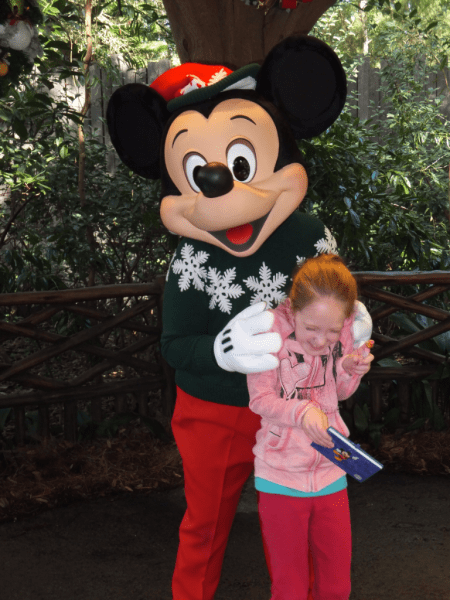 And one of our nicest character experiences happened on our recent trip to Disneyland Paris.  Emma and I had waited for about 45 minutes in a line to see Winnie-the-Pooh with the sun beating down on us.  As we reached the front of the line, Emma announced that she didn't feel well.  We were allowed to just move to the side for a few minutes until she felt better and was able to take her turn meeting Pooh.  I expected to just snap a photo and get the book signed and get out of there but Pooh spent about 10 minutes hugging and kissing her and acting very concerned about her welfare.  He sat down with her on a bench and wrote a special message and drew a picture in her book before saying goodbye.  It was so very sweet and I was touched by the display of kindness.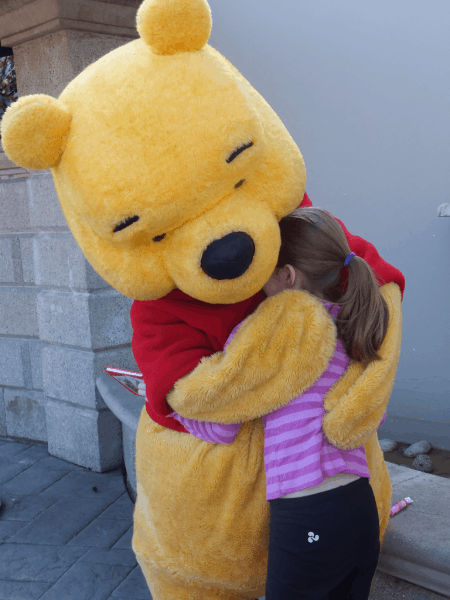 From the time that they were little, my girls were always so excited to meet their favourite characters and I have always been very impressed by how wonderful these characters are at interacting (often without words) with the kids who believe that they are real.  The Disney characters do a simply amazing job at creating magical memories.
Thanks to Deb at Focused on the Magic for hosting Disney Wordless Wednesday. 
Have you liked our Facebook page yet? I post articles from the blog there as well as photo albums from our travels and other travel news. Or, if you prefer, you can subscribe to the free RSS feed or sign up for an email subscription to keep up-to-date on our travel adventures.