Disney Wordless Wednesday post – Theme: Food and Drink
The theme for Disney (Almost) Wordless Wednesday this week is Food and Drink.  Now I love to eat but I rarely think to photograph anything before it's consumed and my memory is rather short so it's not likely that I would be able to describe a meal with any degree of accuracy after the fact.  I can say with a fair amount of certainty that I have had a number of delicious meals at lovely restaurants while visiting Disney World – there just won't be many details forthcoming.
The one Disney food that rates very high with my entire family though is the mouthwatering Mickey Ice Cream Bar.  We have eaten several of these refreshing treats every time that we have visited Disney and the quality never wavers.  Both Katie and Emma loved the ice cream treats when they were little girls and still love them today – and I have the photos to prove it!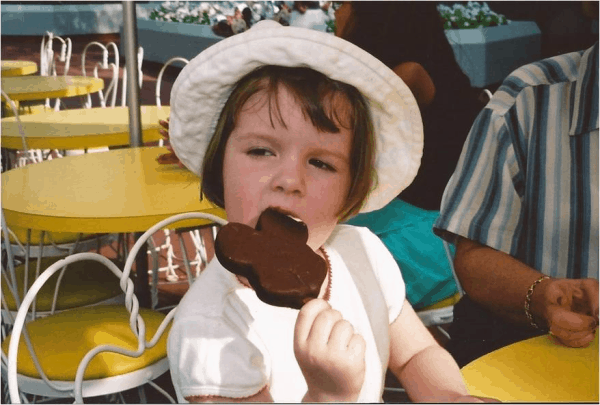 Katie eating a Mickey Ice Cream bar at Disney World in 2001
Thanks to Deb at Focused on the Magic for hosting Disney Wordless Wednesday.  
Have you liked our Facebook page yet? I post articles from the blog there as well as photo albums from our travels and other travel news. Or, if you prefer, you can subscribe to the free RSS feed or sign up for an email subscription to keep up-to-date on our travel adventures.