A second Disney Magic cruise stopping in Georgetown, Grand Cayman afforded us the opportunity to pose again for the same photos that we had taken 7 years earlier.
Our family recently went on a holiday cruise on the Disney Magic in the Caribbean. Apart from the fact that the ship left from Galveston, Texas instead of Port Canaveral, Florida, it was essentially a repeat of our very first cruise nearly 7 years earlier. 
One of the ports of call on both cruises was Georgetown, Grand Cayman. When we stopped there in 2006, my husband and Katie (who was 9 at the time) went on an Atlantis Submarines excursion. Emma was only 2.5 years old and too young for the submarine ride so the two of us just wandered around Georgetown for a couple of hours sightseeing and doing a bit of shopping.
My favourite photo of Emma in Georgetown was one of her posing with an iguana statue. When we stopped in Grand Cayman on our recent trip, I wanted to find the statue and recreate the photo. My memory of its location was a bit fuzzy so we wandered but eventually we did find an iguana statue. The background is definitely different so I don't think that it was the same statue but it served my purpose of having Emma pose with it again (although I couldn't get her to strike quite the same pose that she did in 2006).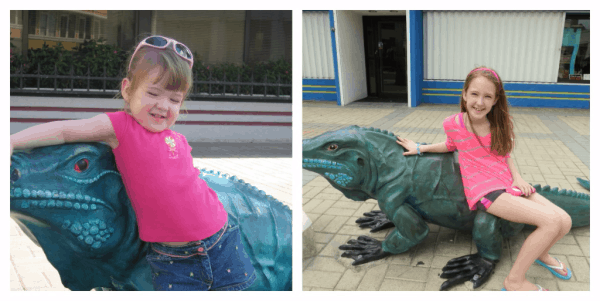 It wasn't until we returned home and I reviewed my 2006 Disney cruise photos that I discovered that we had unwittingly recreated a second photo. Emma has always loved fountains (even if she doesn't look very happy in that first pic) so I guess I shouldn't have been surprised that we had photos at this Stingray fountain from both trips.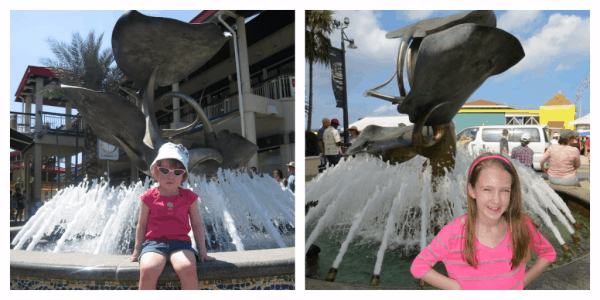 We had a very fun, relaxed New Year's day shopping and sightseeing in Grand Cayman but having Emma pose for the same photos 7 years later was definitely a highlight. 
Related Links
Striking a Pose in the Cayman Islands
Magical Disney Time Cruising the Caribbean
Have you liked our Facebook page yet? I post articles from the blog there as well as photo albums from our travels and other travel news. Or, if you prefer, you can subscribe to the free RSS feed or sign up for an email subscription to keep up-to-date on our travel adventures.