My 10 year-old daughter's favourite things about London.
This is a guest post written by my 10 year-old daughter, Emma, who is eager to share her thoughts about some of the destinations that we visit as part of the series that we call Emma's Favourite Things.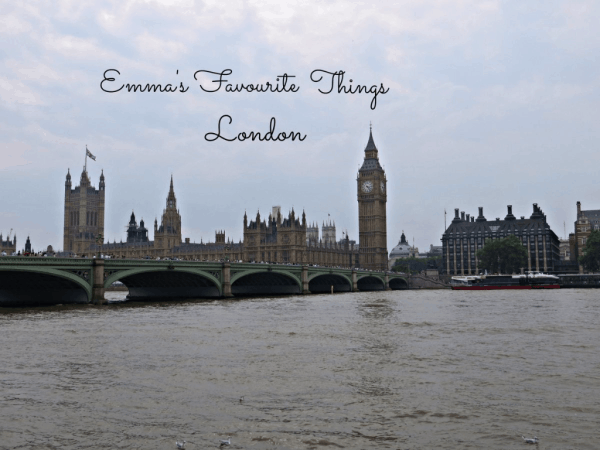 I have been to London twice (when I was 6 and when I was 10), and I had so much fun both times! I think it is an awesome city and I definitely recommend going there. Here are some of my favorite things about London.
Theatre in London
I love the plays and musicals in London a whole lot! Music Theatre is the thing I love to do most and I love seeing new shows, learning the music and just being entertained! In London, I have seen Legally Blonde, Matilda, Charlie and the Chocolate Factory, The Mousetrap, The Cripple of Inishmaan, Billy Elliot, The Lion King and Mamma Mia!!! When I went to Legally Blonde, we waited outside the stage doors and I got to meet the stars of the show. It was very cool!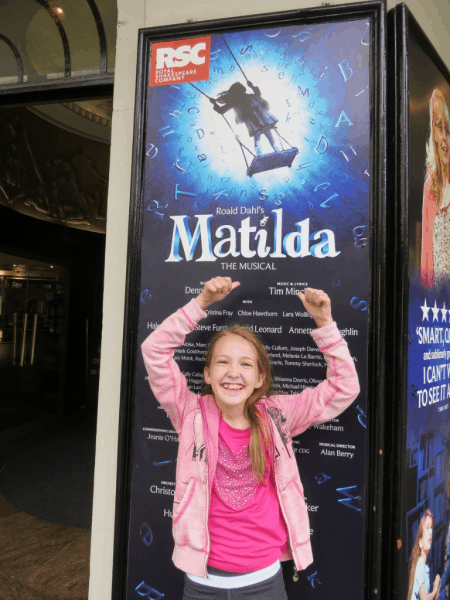 Visiting Castles and Palaces in England
 I visited both Buckingham Palace and Windsor Castle when we went to London last summer. It was fun to see where the queen lives and all the pretty, fancy rooms she has. At Windsor Castle there's a doll house that belonged to a queen that had lots of rooms and tiny furniture. It was so pretty!
Museums in London
 There are so many cool museums in London! We have visited the British Museum, the National Gallery, the Tate Modern and the National Portrait Gallery. They were all very interesting. At the British Museum we saw cat mummies, a whole room of stuff from the Parthenon and the Rosetta Stone that was used to translate languages. By the way, be prepared for the crowd if you want to see the Rosetta Stone. It took a while to get up close and I was able to squeeze between people because I'm small!
We also went on a tour of the National Gallery with a nice lady named Fran. I really like art galleries so it was so much fun to learn about the paintings and the artists. (Editor's Note: Our National Gallery tour was one of the Family Walks offered by Context Travel called A World of Stories: The National Gallery for Families.)
Madame Tussaud's Wax Museum
We went to the wax museum on our first trip to London and I thought that it was great! There are "people" like Daniel Radcliffe, President Obama, Prince William and Justin Timberlake that you can pose with and have your picture taken. I thought that the wax museum was really fun even though it was really crowded but my Mom said that we didn't have to go back again when we were in London last summer.
Harry Potter in England
My sister loves Harry Potter so we have done Harry Potter things on both of our trips to London. The most amazing thing that we did was the Warner Brothers Studio Tour! We got to see the sets, the costumes, the creatures AND the models! Best of all, we bought a video of me flying in London on a broomstick!
Another thing that we did was go to Platform 9 34 at King's Cross Station. There is a luggage cart in the wall there and people that will take your picture while you pretend that you are running through the wall to get on the Hogwarts train. There was also a shop that sells lots of Harry Potter stuff.
We went on a Harry Potter tour the first time that we went to London. That was when I was six, so I don't remember it that well. I do remember that we went to many cool places and I thought it was very fun. I also remember our tour guide, Gordon, was very fun and we got to meet up with him again when he took us to Stratford last summer! That tour was very fun too!  
English Chocolate
ENGLISH CHOCOLATE is the best! I love the chocolate in England SO much! I love Ripples, Flakes, Galaxy bars, Minstrels, Counters, Bubbles, Cookie Crumbles, Twirls and Timeouts! If you visit London then you have to try the English chocolate – and bring me back some!
London Cabs
 The cabs in London are so pretty not like the boring cabs at home. There are some that are extremely pretty and my mom and I tried to take photos of as many as we could.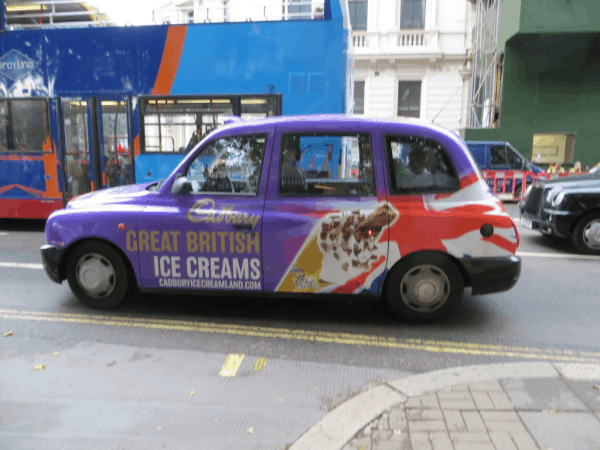 Shopping in London
Apparently people like to shop in London and I have a few favourite places too. Hamley's toy shop is great because they have just about every toy you can think of especially Paddington Bear and they have a life-size Royal Family made out of Lego bricks. M&M World London is a fun place to shop for candy. I had to go there because I went to the M&M stores in Las Vegas and New York this year too. Covent Garden is also really fun to visit because there are lots of fun shops and places to eat – plus there's a Disney store there.
I LOVE LONDON!!! If you get a chance then you should go because I'm pretty sure that you will love it too!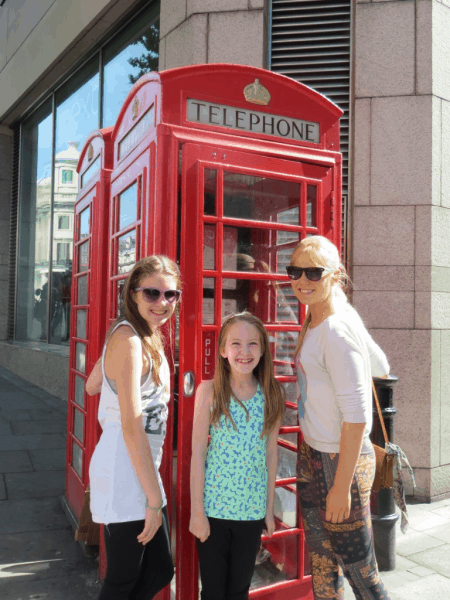 Emma is a 10 year-old grade 5 student who loves to be on stage performing almost as much as she loves to travel the world. Emma has visited 24 countries and plans to try and see them all!
Related Articles
Emma's Favourite Things: Chicago
London with Kids – 14 Favourite Attractions and Activities 
Citadines Trafalgar Square – Ideal for Families Visiting London
A Day in Stratford with London Taxi Tour
London Taxi Tour – Harry Potter
Cruising Along the Thames to Greenwich
London Cabs: Our Photo Collection