Using the CIBC Foreign Cash Online service to purchase foreign currency simplifies preparations for a family trip abroad.
Planning to take kids on a international trip can be stressful – and it doesn't matter whether it's the first time or the 10th time! Choosing a destination and planning what to do is the fun part but then there are all the not so glamorous details that have to be managed – details that can make or break your trip. 
It can get a bit frantic for parents trying to make sure that they have crossed all the T's and dotted the I's before a big international trip. I know when I'm planning our travel, I have an endless loop of questions and To Do items running through my head that goes something like this: Confirm that all of our passports are valid for at least 3 months. Do I need to purchase travel insurance? Do we need vaccinations? Contact the credit card company to let them know when we are away and where we will be. Arrange pet sitting. Remember to purchase foreign currency. etc. The list can seem endless and overwhelming at times so anything that can make the planning process a bit simpler for me is appreciated.
Using the CIBC Foreign Cash Online Service
As a lifelong CIBC customer, I was thrilled to learn about the recent launch of the CIBC Foreign Cash Online service which allows you to order the foreign currency that you need online before you travel. This service will definitely alleviate some of the stress for me and other parents like myself who are planning a family trip abroad and find it difficult to make time to visit a branch to pick up the necessary foreign currency. We travel internationally several times a year yet we always seem to forget about purchasing the foreign currency that we need until the last minute and then it's a mad scramble to find time to get to a branch to do it.
Foreign currency is just a click away using the CIBC Foreign Cash Online service which offers access to up to 75 currencies. The convenience of the service is the biggest selling point for me. I can simply order the currency I need online and it can be securely delivered directly to my door or to any CIBC branch anywhere in Canada. The order can also be picked up at the Toronto Pearson Airport location (T1 International Departures, post security) before catching a flight. And best of all – this incredible service is FREE!! 
Existing CIBC Clients
If you are already a CIBC client then you can access the Foreign Cash Online services through your online banking account by clicking "Order Foreign Cash" from the left hand navigation pane. This experience is fully integrated and allows clients to order within a few simple clicks – even better, the exchange rate is locked in as you purchase! Your bank account will be debited immediately and the currency can be delivered to your home, Toronto Pearson Airport or any CIBC branch in Canada. Delivery generally takes two-to-three days for most urban branch or home locations and three-to-five business days for most rural locations.
Non-CIBC Clients
If you aren't a CIBC client then you can order Foreign Cash Online via CIBC's eCommerce portal fx.cibc.com. This eCommerce solution provides non-clients with access to the same number of currencies but payment needs to be made via credit card and the delivery options include only home and the Toronto Pearson Airport. Delivery time is the same as it is for CIBC clients.
CIBC Foreign Cash Online works to provide customers with innovative and convenient ways of ordering/receiving their foreign currency. CIBC is the only financial institution to offer this complete suite of delivery options: with CIBC Foreign Cash Online you have access to up to 75 currencies representing 90 countries. Now, not only can you have cash delivered to Toronto Pearson airport, but you can purchase it last minute on your way out of the country as well! Whether you are a CIBC customer or not, using the service is easy and you are all set anytime you need foreign cash!
This service simplifies banking and travel for Canadians who find it difficult to make a special visit to their branch or who are pressed for time when preparing for their trip. That means just about every parent that I know! I'll be trying out this service the next time we are heading out of the country which will mean one less thing for me to have to race around and get done before heading to the airport. I know I would much rather spend my time planning our adventures than standing in a line at the bank waiting to purchase the currency that we need!
CIBC Foreign Cash Online Contest
The CIBC Foreign Cash Online Contest is open to entries until January 31, 2016. Enter the contest for a chance to win $1000 CAD (no purchase necessary – complete rules and regulations are available on the contest site).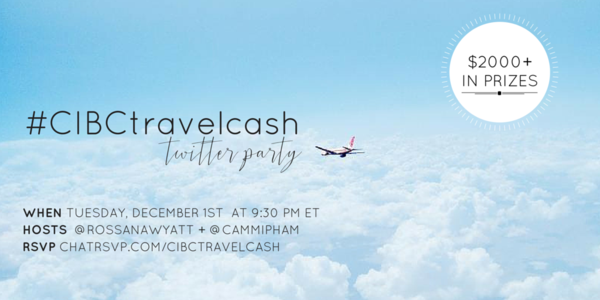 Twitter Chat and Prizes
Join us as we talk about the convenience and ease of use of CIBC Foreign cash online and discuss travel tips on Tuesday December 1st at 9:30PM ET. RSVP here to be eligible to win one of the $2400 in prizes and follow @CammiPham and @RossanaWyatt for questions and prize information. 
CIBC believes in simplifying banking and travel for Canadians who don't get a chance to visit the branch or are pressed for time. Now, you can get foreign cash delivered right to your door. Talk about smart! When you think travel, think CIBC. Banking that fits your life!
*DISCLAIMER: This post is brought to you by CIBC Foreign Cash Online TM. All thoughts, opinions are my own.