SellOffVacations new prepaid travel FX card is easy, convenient and secure to use when traveling.
Sticking to a budget when traveling is difficult under any circumstances but is even harder when traveling abroad and fluctuating exchange rates are factored in. One way to manage finances while traveling and enjoy a stress-free vacation is to use a prepaid travel FX card such as the one recently introduced by SellOffVacations. Using a SellOffVacations Travel FX card is the safe, easy and convenient way to travel with foreign currency and vacationers will return home knowing exactly how much they have spent.
Sell-OffVacations has been providing fun and affordable travel services to Canadians for over 30 years. When the company started in 1979 it was the first travel retailer to offer all-inclusive vacation packages to Canadians and in 2000 the company launched a website which offered Canadian consumers the convenience of shopping and buying affordable package holidays and flights via the internet.
Today SellOffVacations offers customers a full range of products that make life and travel easier including discount flights, vacation packages, cruises, coach tours, hotels, car rentals, and more. The new Travel FX card which is the company's latest product is the first of its kind on the market and will simplify the process of purchasing and using foreign exchange for SellOffVacations customers.
How the SellOffVacations Travel FX Card Works
The Travel FX card is preloaded with foreign currency and the preloading locks in the foreign exchange rate at the time of conversion. This protects the customer from rate fluctuations while traveling abroad. The only fees you pay are the initial charge for the card and the exchange rate at the time of conversion.
Other cards on the market convert Canadian dollars into the local currency at the time that the purchase is made so the consumer is still subject to foreign exchange fluctuations while spending abroad. The card works as an alternative to carrying foreign cash or using a credit card that is subject to fees which will leave you wondering if you would have been better off to pay in the local currency.
The new SellOffVacations Travel FX card lets you do just that. You can load up to the equivalent of $3,000 CDN in US Dollar, Mexican Pesos, British Pounds or Euros (only one currency can be loaded on the card at a time) and then use it to make purchases just as if you were spending foreign cash.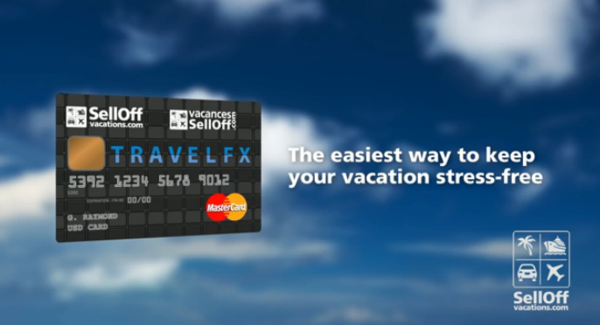 Easy and Convenient To Use
One of the great things about the Travel FX card is how easy and convenient it is to use. Don't have time to get to the bank before leaving on vacation? Not a problem as an account can be set up online and the card will be delivered to your home. Once you have the card it can be used to spend or take out money at millions of locations worldwide anywhere MasterCard is accepted including online, over the phone, and at ATMs.
You will also appreciate that you can track spending activity by logging into your online account at SellOff.travelprepaid.ca to review recent transactions and check your balance. Should you happen to be running low on funds on the card then it's easy and convenient to reload from within your account. 
Nobody feels safe carrying a lot of cash while on vacation but it's nice to have an alternative to using a credit card for all purchases knowing that you will be paying a fee on every transaction when the statement arrives. A travel FX card is the safe and easy way to travel with foreign currency and the low fees mean that it is cheaper than using either your credit card or international ATMs.
Safe and Secure
Security is a priority at SellOffVacations so the Travel FX cards are protected with chip and pin technology.
There is also a dedicated fraud team which continually monitors card activity and will contact you if transactions appear to be suspicious. The Contact Centre is also open 24 hours, 7 days a week to address any questions or concerns that you may have while traveling.
With the SellOffVacations Travel FX card you will be able to spend money abroad comfortably and securely knowing that there are no links to your main bank account.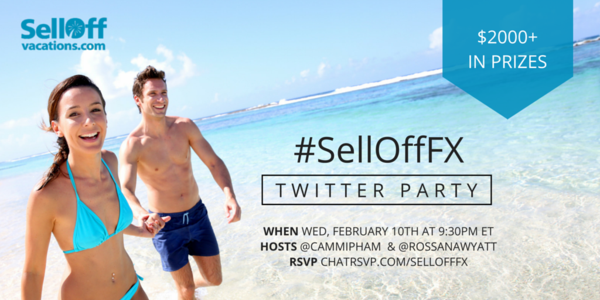 DISCLAIMER: This post is brought to you by SellOffVacationsTM. All thoughts, opinions are my own.
This post may contain affiliate links which help support the site. If you click an affiliate link and make a purchase then we will earn a small commission at no additional cost to you.