A summary of our current plans for 2012 travel adventures.
Now that I have finished reminiscing about our 2011 Travels, it's time to start the planning for 2012.  We have a couple of trips in the works that we are really excited about and hopefully will also be able to sprinkle in a few short jaunts throughout the year. 
First up is a trip to Paris for spring break in March.  The last time that my husband and I were in Paris was on our honeymoon nearly 17 years ago.  I fell in love with the city and can't wait to explore it further with my kids.  We will be staying for 9 nights and we already have a long list of things that we want to see and do.  I have even agreed to a daytrip to Disneyland Paris so that the girls can compare the park to its North American counterparts.  Apart from revisiting my all-time favourite museum (the Musée d'Orsay), strolling Paris and eating as many French treats as possible, I'm most excited about visiting the Palace of Versailles.  We had intended to visit on the previous trip but a strike by museum workers kept everything closed until the final day of our stay.  Hopefully we will have better luck this time.  There is also a possibility that we will take a day-trip by train to Geneva to visit friends that have returned to Switzerland after living in Canada for several years.  Just a little over 8 weeks now until we jet off to Paris – the countdown has begun!
Arc de Triomphe – Paris 1995
The other big trip for the year will be our summer vacation on the east coast of Canada.  We will be spending 7 days in Newfoundland which I'm very excited about as neither the girls or I have ever been.  A week is nowhere near enough time to see the province so we are going to confine ourselves to the city of St. John's and the Avalon Peninsula maybe going as far afield as Terra Nova National Park.  En route to Prince Edward Island, we are going to spend one night in Halifax, Nova Scotia as Katie is interested in visiting the Dalhousie campus (not sure how I got old enough to have a kid thinking about universities!).  We will then return to Prince Edward Island where we will be renting a cottage at Kindred Spirits Country Inn & Cottages once again.  This will be our 7th visit to PEI but the first since 2006.  Katie, in particular, is very excited to return to the place that she has so many great childhood memories about visiting.  We will wrap up the vacation with 2 nights in Moncton, New Brunswick so that Emma can see the world-famous tides of the Bay of Fundy.  Four provinces in 2.5 weeks – should be exciting!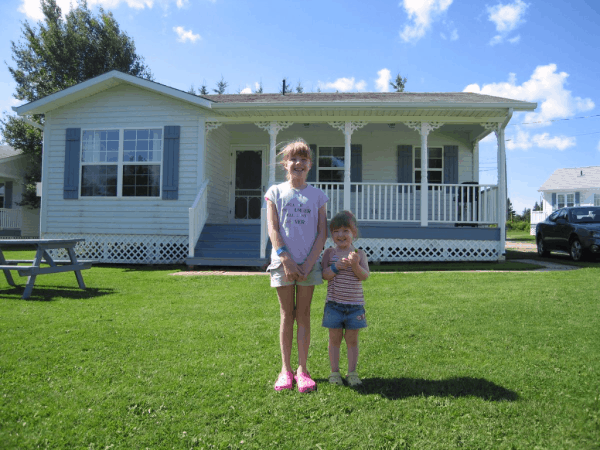 Kindred Spirits Country Inn & Cottages – one of our favourite spots in the world 
We will certainly be planning some weekend trips and day trips here and there throughout the course of the year in order to keep things lively.  The girls and I intend to head to Chicago early in August so that Emma and I can sightsee while Katie attends a Harry Potter conference.  Katie has also expressed a desire to spend her 16th (yes, gasp) birthday in New York City in October so we may be making another trip to the Big Apple this year as well.
I love the planning stage of travel and I'm currently living with a pile of guidebooks and magazines around my desktop as I research our 2012 destinations and make some decisions about accommodations and activities.  We have so much to look forward to in the upcoming year as we head out to explore the world near and far.
What does your family have planned for 2012?  Leave a comment letting me know where you will be traveling – I love to travel vicariously through others too! 
Have you liked our Facebook page yet?  I post articles from the blog there as well as photo albums from our travels and other travel news.  Or, if you prefer, you can subscribe to the free RSS feed or sign up for an email subscription to keep up-to-date on our travel adventures.