Looking for things to do in London with kids? A list of 14 of our family's favourite attractions and activities in London for kids.
London is one of the world's most interesting cities and just happens to be one of my favourite family destinations. As English author Samuel Johnson famously said, "If a man is tired of London, then he is tired of life". There's so much to do in London with kids that visitors can return again and again and find that they have only scratched the surface of what London has to offer.  
*UPDATED April 2017*
This post contains affiliate links
Our first family trip to London was in the spring of 2010 followed up by a second visit at the end of the summer 2013 and a spring break trip in March of 2015. We have seen many of the big attractions but there is still so much more that we want to see and experience in London and beyond. Here's a list of some of our family's favourite places and activities in London that we will just continue to add to.  
Looking for a hotel in London? Check out current rates and read reviews on Trip Advisor!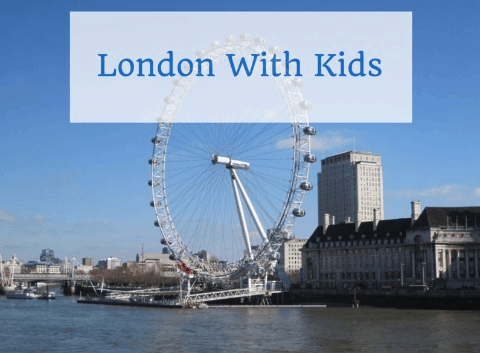 On a first trip to London with kids you will definitely have to visit the city's famous landmarks. Many of these can be described as "touristy" but I honestly don't think that label matters when traveling with kids. Often it is those "touristy" spots that the kids have heard of and they want to see what all the fuss is about for themselves. They also know that when they return from their vacation that everyone is going to ask them "so did you see Big Ben?" and they want to be able to answer "yeah, and it was so cool". Even for parents who have seen the landmarks before, it can be thrilling to see them for the first time through your child's eyes.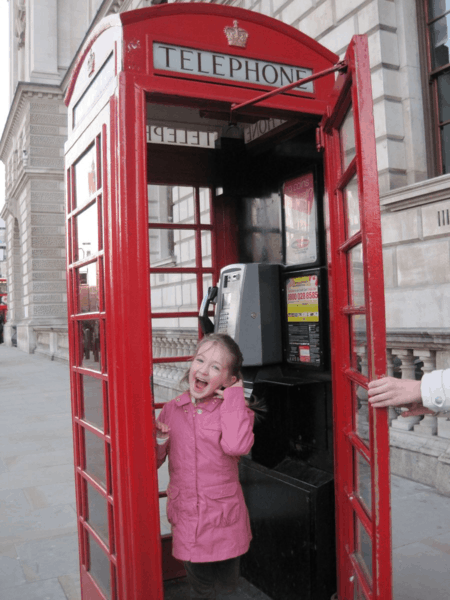 1. London Eye

Since its opening in 2000, The London Eye has become the most popular paid-for attraction in the United Kingdom and visitors eagerly join the sometimes lengthy queue for the opportunity to ride the world's largest cantilevered observation wheel. If by chance the kids haven't heard of it before arriving in London, they will be clamouring to ride it as soon as they get their first glimpse. It's best to arrive first thing in the morning before the queues get too long and a clear day is better for enjoying the breathtaking views across the city and beyond. It's also a good idea to make sure that the kids understand ahead of time that this wheel moves very slowly! Tickets may also be purchased online ahead of time which will cut down the wait considerably.
    (Read reviews and book tickets for the London Eye on TripAdvisor)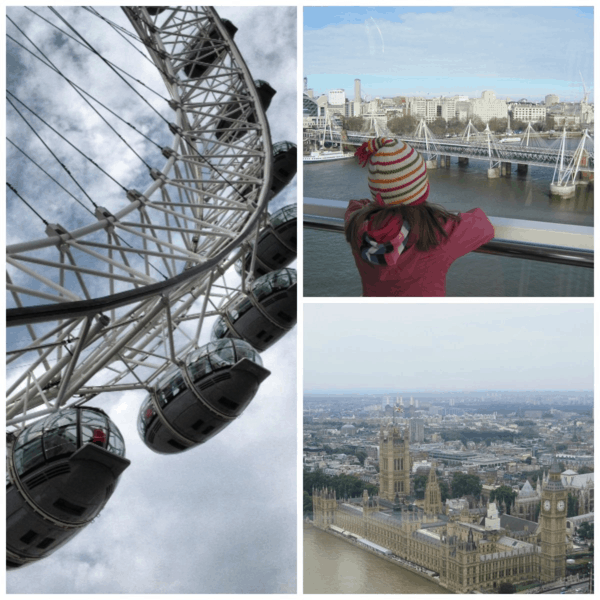 The Tower of London is another must-see attraction for families with something to appeal to everyone. Visitors of all ages can learn more about the Tower's gory history, see suits of royal armour, and admire the display of crown jewels while exploring the fortress. Older kids will enjoy the free 60 minute tours conducted by the Yeoman Warders (popularly known as 'Beefeaters') who entertain the crowds with intriguing tales of imprisonment, torture and execution. The kids will be fascinated by the Tower Ravens which are seen around the grounds as, according to legend, the kingdom and the Tower will fall if the resident ravens ever leave the fortress.  
    (Read reviews and book tickets for the Tower of London on TripAdvisor)
Westminster Abbey, which has been the coronation church since 1066, is a treasure trove of art and history and is the burial place for 17 monarchs and many of the most significant people in the nation's history. I was skeptical that the kids would be interested in exploring the Abbey but we had a successful visit, in no small part, because of the brilliant scavenger hunt that the Abbey staff provides for kids. The scavenger hunt cleverly leads the family through each area of the Abbey where parents can browse the tombs and memorials while kids are engaged looking for the answers to their list of questions. A completed questionnaire earns a treat from the gift shop so the kids have the incentive to find answers to all the questions and learn a bit of British history in the process.
    (Read reviews and book tickets for Westminster Abbey on TripAdvisor)
4.  Trafalgar Square

Trafalgar Square is the heart of London and everyone who visits London ends up there sooner or later – sometimes more than once. The kids are likely to recognize the lions which guard Nelson's Column, and will definitely want photos taken with the bronze beasts. Sadly, feeding pigeons is no longer allowed in Trafalgar Square (or outside St. Paul's Cathedral) so, in order to avoid disappointment, it might be a good idea to explain ahead of time to pint-sized Mary Poppins fans that they won't be participating in any renditions of Feed the Birds.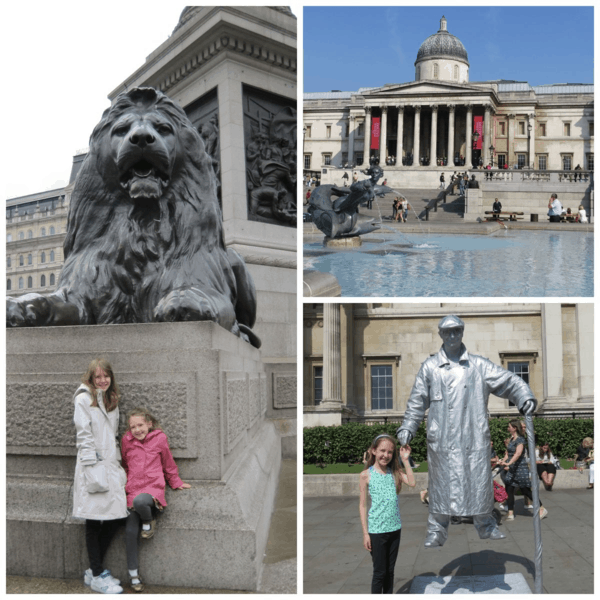 There has been a cathedral located on this site since 604AD and the current building was designed by Christopher Wren and built after the Great Fire destroyed its predecessor. St. Paul's Cathedral is the nation's church and an important symbolic landmark in the city but there are two things about St. Paul's that kids love – climbing to the dome for a view across the city and experiencing the Whispering Gallery for themselves. In this quirky gallery, a whisper against its walls is audible on the opposite side. Very impressive to the kids when demonstrated by a staff member and very amusing when mom can't manage to whisper correctly. We returned to St. Paul's Cathedral on our most recent visit and I'm happy to report that I mastered the correct whispering technique and we were able to hear each other from opposite ends of the Gallery. It really is quite impressive!
    (Read reviews and book tickets for St. Paul's Cathedral on TripAdvisor)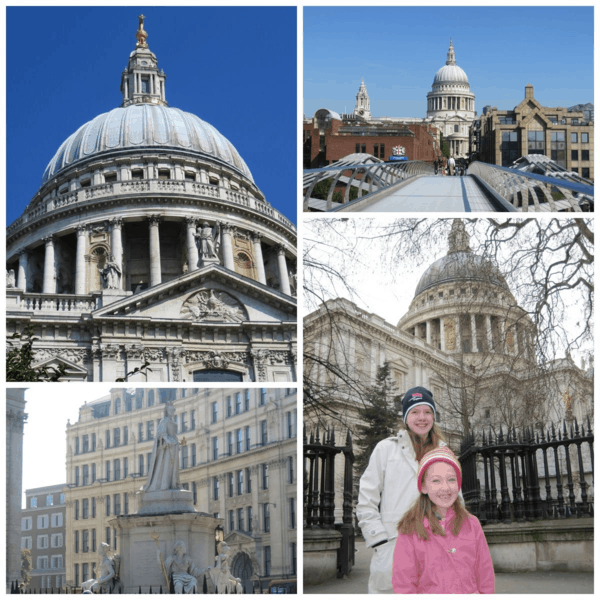 Madame Tussauds is as tacky and touristy as one can possibly get. It's expensive, it's crowded and the lines can be incredibly long BUT kids love it! If anyone has told them about the wax museum prior to the trip then there is no possible way to avoid taking them there. It's best to just try and get in the spirit of the attraction and have fun as your kids beg for photos with all of their favourite celebrities. The Spirit of London cab ride through 400 years of the city's history is enjoyable but I wouldn't consider going into the Chamber of Horrors with younger children. (Editor's Note: The Chamber of Horrors closed permanently in April, 2016)   
    (Read reviews and book tickets for Madame Tussauds London on TripAdvisor)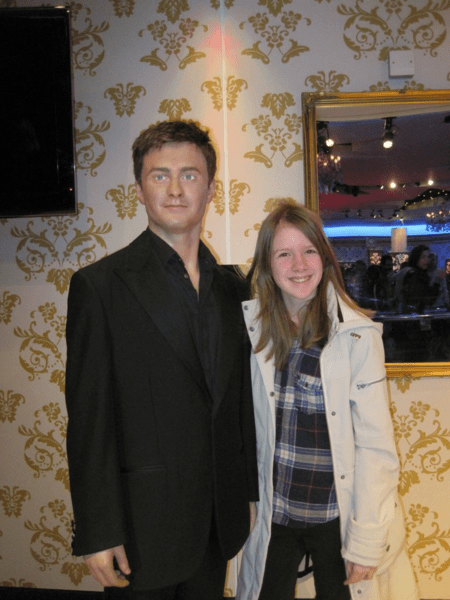 The London Zoo, which is located within the city on the northern edge of Regent's Park, is the world's oldest scientific zoo and has been open to the public since 1847. It's a small zoo by North American standards but it's a fun place to spend part of the day in order to take a break from other sightseeing. The zoo has at least two connections to popular culture that most kids will be familiar with. It is home to the reptile exhibit featured in Harry Potter and the Philosopher's Stone and it was home to a black bear called Winnie during WWI that was often visited by A.A. Milne and his son and inspired the author to pen Winnie-the-Pooh. 
    (Read reviews and book tickets for the London Zoo on TripAdvisor)
8. Anything Harry Potter
Harry Potter fans in the family will be thrilled to visit many of the film sites in and around the city of London. There are tours of various lengths that can be taken on foot, by car or even by bicycle around the city or as a day trip out of the city. Our family was thrilled with our 13 hour Harry Potter tour that included filming sites in London and the outskirts as well as the Village of Lacock and Oxford University.  Fans will also enjoy visiting Platform 9 3/4 at King's Cross station to have a photo taken pushing a luggage cart through the station wall and to shop for souvenirs in the adjacent shop.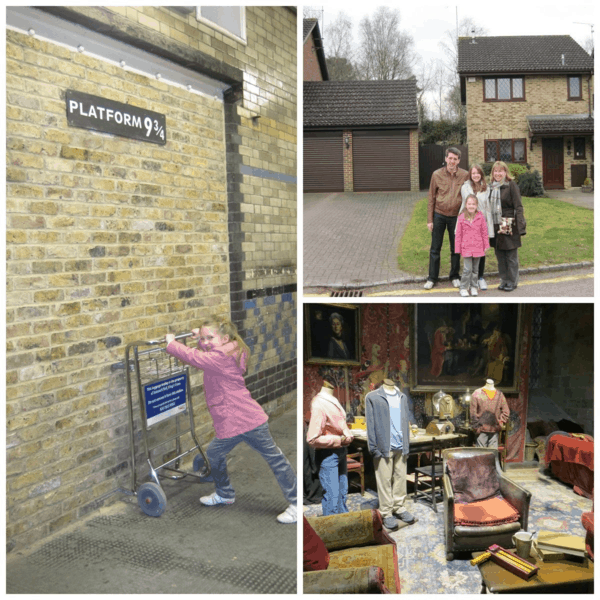 The highlight of any trip to London for Harry Potter fans though will most certainly be a visit to Warner Bros. Studio Tour London: The Making of Harry Potter. This attraction was not yet open on our first family visit to London in 2010 but was priority number one on our summer 2013 trip. The studio is located outside London and can be reached either via public transport or as part of a tour group for anyone who doesn't have a vehicle. We spent several hours on a self-guided tour of the studio completely blown away by the sets, props and costumes on display. The Studio Shop at the end of the tour has every conceivable Harry Potter souvenir available so plan to spend some time there as well. I have a detailed review of our day at The Making of Harry Potter here. 
    (Read reviews and book tickets for Warner Bros. Studio Tour London: The Making of Harry Potter on Trip Advisor)
9. Covent Garden
The bustling Covent Garden Market is a great place to stroll with kids to browse the open-air stalls, indoor shops and neighbourhood boutiques for unique souvenirs or to find a great place to eat. It was raining when we arrived at Covent Garden so we headed indoors and stumbled upon Candy Cakes, a colourful little shop selling delicious cupcakes and cookies made from natural ingredients. (We were quite disappointed to discover on our most recent trip to Covent Garden that the Candy Cakes shop was no longer there but found many other little shops to explore.) Theatre fans will also think it's "loverly" to visit the place where flower girl Eliza Dolittle met Professor Henry Higgins and transformed her life.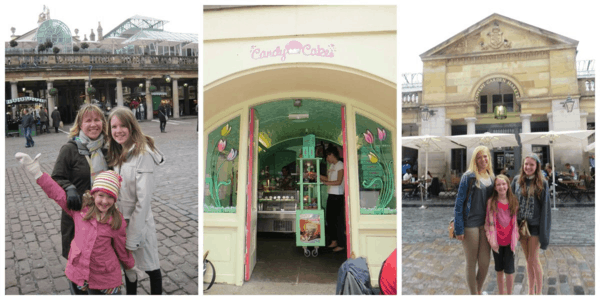 10.  Changing of the Guard/Horse Guards Parade
The Changing of the Guard ceremony at Buckingham Palace is one of the most popular attractions in London. Visitors start getting into position up to an hour prior to the ceremony in order to have a good view of the colourful ceremony which takes place daily at 11:30am from April to July and on alternate days from August to April. For those who don't want to spend the time waiting for the Changing of the Guard at Buckingham Palace, a nice alternative is the Horse Guards Parade which takes place off Whitehall each weekday at 11:00am and at 10:am on Sundays.     
11.  Museums
One of the great things about London for families is that there is free admission (although there may be a charge for special exhibitions) at many of the museums including the British Museum which is one of the world's greatest museums of history and where you can see incredible artifacts such as the Elgin Marbles and the Rosetta Stone. The list of museums with free admission also includes the Natural History Museum; the National Gallery; the National Portrait Gallery; the Science Museum; the Tate Modern; and the Victoria and Albert Museum.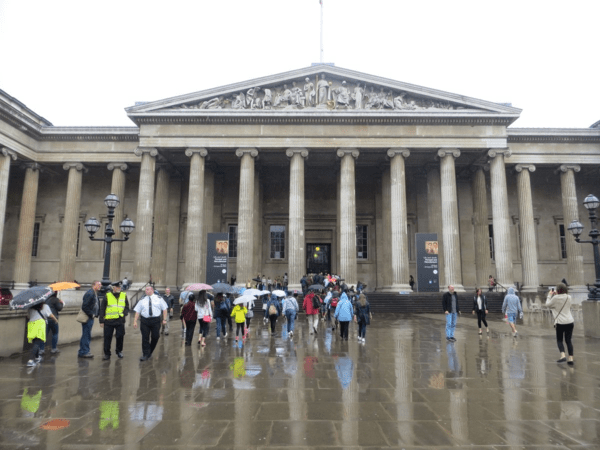 We didn't have time for many of the museums on our first family trip to London but we did visit the Churchill Museum and Cabinet War Rooms (which has an admission fee) as well as the National Portrait Gallery in Trafalgar Square. On our second family trip to the city we visited the British Museum, The Tate Modern and the National Gallery for the first time and toured the National Portrait Gallery a second time. On our most recent trip to London we returned to the British Museum and also visited the Victoria and Albert Museum for the first time.
12.  Parks and Gardens

London is one of the greenest capitals in the world with all of its fabulous parks enjoyed by residents and visitors year round. The parks are particularly welcome by visiting families when the kids need a break from sightseeing to just run and play. Some of the best parks to visit with kids are Regent's Park, Hyde Park, Kensington Gardens (with the Diana Memorial Fountain and Playground and the Peter Pan Statue), Hampstead Heath and Kew Gardens.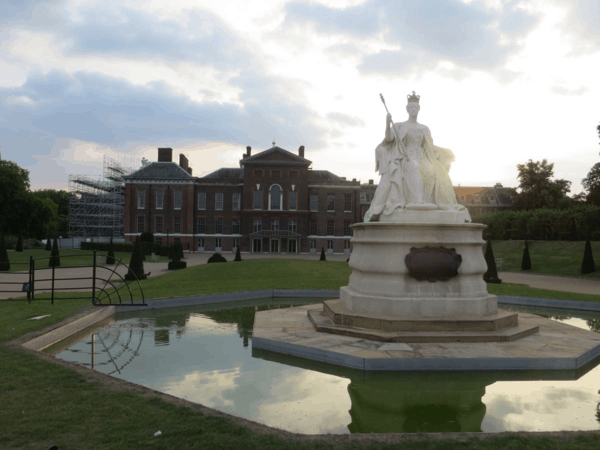 13.  Day Trips from the City
Day trips from London are a great option as there are numerous places to visit within a short train ride of central London including Windsor Castle, Oxford, Stonehenge, Bath, the Cotswolds and Stratford-upon-Avon. One of our family's favourite day trips was a river cruise to Greenwich where visitors head to the Royal Observatory in order to stand on the Prime Meridian or with one foot in each hemisphere. There is a machine in the courtyard which will print a Certificate declaring that you stood astride the Prime Meridian with the precise time GMT for one pound (be sure to have one pound coins on hand) which makes a great souvenir to take home to show friends.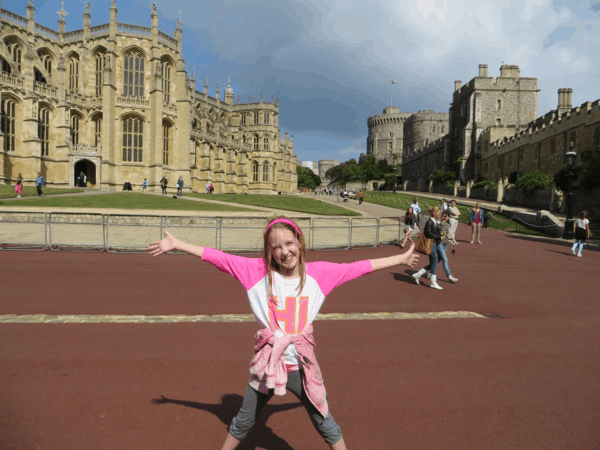 Our family loves attending the theatre so the West End is one of our favourite places in London. On two separate trips to London we have seen productions of Legally Blonde, Lion King, Les Misérables, Matilda, The Cripple of Inishmaan, The Book of Mormon, Charlie and the Chocolate Factory, The Mousetrap and Billy Elliot. On the most recent trip we also saw Shakespeare in Love, Memphis, The Play That Goes Wrong, and Made in Dagenham. There are so many productions playing in the West End that a family shouldn't have any difficulty finding a show to see.
Discounted tickets to many of the shows can be purchased on the same day (or sometimes up to a week in advance) on the TKTS website or at the booth in Leicester Square. We have also enjoyed tours of Shakespeare's Globe Theatre and learned more about the history of the open-air theatre but haven't been able to attend a performance during our winter visits as it operates seasonally.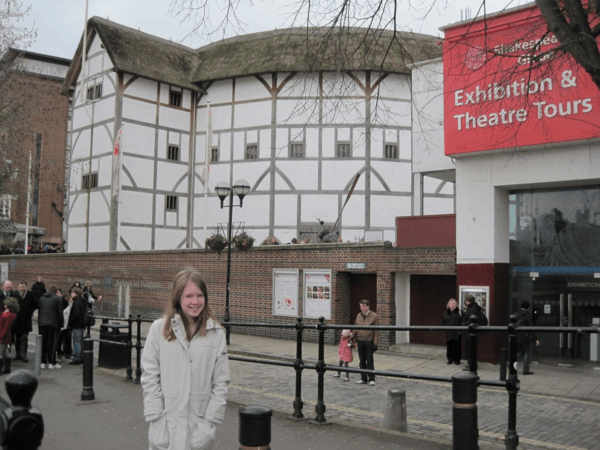 Outside Shakespeare's Globe Theatre
If you have been dreaming about a trip to London then it's time to start planning. London is a vibrant, cosmopolitan city that kids enjoy every bit as much as their parents do. We have passed our love for London on to our daughters which means there's one thing that I know for certain – we are never home from the U.K. very long before we start talking about the "next time" we go to London! 
This article may contain affiliate links which helps support this site at no additional cost to you.
We are a participant in the Amazon Services LLC Associates Program, an affiliate advertising program designed to provide a means for us to earn fees by linking to Amazon.com and affiliated sites
Related Articles
A Day Trip to Canterbury and Dover with London Taxi Tour
An Introduction to Skiing at The Snow Centre Near London
Citadines Trafalgar Square – Ideal for Families
Emma's Favourite Things: London
Experiencing the Magic of Harry Potter at Warner Bros. Studio Tour London
A Day in Stratford with London Taxi Tour
London Cabs: Our Photo Collection
Cruising Along The Thames To Greenwich
Pin this for later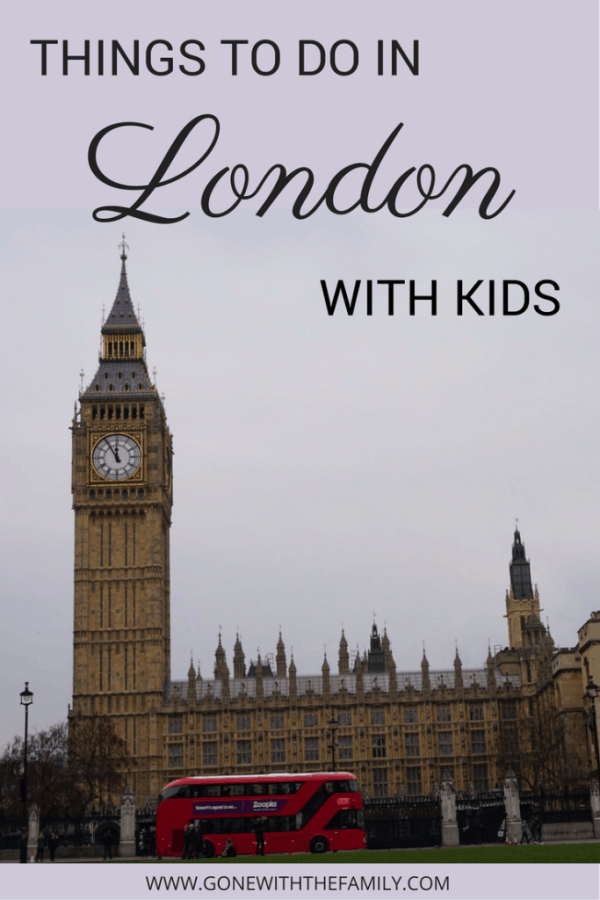 Want more on London with kids?  You can follow my London with Kids board on Pinterest right here.
Follow Lisa Goodmurphy – Gone with the Family's board London With Kids on Pinterest.