Looking for things to do in London with kids? A list of 14 of our family's favourite attractions and activities in London for kids.
London is one of the world's most interesting cities and just happens to be one of my favourite family destinations. As English author Samuel Johnson famously said, "If a man is tired of London, then he is tired of life". There's so much to do in London with kids that visitors can return again and again and find that they have only scratched the surface of what London has to offer.
*UPDATED April 2017*
This post may contain affiliate links. If you click an affiliate link and make a purchase then we receive a small commission at no additional cost to you.
Our first family trip to London was in the spring of 2010 followed up by a second visit at the end of the summer 2013 and a spring break trip in March of 2015. We have seen many of the big attractions but there is still so much more that we want to see and experience in London and beyond. Here's a list of some of our family's favourite places and activities in London that we will just continue to add to.
On a first trip to London with kids you will definitely have to visit the city's famous landmarks. Many of these can be described as "touristy" but I honestly don't think that label matters when traveling with kids. Often it is those "touristy" spots that the kids have heard of and they want to see what all the fuss is about for themselves. They also know that when they return from their vacation that everyone is going to ask them "so did you see Big Ben?" and they want to be able to answer "yeah, and it was so cool". Even for parents who have seen the landmarks before, it can be thrilling to see them for the first time through your child's eyes.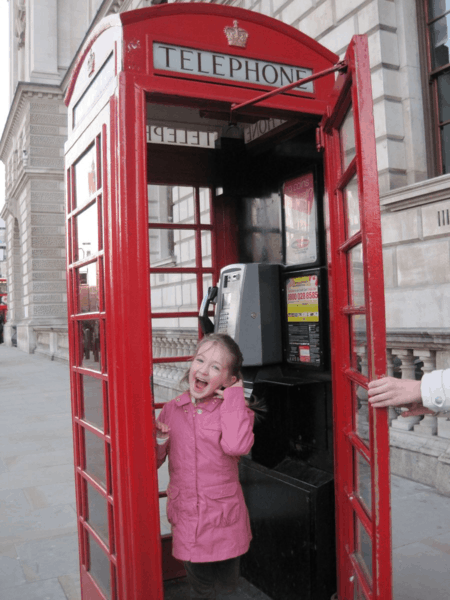 1. London Eye

Since its opening in 2000, The London Eye has become the most popular paid-for attraction in the United Kingdom and visitors eagerly join the sometimes lengthy queue for the opportunity to ride the world's largest cantilevered observation wheel. If by chance the kids haven't heard of it before arriving in London, they will be clamouring to ride it as soon as they get their first glimpse. It's best to arrive first thing in the morning before the queues get too long and a clear day is better for enjoying the breathtaking views across the city and beyond. It's also a good idea to make sure that the kids understand ahead of time that this wheel moves very slowly! Tickets may also be purchased online ahead of time which will cut down the wait considerably.
(Read reviews and book tickets for the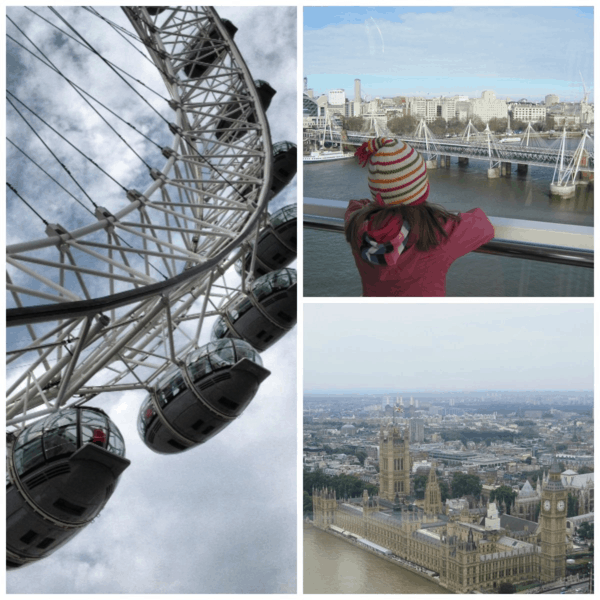 The Tower of London is another must-see attraction for families with something to appeal to everyone. Visitors of all ages can learn more about the Tower's gory history, see suits of royal armour, and admire the display of crown jewels while exploring the fortress. Older kids will enjoy the free 60 minute tours conducted by the Yeoman Warders (popularly known as 'Beefeaters') who entertain the crowds with intriguing tales of imprisonment, torture and execution. The kids will be fascinated by the Tower Ravens which are seen around the grounds as, according to legend, the kingdom and the Tower will fall if the resident ravens ever leave the fortress.
(Read reviews and book tickets for the
Westminster Abbey, which has been the coronation church since 1066, is a treasure trove of art and history and is the burial place for 17 monarchs and many of the most significant people in the nation's history. I was skeptical that the kids would be interested in exploring the Abbey but we had a successful visit, in no small part, because of the brilliant scavenger hunt that the Abbey staff provides for kids. The scavenger hunt cleverly leads the family through each area of the Abbey where parents can browse the tombs and memorials while kids are engaged looking for the answers to their list of questions. A completed questionnaire earns a treat from the gift shop so the kids have the incentive to find answers to all the questions and learn a bit of British history in the process.
(Read reviews and book tickets for
4. Trafalgar Square

Trafalgar Square is the heart of London and everyone who visits London ends up there sooner or later – sometimes more than once. The kids are likely to recognize the lions which guard Nelson's Column, and will definitely want photos taken with the bronze beasts. Sadly, feeding pigeons is no longer allowed in Trafalgar Square (or outside St. Paul's Cathedral) so, in order to avoid disappointment, it might be a good idea to explain ahead of time to pint-sized Mary Poppins fans that they won't be participating in any renditions of Feed the Birds.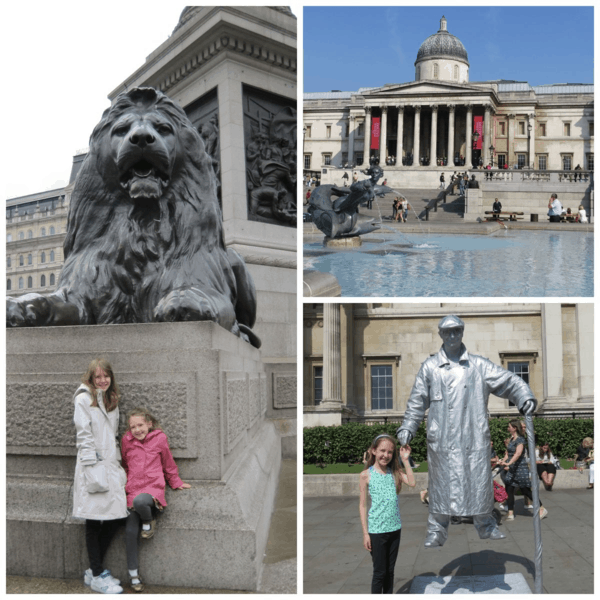 There has been a cathedral located on this site since 604AD and the current building was designed by Christopher Wren and built after the Great Fire destroyed its predecessor. St. Paul's Cathedral is the nation's church and an important symbolic landmark in the city but there are two things about St. Paul's that kids love – climbing to the dome for a view across the city and experiencing the Whispering Gallery for themselves. In this quirky gallery, a whisper against its walls is audible on the opposite side. Very impressive to the kids when demonstrated by a staff member and very amusing when mom can't manage to whisper correctly. We returned to St. Paul's Cathedral on our most recent visit and I'm happy to report that I mastered the correct whispering technique and we were able to hear each other from opposite ends of the Gallery. It really is quite impressive!
(Read reviews and book tickets for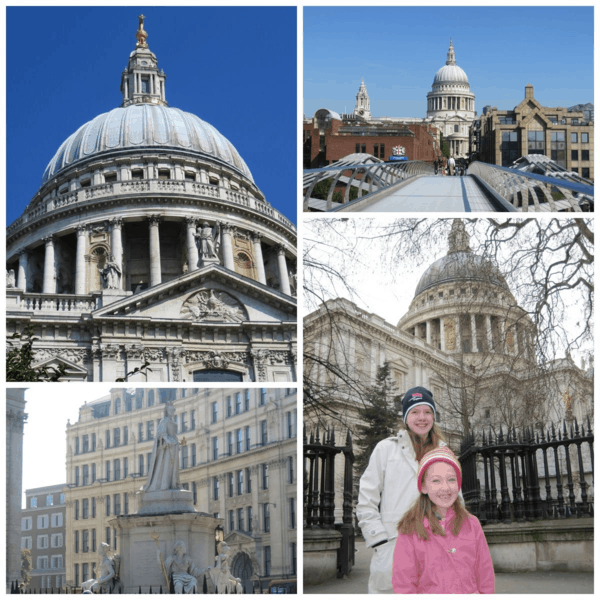 Madame Tussauds is as tacky and touristy as one can possibly get. It's expensive, it's crowded and the lines can be incredibly long BUT kids love it! If anyone has told them about the wax museum prior to the trip then there is no possible way to avoid taking them there. It's best to just try and get in the spirit of the attraction and have fun as your kids beg for photos with all of their favourite celebrities. The Spirit of London cab ride through 400 years of the city's history is enjoyable but I wouldn't consider going into the Chamber of Horrors with younger children. (Editor's Note: The Chamber of Horrors closed permanently in April, 2016)