Visitors to St. John's, Newfoundland must visit the Cape Spear Lighthouse National Historic Site of Canada to earn the bragging right of having stood on North America's most easterly spot.
Cape Spear, located on the Avalon Peninsula near St. John's, Newfoundland, is the most easterly point of North America and the Cape Spear Lighthouse has been designated a National Historic Site of Canada for its unique heritage value as the oldest surviving lighthouse in Newfoundland and Labrador.
Cape Spear has been important for navigational reasons since early explorers were arriving in North America.  The cape was originally named Cabo da Esperança by Portuguese sailors, then Cap d'Espoir by the French, and finally became known as Cape Spear in English.
Cape Spear National Historic Park is located just 15 kilometres or so (about a 20 minute drive) from St. John's but the weather can vary a fair bit (meaning significantly colder) so visitors need to be prepared.  We visited on a windy day in mid-August – so windy, in fact, that my 9 year old daughter, Emma, feared that she was going to blow away.
We headed first for a walk around the grounds and to take photos with the sign that indicates that this is the point where Canada begins (or, as the sign states: "ends depending on which way you are going").  Facing the sea the next stop east will be Ireland.  Emma and I thought that it was pretty cool to be able to say that we were at the most easterly point of North America and we think that we should now try to visit the most westerly and most southerly points but agree that we'll pass on the most northerly point.
While we were exploring the area, we discovered that there was a WWII bunker built into the side of the hill.  As Cape Spear is located on what was a direct convoy route between North America and Europe, a defence battery was set up to protect the entrance to St. John's harbour against German submarines off the coast of Newfoundland.  Today the bunker provides a reminder of the war and welcome shelter from the wind.
Even though Newfoundland had been populated for more than 2 centuries, it wasn't until early in the 19th century that consideration was given to building lighthouses to provide assistance to sailors attempting to navigate the island's rocky coastal areas.  A first light was placed at the entrance to St. John's Harbour in 1810 but it wasn't until the 1830s that the need for another lighthouse was discussed and Cape Spear chosen as the location.  Construction of the Cape Spear Lighthouse was completed in 1836.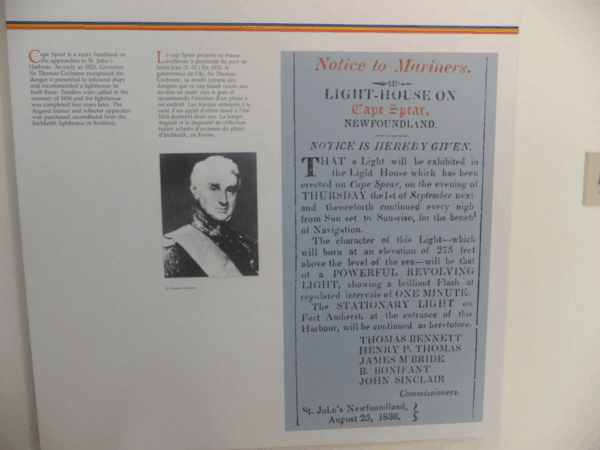 Notice to Mariners at Cape Spear Lighthouse
The lighthouse was built as a 2 storey square structure with the light tower in the middle of the building.  This unique architecture became a common structure for lighthouses in Newfoundland during that era as the building would also serve as the residence for the lighthouse keeper and his family.  Generations of the Cantwell family served as lightkeepers at Cape Spear for over 150 years.
Today the historic lighthouse has been restored to its original appearance and furnished as a light keeper's residence from the mid-19th century.  It has been designated a National Historic Site of Canada as it is the oldest surviving lighthouse in Newfoundland and Labrador.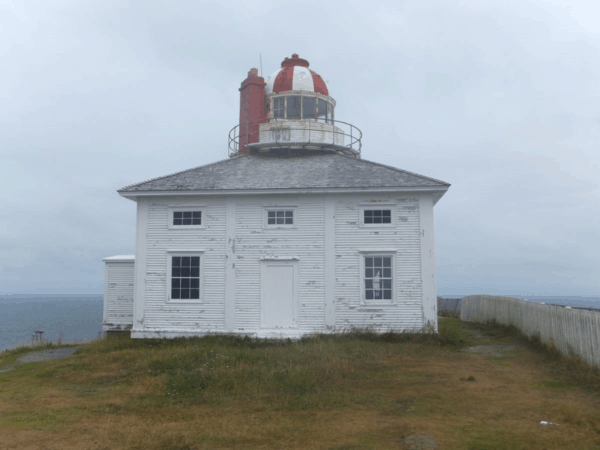 Cape Spear Lighthouse – National Historic Site of Canada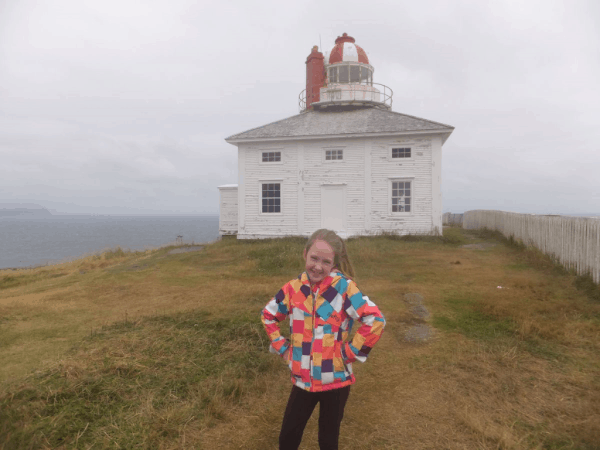 Emma at Cape Spear Historic Lighthouse
A modern lighthouse tower was built at Cape Spear in 1955 using the light from the original lighthouse.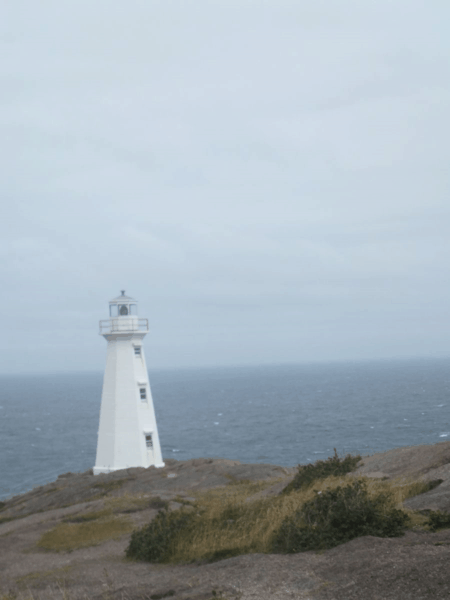 Modern Lighthouse at Cape Spear
Cape Spear is also said to be an excellent location for viewing icebergs, whales and seabirds (all in appropriate seasons).  We were too late in the season for icebergs and, unfortunately, it was so cold and windy on the day that we visited that we didn't stand still long enough to view any type of wildlife.  The weather also prevented us from attempting any of the hiking trails which I understand boast incredible views and scenery.  Hiking at Cape Spear has, therefore, been added to my list of things I'm going to do the next time that we are in Newfoundland – and there will definitely be a next time. 
What You Need To Know:
Cape Spear Lighthouse National Historic Site grounds are open year-round;
The lighthouse and the giftshop are open seasonally – the current dates and hours of opening can be found here;

Canada Day and Parks Day are celebrated at the site with special activities;

Cape Spear Lighthouse is located on Route 11 (also known as Cape Spear Drive) about 15 km outside St. John's;
Entry fees are available here;

Cape Spear's geographic location makes it susceptible to rapid and unpredictable weather changes due to wind shifts – it's important to dress and prepare accordingly;

The coastline at Cape Spear can be treacherous – it is important to stay on designated hiking trails and keep off the rocks near the water's edge.
Related Links
Elliston, Newfoundland: Root Cellar Capital of the World
Visiting Newfoundland's Witless Bay Ecological Reserve
A Picnic at the Ferryland Lighthouse
A Titanic Quest in Eastern Canada
Newfoundland's Terra Nova Resort
A Closer Look at Puffins in Elliston, Newfoundland
Lighthouses of Atlantic Canada
Courtyard By Marriott in St. John's, Newfoundland