A list of family-friendly attractions and activities in Toronto, Canada and popular day trips from the city.

Canada's largest and best-known city is also a fun family-friendly destination. The multi-cultural city of Toronto has something for everyone – museums, galleries, shopping, entertainment, diverse neighbourhoods and fabulous food.
This post may contain affiliate links. If you click an affiliate link and make a purchase then we receive a small commission at no additional cost to you.
I have lived in the city of Toronto and the Greater Toronto Area for more than 20 years and still have much to explore in this vibrant city so don't expect to see everything in a few days. Pick a few things that appeal to you and the kids and just enjoy your visit to our beautiful city.
Major Attractions in Toronto
Standing more than 1,800 feet tall, the CN Tower is the most recognizable building in Toronto's skyline and I dare you to try and visit the city with your kids without taking them to the top. Thrills start with the high-speed glass-fronted elevator that whisks passengers to the Look-Out Level in about 58 seconds at a speed of 22 kilometres (15 miles) an hour.
One level down is the popular Glass Floor where anyone with a fear of heights will want to avert their eyes while their children casually pose on the glass with a view of the ground more than 1,000 feet below.
Serious thrill-seekers can now participate in the Edge Walk which is the world's highest full-circle hands-free walk on a 5 foot ledge outside the main pod of the tower. The 30 minute walk comes with a price tag of $175 though and participants must be at least 13 years of age and weigh more than 75 pounds. A much tamer experience can be had in 360 where guests can enjoy both a meal and a magnificent view of the city of Toronto as the restaurant completes a revolution each hour.
Read reviews for the CN Tower on TripAdvisor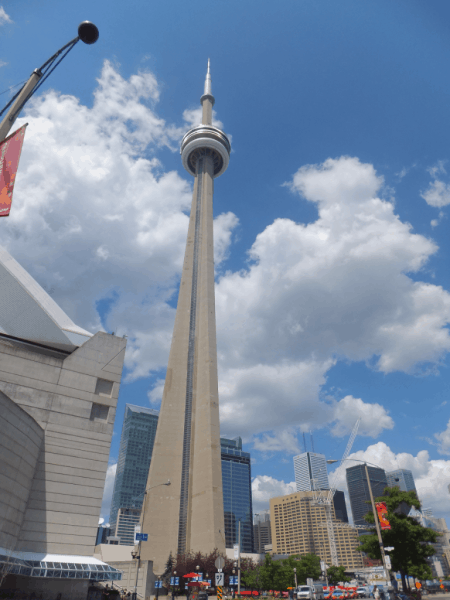 Another attraction that both kids and adults will love is the Royal Ontario Museum (the "ROM"). The ROM is considered to be one of the world's leading museums of natural history and world cultures and features exhibits that will appeal to everyone. The museum has over 30 galleries including our favourites The Age of Dinosaurs, The Age of Mammals, Egypt and The Gallery of Gems.
There's also a Bat Cave which is a replica of St. Clair Cave in Jamaica that features over 800 specimens and models of bats but my 9 year old daughter won't go anywhere near it. The ROM has an extensive schedule for children and families as part of the ROMkids program that ranges from drop-in activities to clubs for kids to sleepovers at the museum.
Read reviews and book tickets in advance for the Royal Ontario Museum on TripAdvisor
Families that appreciate art will enjoy a visit to the Art Gallery of Ontario (the "AGO") which is located in downtown Toronto and is one of the largest art museums in North America. The AGO has more than 80,000 works of art including a large Canadian collection as well as many masterpieces of European art, contemporary art and photography.
It's also one of the most family-friendly galleries that we have ever visited with hands-on learning spaces as well as activities designed to engage children in the artwork. Entry to the permanent collections is free on Wednesday evenings from 6pm – 8:30pm so anyone who isn't sure that their kids will enjoy an art gallery might want to plan to visit during that time.
Read reviews for the Art Gallery of Ontario on TripAdvisor
One of my family's favourite attractions to visit is the Ontario Science Centre where kids have so much fun playing that they don't even realize how much they're learning. Exhibit Halls include The Living Earth which features a rainforest for visitors to stroll through, Mindworks which examines the mysteries of the human brain, Space where visitors can experience the night sky in the planetarium, the Science Arcade which has loads of fun physics experiments to try, and the KidSpark play area for kids under 8 years of age.
The Science Centre also has an IMAX Dome theatre and there are several films to choose from each day. We recently viewed the excellent film Born to be Wild about orphaned elephants and orangutans which are rescued, raised and returned to the wild. The immersive IMAX Dome experience is incredible but parents of young children should be aware that they may find it too intense.
Read reviews for the Ontario Science Centre on TripAdvisor
The Toronto Zoo is perfect for families with kids of any age to spend a few hours or an entire day. The Zoo is organized geographically and was actually the first zoo in North America to group plants and animals this way.  The animals are grouped into the following 7 regions:  Africa; the Americas; Australasia; Canadian Domain; Eurasia; Indo-Malaya; and Tundra Trek.
There are over 10 km (6 miles) of walking trails at the zoo which makes it difficult to cover it all in one day. It's best to pick which animals the kids want to see most and visit those areas first so that there is no disappointment when it's time to leave.
The Toronto Zoo recently welcomed a pair of giant pandas who are on loan from China for 10 years. The pair will remain in Toronto until 2018 and will then relocate to the Calgary Zoo for the remaining 5 years.
The zoo also has a number of activities that will appeal to families including a play area, the Zoomobile, the Conservation Carousel, and rides on camels or ponies. The zoo also has a new Gorilla Climb Ropes Course where harnessed visitors of all ages can safely swing, crawl and climb up to three levels off the ground.
Not very many people realize that Toronto has a castle to call its own. Casa Loma was built by Canadian financier Sir Henry Pellatt early in the 20th century but he had to abandon his dream home when he was forced into bankruptcy during an economic downturn following World War II.
Casa Loma, which is now owned by the City of Toronto, is one of the city's top tourist attractions. With the assistance of audioguides, visitors take self-guided tours through the rooms of the castle including The Great Hall with its 60′ ceilings, the Library and the Conservatory, and the second floor suites of Sir Pellatt and Lady Pellatt. Kids particularly like the long underground tunnel that extends from the main house to the stables.  
Read reviews for Casa Loma on TripAdvisor
Hockey fans of all ages will also be interested in paying a visit to the Hockey Hall of Fame which is located in Brookfield Place downtown. Visitors can tour the largest collection of hockey memorabilia in the world, play interactive games and have photos taken with the Stanley Cup.
Read reviews and book tickets in advance for the Hockey Hall of Fame on TripAdvisor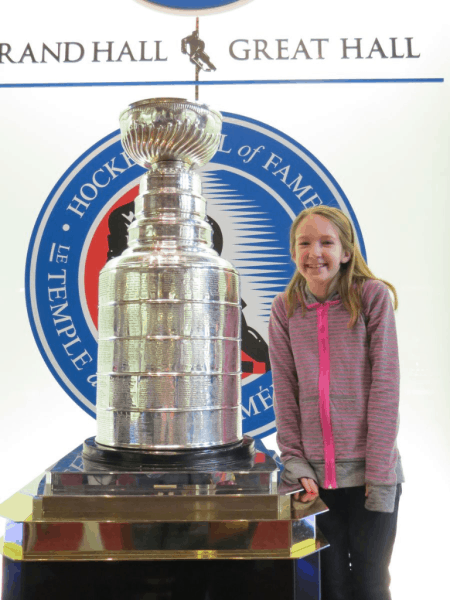 Later this summer the highly anticipated opening of Ripley's Aquarium of Canada will take place. The aquarium, located next to the CN Tower, will have more than 13,500 marine creatures from around the globe on display. Exhibits will include Tropical Reefs, Atlantic and Pacific Ocean Habitats, Jellyfish, Seahorses, Stingrays, and Great Lakes exhibits and much more. (Reserve timed tickets online and save)
Read reviews and book tickets in advance for Ripley's Aquarium of Canada on TripAdvisor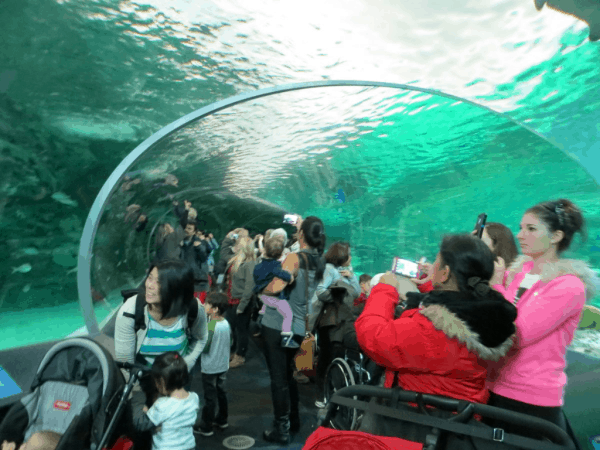 Historical Attractions in Toronto
One of Toronto's best historical attractions is the Fort York National Historic Site located just west of downtown. Fort York was built in 1793 and was the site of the Battle of York which took place during the War of 1812. The walls of the fort surround Canada's largest collection of original War of 1812 buildings. 
Black Creek Pioneer Village is a living history museum spread over more than 30 acres of country property which was once the farmstead of the Stong family in north Toronto.  It features heritage buildings that have been furnished with period furniture and artifacts.
Historical interpreters and trades people in period dress are found around the property conducting demonstrations, answering questions and explaining how people lived in the mid 19th century in rural Ontario.
Kids love exploring the grounds, watching demonstrations, asking questions and participating in hands-on activities. A stop at the Half Way House Inn for some delicious baked goods is highly recommended.
Amusement Parks
Just a short drive north of Toronto, thrill ride enthusiasts can visit Canada's Wonderland which bills itself as Canada's premier amusement park. In addition to the big roller coasters, the park also has Planet Snoopy and KidZville for younger family members, a water park with a wave pool, water slides and a lazy river, and live entertainment.
The park is only open from May through October but it is one of the most popular attractions in the Greater Toronto Area (the "GTA").
Families with younger children may prefer a visit to Centreville Amusement Park which is located on Centre Island just across the harbour from the city. The ferry ride to get to Centre Island is part of the fun and parents will appreciate the spectacular view of the city from the water.
Centreville has more than 30 rides and attractions that will appeal more to younger kids and there is no admission fee to enter the park but visitors have to purchase passes for the rides. This park is also only open during the summer months.
Anyone who happens to be in Toronto during the last two weeks of August may enjoy a visit to the Canadian National Exhibition also known as the "Ex". The Ex is 135 years old and features more than 50 rides on the fairgrounds, farm animals, Kids World, a horse show, lots of food to sample and more. One of the highlights is the Canadian International Air Show display of aerial aerobatics which takes place over Labour Day weekend.
Toronto Neighbourhoods
Toronto is a city of great neighbourhoods to visit. Some favourites are: Chinatown (Spadina and Dundas), Little Italy (College Street), Greektown (Danforth Avenue), and Little India (Gerrard Street East) all for the incredible cuisine.
The revitalized Distillery Historic District has become one of Toronto's hottest neighbourhoods with designer boutiques, cafés and restaurants housed in Victorian-era buildings that had once been part of the Gooderham & Worts distillery. The pedestrian-only area has been named a National Historic Site and now also hosts a European-style Christmas market each December.
Other Attractions in Toronto
Riverdale Farm is a free attraction located in a park-like setting in the downtown neighbourhood of Cabbagetown. Visitors can walk the park's pathways, observe farm animals and chat with the farmers who work the property.
The City of Toronto has over 1600 parks and gardens which are great places for residents as well as visitors to play amid nature. The best known of these is High Park which is located in Toronto's west end. The park which is a popular recreational area is visited by more than 1 million people annually and includes a Children's Garden as well as a zoo.
Rouge Park is not very well known despite being Toronto's largest park as it covers over 40 square kilometres stretching from the Oak Ridges Moraine to the shores of Lake Ontario. Parks Canada has recently named Rouge Park Canada's first National Urban Park.
Harbourfront Centre is a not-for-profit cultural organization located on Toronto's waterfront. The centre has year-round programming in theatre, music, dance, the visual arts and more and also hosts cultural festivals throughout the year. Much of the programming is available free of charge. During the winter, visitors skate free of charge at the Natrel Rink with incredible views of the city.
Legoland Discovery Centre, Toronto has just recently opened in Vaughan Mills north of Toronto. The Centre has numerous attractions such as MINILAND, LEGO Friends, and LEGO Construction Site, 2 rides, 4D film, and a shop featuring over 900 LEGO products. Legoland Discovery Centre is geared toward kids aged 3-10 and those aged 2 and under are admitted free.
Entertainment in Toronto for Families
Toronto has a vibrant arts community and visitors will have no difficulty finding a performance that appeals to them whether they prefer theatre, ballet, opera or symphony.
Toronto also has something for sports fans with several professional franchises in the city. The Toronto Maple Leafs (hockey), Toronto Blue Jays (baseball), Toronto Raptors (basketball), and Toronto Argonauts (Canadian football) are probably the best-known franchises but the Toronto FC soccer franchise and the Toronto Rock lacrosse team are becoming quite popular as well.
Shopping in Toronto with Kids
St. Lawrence Market has been thriving in downtown Toronto since 1803 and has recently been recognized by National Geographic as the number one food market in the world. It's the perfect place to spend some time wandering the stalls and just enjoying the sights, sounds and smells of the market.
The market is located in the heart of downtown and features more than 120 food vendors and is the perfect place to pick up a quick lunch or snack. One of the most popular lunch items is the famous peameal bacon sandwich at Carousel Bakery.  
Other popular shopping districts include the Distillery Historic District, Bloor Street-Yorkville, and Queen St. West. The Eaton Centre shopping mall is located at Yonge St. and Dundas St. and has a selection of more than 230 retailers, restaurants and services.
Sightseeing Tours
City Sightseeing Toronto is a British-style double decker bus that provides hop on hop off tours of Toronto. The bus makes 24 stops (including Casa Loma, the ROM, the AGO, the CN Tower, St. Lawrence Market, Queen's Quay, and the Distillery District) and the ticket is valid for 3 days so visitors are able to see the city at their own pace.
Sightseeing tours of the harbour provide breathtaking views of the Toronto skyline. Companies such as Toronto Harbour Tours take passengers on a tour of the harbour and to the Toronto Islands to explore. Visitors can get the same view for much less by hopping on one of the ferries but would have to forego the narration provided by the tour guide.
Check reviews and book tours of the Toronto Harbour in advance on TripAdvisor
Foodies can also find food tours that will appeal to their taste buds. Tasty Tours, for example, provides sweet tours in a couple of different locations in the city.
If two wheels is your preferred method of transportation then check out Toronto Bicycle Tours which provides guided tours of several neighbourhoods. There are smaller bikes, bike seats and trail-a-bikes available for younger guests (minimum 1 year of age), however, the company does recommend a private tour for families.
One of the best tours for families is "Flowers, Cows, and Chocolate!" which includes stops at the Allan Gardens Conservatory, Riverdale Farm and a chocolate shop in the Distillery District for a little treat. A bicycle helmet, water and snacks are included with all bicycle tours so all families have to do is show up ready to ride. 
The Tap into TO Greeters program arranges for tours to be provided free of charge by city residents that have volunteered to be "greeters". The greeters will meet with visitors and take them either by foot or by public transit to check out some of their personal favourite spots in the city on a tour that will last between 2 and 4 hours. Tours are offered in numerous languages and should be arranged at least a week in advance. Tips are strictly forbidden. 
Visitors looking for something a little different should consider a Segway Tour in the Distillery Historic District. Guides will provide some training on operating the segway before heading out for a tour of the pedestrian-only Distillery District. Riders must be at least 12 years of age and weigh between 100 and 280 pounds.
CityPASS Toronto
Families planning to see several of the major attractions in Toronto should consider purchasing a CityPASS. A CityPASS includes admission to the CN Tower, the Royal Ontario Museum, Casa Loma, the Ontario Science Centre and the Toronto Zoo at significant savings of approximately 43%. CityPASS holders are also able to skip the ticket lines at the attractions and head directly to the entrance which can save valuable time on busy days. The CityPASS booklets are good for 9 consecutive days from the date first used and the attractions can be visited in any order. (Editor's Note: Update August/2016 – CityPASS Toronto now includes the CN Tower, the ROM, Casa Loma, Ripley's Aquarium and either the Ontario Science Centre OR the Toronto Zoo.)
Day Trips From Toronto
Visitors to Toronto may want to take the opportunity to plan a day trip to nearby communities. These are a few of my favourites that are within a 1-2 hour drive of Toronto.
One of the best art galleries in Canada can be found in the village of Kleinburg, just a short drive north of Toronto. The McMichael is a great choice for families who want to experience an art gallery with their children as kids seem drawn to the landscape art (particularly if they have studied the Group of Seven in school).
The gallery is not too large so it's easy to spend a couple of hours and see the collection; there is great programming for families, particularly on weekends; and the extensive grounds and walking trails are a great way to burn off some energy while exploring outdoors.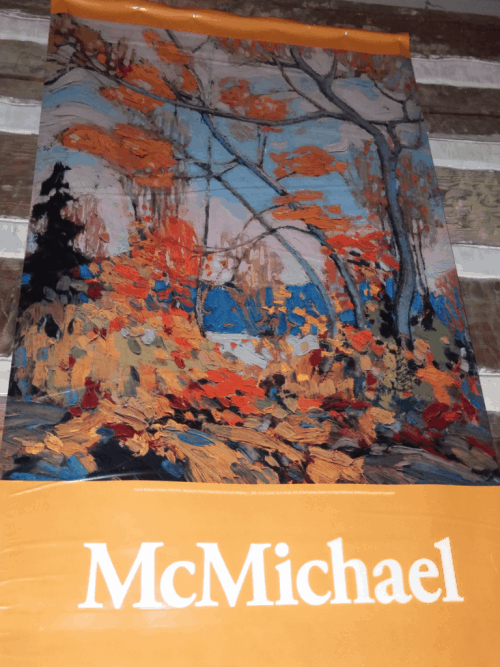 Both Niagara Falls and the village of Niagara-on-the-Lake are within about an hour and a half's drive from downtown Toronto. There's enough to do in Niagara Falls to keep families busy for several days but with only one day then taking a cruise into the basin of the thundering falls is absolutely necessary. Kids will also enjoy an hour spent at the Niagara Parks Butterfly Conservatory where they will be fascinated by the more than 2,000 colourful butterflies floating around in the rainforest setting.
Niagara-on-the-Lake is a charming village with unique shopping and boutiques, lovely hotels and world-class theatre at The Shaw Festival.  The village also has the only Ontario outlet of COWS Ice Cream, the world-famous ice cream from Prince Edward Island that is a favourite of our family.
Stratford is also approximately 1-2 hours from Toronto and home to the Stratford Shakespeare Festival, an internationally renowned celebration of theatre that runs annually between April and November. The festival has four performance venues and the playbill includes Shakespeare plays, popular musicals and works by modern playwrights.
If driving to Stratford on a Thursday or Saturday, then consider a stop in St. Jacob's where Canada's largest year-round Farmer's Market is open from 7am – 3:30pm and you will find hundreds of food and craft vendors who will tempt you with their wares.
The Tourism Toronto website is a great source of information on attractions, activities, accommodations and restaurants in Toronto.
Related Articles
7 Things To Do at Canada's Wonderland If You Don't Love Thrill Rides
Ripley's Aquarium of Canada: Toronto's Exciting New Attraction
Royal Ontario Museum – Ultimate Dinosaurs
Visiting the McMichael Canadian Art Collection with Kids