Review of our visit to the Science of Rock n Roll exhibition at the Ontario Science Centre in Toronto.
Have you ever performed a concert in your bedroom using a hairbrush as a microphone? Or rocked out with your air guitar when nobody was watching? If the answer is yes, then you are going to love the Science of Rock 'N' Roll exhibition at the Ontario Science Centre in Toronto.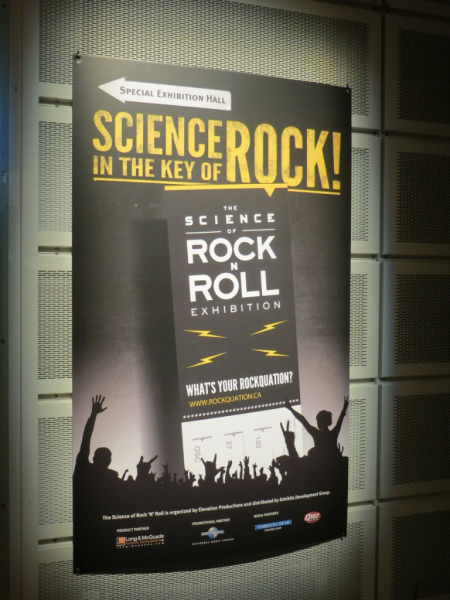 The Science of Rock 'N' Roll Exhibition
The Science of Rock 'N' Roll is a new interactive exhibition which allows visitors to discover just how science and technology has impacted rock 'n' roll. This family-friendly travelling exhibition opened June 11th and will run until October 26th.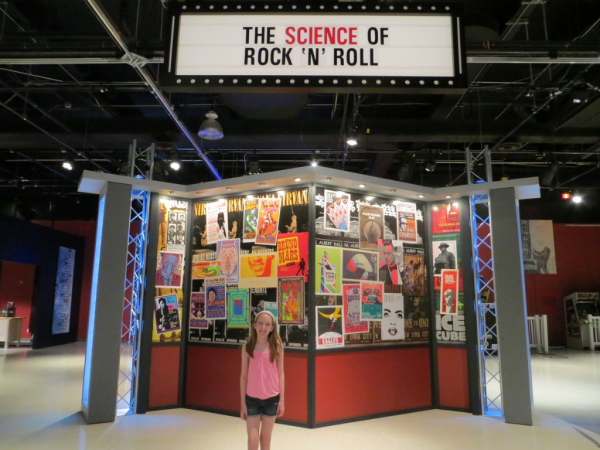 The exhibition is free with general admission to the Science Centre, however, I would recommend obtaining The Science of Rock 'N' Roll All Access Backstage Pass which is available for purchase just outside the entrance to the exhibition. The pass only costs $2 and will allow you to record and email yourself video footage of many of the interactive experiences in the exhibition. And believe me, you are going to want to share the proof that you are secretly a rock star all over social media and drive your friends crazy with envy!  
The exhibition opens with several displays that showcase the history of rock 'n' roll from the 1950s until present day. My 10 year-old daughter, Emma, enjoyed looking at these "ancient artifacts" while I fondly recalled my youth. Try explaining to a kid brought up on iPods and CDs what a cassette tape or an 8 track is and you will realize just how much technology has changed the music industry over the past few decades.
We passed through the historical exhibits fairly quickly because my daughter was eager to get to the hands-on "fun" stuff. Emma loves to sing so the one thing that she wanted to try the most was the recording booth. There are several sound-proof booths set up so that visitors can experience what it's like to record a track. If you have wisely purchased an All Access Backstage Pass then the vocal performance can be recorded and emailed home. 
What we didn't realize ahead of time is that there are only three song choices in the booths. Emma was a bit disappointed that she didn't know any of the songs but we still had fun trying. Teach your kids Bob Seger's Old Time Rock and Roll ahead of time and they will have a blast.
Another option is to turn down the sound track and just sing any song that suits you. This hadn't occurred to me either but my teenage daughter visited with a group of kids from the day camp where she is working as a counsellor this summer and the kids had a great time doing just that. 
There are also several instrument kiosks where visitors can display their best rock star moves while learning how guitars, bass, drums and keyboards work. Don't think that these activities are designed just for kids either – there were just as many adults jamming on their guitars on the day that we visited. This is really the best opportunity that most visitors will ever have to live out their rock star fantasies!
After trying out the various instruments, we headed to the interactive displays to learn more about composing and mixing music.  
Emma had a great time at the Mixing Board where she was able to create her own remixed version of David Bowie's song Space Oddity.  
The Reactable touch tables where visitors can compose music by moving cubes around the table are also a great deal of fun. The Reactable is a sonic computer-based instrument that uses image recognition to create sounds. The computer recognizes the images on the cubes and reacts by playing the programmed sound or effect. This is a fun activity for a group of people to work together like a band composing a song.  
The exhibition wraps up with a virtual concert experience via a twenty foot high video wall – and it's hard to imagine a better grand finale than that!
I wasn't really sure what to expect from this exhibition beforehand so I was pleasantly surprised at just how engaging it was. With so many cool interactive activities to try, the Science of Rock 'N' Roll exhibition is sure to be a hit with all ages. 
Kids shouldn't get to have all the fun, so the Science Centre is offering a special experience especially for grown-ups looking for something fun and interesting to do on an evening out. There will be three themed events (July 24, August 21 and September 18) where visitors 19+ will be able to attend live performances, participate in interactive science experiments, explore the Science of Rock 'N' Roll exhibition and enjoy the IMAX film Rolling Stones at the Max. These licensed ScienceROCKS! events will run from 7pm – midnight and promise to be way more fun than the standard dinner and a movie night out.
IMAX – Island of Lemurs: Madagascar
We also had an opportunity to view the wonderful new IMAX film Island of Lemurs: Madagascar on our visit to the Science Centre. The documentary film is narrated by Morgan Freeman and tells the story of Dr. Patricia C. Wright and her conservation work with the lemurs of Madagascar.
The film has breathtaking footage of Madagascar, photogenic lemurs that are both cute and entertaining, and an important message about what needs to be done to save these endangered animals. At approximately 40 minutes long, the film is also just the right length for the attention span of younger visitors.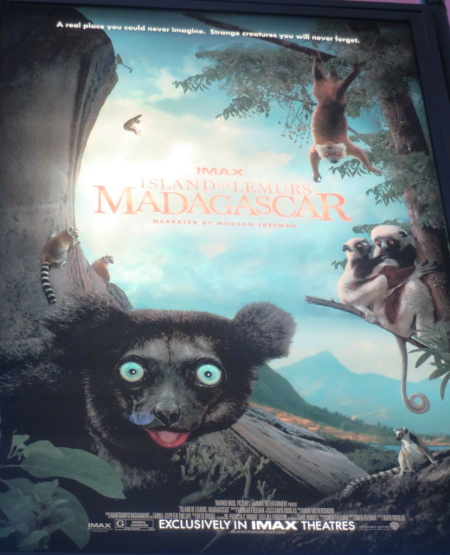 The Ontario Science Centre is one of my favourite attractions for families in Toronto. The centre has a great mix of permanent and temporary exhibits and the kids have so much fun that they don't realize how much they are learning. The Science of Rock 'N' Roll exhibition provides one more reason to visit before it closes in the fall.
What You Need To Know
 

The Science of Rock 'N' Roll is a travelling exhibition which opened June 11th at the Ontario Science Centre and continues through October 26th.

Learn more about the exhibition at The Science of Rock.

The Science of Rock 'N' Roll is included with general admission to the Ontario Science Centre.
The Ontario Science Centre is located at 770 Don Mills Road in Toronto (at the corner of Eglinton Avenue East).

Car parking at the Ontario Science Centre is $10 per vehicle. The centre is accessible via public transit.

Open year-round, 7 days a week. Closed Christmas day. Hours may vary but generally 10am-5pm.

Check website to confirm admission pricing. Children 2 and under are free. There is an additional fee to view an IMAX film.

Tickets may be purchased online, by phone or at the door.
We visited the Ontario Science Centre as guests on Media Friends and Family Day.
Related Articles
Ripley's Aquarium of Canada: Toronto's Exciting New Attraction
A Family Getaway at the Westin Harbour Castle in Toronto