Favourite attractions and activities from our first family trip to London, England in 2010.
For our favourite family-friendly things to do in London, see London with Kids – 14 Favourite Attractions and Activities, Emma's Favourite Things: London for a kid's point of view and the United Kingdom category for all of our family travel experiences in the UK.

Everyone knows what an amazing city London is but many would be surprised to learn that it is also a great destination for families.  We spent 10 days in London, England when our daughters were young sightseeing, theatre-going and visiting friends. 
51 Buckingham Gate Hotel
Our homebase was the serviced apartments at 51 Buckingham Gate  (formerly known as St. James Court Hotel and now owned by Taj Hotels) where we had a two bedroom apartment with two bathrooms, a kitchen and a living and dining area. 
These accommodations were ideal for our family of four.  Although we ate at restaurants nearly every night we were able to have breakfast at our apartment before going out for the day and three of us were able to get up and get started on the day while the teenager slept. 
The location which was just a few minutes from Buckingham Palace by foot and near the St. James tube station was very convenient for sightseeing in London. 
We were hoping for spring like weather in March but it was a little bit chilly (coats with hats and gloves were needed), however, we got very lucky in that we really only had one day out of ten where it rained.
[EDITOR'S NOTE: We stayed at 51 Buckingham Gate shortly after it was purchased by Taj Hotels. The hotel was subsequently renovated and rates now greatly exceed what they were at the time of our stay.]
Walk to Trafalgar Square
We arrived in London after an overnight flight and after checking in to our hotel and getting settled the first thing we did was take a walk to see our neighbourhood. Emma was quite impressed that we were just a few minutes from Buckingham Palace but, unfortunately, the Queen was not in residence so we were not able to pay her a visit. Tours of the Palace are only available during the summer season so we will have to save that for another time.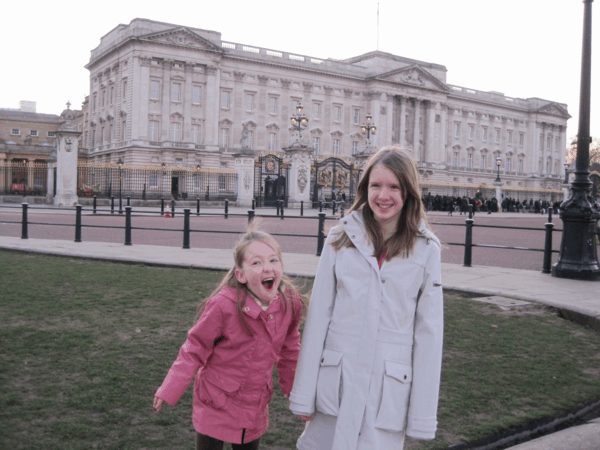 Katie and Emma outside Buckingham Palace
We continued our walk through St. James Park and to Trafalgar Square to see the lions and to the Parliament buildings to see Big Ben.  One of my favourite things to do in London is just walk around and soak up the atmosphere.  I love the architecture, the people and the energy of the city.  There is truly no place like it in the world. 
Walking around was a lot of fun as the girls were quite interested in how things were different in England – Emma particularly liked the red telephone booths and the cabs painted with advertising.  Once we had seen three of the most recognizable spots (Buckingham Palace, Trafalgar Square, and Big Ben) the girls were satisfied and ready to go back to the apartment and rest up for the next day.  
Visiting Wimbledon
The next morning we took a chilly walk down by the Thames.  We intended to ride on the London Eye but as the queue was extremely long we decided to wait until the next day.  After walking around for awhile we took the tube to Wimbledon to visit friends who had recently moved to London. 
Sometimes you can be quite surprised by what will delight your kids when you are traveling and this was one of those instances – Katie loved the tube and begged for us to go on it whenever possible.  Emma was thrilled to be able to visit with her friends, Isabel and Grace, who she hadn't seen in several months. 
After having lunch at their home we all went for a walk in Wimbledon Park and the girls ran and played despite the chilly weather.  The park was, of course, full of local residents and not tourists making it a nice outing among Londoners. 
London Eye
The next morning we got an earlier start on the day and headed down to the Thames again in order to ride the London Eye which is the world's biggest observation wheel and the fourth-tallest structure in the city.  Apparently first thing in the morning is the best time for this activity because we were able to walk right on and start our 30 minute flight over London. 
The panoramic views of the city of London and its landmarks on a bright, clear day are spectacular.  The ride does move very slowly though and Emma (who was 6 at the time) quickly lost interest in looking out the window.  Fortunately, a very nice American woman gave her a pamphlet with information about the views from the Eye and that kept her occupied and distracted for the balance of the ride so the rest of us could enjoy it. 
Tower of London
Our next stop was the Tower Bridge and the Tower of London so we hopped on the tube in order to satisfy Katie and headed there.  We joined in on one of the guided tours but quickly abandoned it as Emma was finding it very boring.  We opted to just wander around ourselves.  The crown jewels were definitely a highlight for my princess-loving daughter as were the Yeoman Warders ("Beefeaters") walking around.
St. Paul's Cathedral
When we finished at the tower we hopped back on the tube and went into the City.  Our first stop was at the Monument, the 202 foot tall tower built to commemorate the Great Fire of 1666, but Katie and I decided that we were not brave enough to climb the 311 twisting steps to the top no matter how amazing the view would be. 
From there we walked to St. Paul's Cathedral and made it just before closing time.  Emma was delighted with the Whispering Gallery where one person can whisper to the wall on one side of the gallery and a person on the other side can hear them.  This only worked with one of the cathedral guides demonstrating though – apparently I wasn't whispering the right way.  We followed our trip to St. Paul's with a rush hour tube ride back to our hotel – never again will I get on the London tube at rush hour.
Harry Potter Tour
We had to get up quite early the next day for the most anticipated part of our itinerary (for Katie, at least) – our 13 hour Harry Potter tour with London Taxi Tour.  Our driver, Gordon, picked us up at our hotel bright and early and we headed out of London to see a number of film sites in Lacock and Oxford. 
Our first stop was on the outskirts of London to the suburban house which is No. 4 Privet Drive (where Harry lives with the Dursleys) in the films.  The next Harry Potter stop was the village of Lacock but, fortunately for me, Stonehenge was on the way so we were able to stop there as well.  We were still quite early so there were only a couple of other visitors at Stonehenge and we were able to take photos without other tourists in the background.  Our timing was perfect because as we were leaving Stonehenge the tour busses were starting to pull into the parking lot.  
Lacock is an absolutely charming, historically preserved English village (in Wiltshire) where a number of scenes from the Harry Potter movies were filmed.  We started the tour in Lacock Abbey and it quickly became apparent how amazing our tour guide was.  Gordon was able to walk us through the Abbey and explain each scene that had been shot there and take our photos with the exact same angle as in the film.  Most of the time only Katie knew what he was talking about but I was amazed at how well he knew the films.  And he impressed Katie with his knowledge, which is not an easy thing to do. 
The house where baby Harry Potter lived is in Lacock as is Professor Slughorn's home.  Lunch was at The George Inn, a 14th century pub in Lacock famous for its grand open fireplace with a dogwheel.  In olden days a specially bred dog called a turnspit would run on the wheel in order to turn the spit over the fire.  Olde English charm, a cozy atmosphere and delicious fish and chips made for a great break.

Back on the road then to drive to Oxford University where many of the interior scenes at Hogwarts were filmed.  The most familiar setting to me was the dining hall.  The scenes were not actually filmed here at Oxford but a set was fashioned on the Oxford dining hall. 
When we finished in Oxford we drove back to London to King's Cross station to see Platform 9 3/4 and to a few other London filming sites before saying good night to Gordon after a wonderful 13 hours of almost non-stop Harry Potter.  Katie will still tell you that this was one of her "best days ever".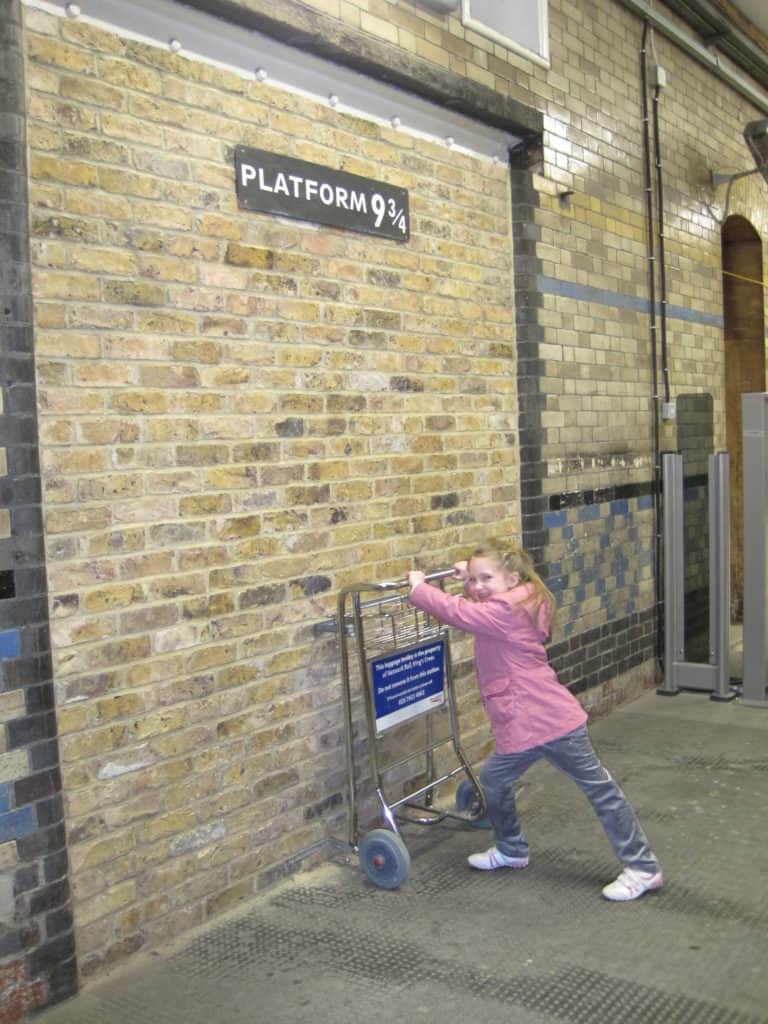 Cruise to Greenwich
Our agenda the following day included taking a riverboat cruise on the Thames from London to Greenwich. Even on an overcast day it is a very scenic ride on the Thames cruising past Parliament and the Tower of London, under the Millennium and Tower Bridges and out to Canary Wharf and the Docklands before arriving in Greenwich. In Greenwich, we had another delicious feed of fish and chips at The King's Arms pub before heading uphill to the Royal Observatory.
The Royal Observatory is a UNESCO World Heritage Site which is the home of Greenwich Mean Time and the Prime Meridian line and is now part of the National Maritime Museum.  This important historic scientific site is, by international decree, the official starting point for each new day, year and millennium. 
Once there we stood with one foot on each side of the Prime Meridian line so that we were simultaneously in both the eastern and western hemispheres.   For a 1 pound coin an automated vending machine will issue a certificate indicating the date and time that the Prime Meridian was visited. 
Westminster Abbey
Finally, after walking by numerous times, we visited Westminster Abbey towards the end of our first week in London.  Westminster Abbey was founded on this spot in 1065.  The coronation of William the Conqueror took place in the abbey after his victory in 1066 and that tradition has continued until the present day. 
When we first entered the Abbey the girls were given a clipboard and pencil with a scavenger hunt to complete while there.  The scavenger hunt was brilliant as it led us through each section of the Abbey to see the many tombs and monuments while keeping the kids engaged in finding the answers to their questions.  Once the hunt and our tour was completed we visited the gift shop where the girls presented their completed questionnaires and received a Westminster Abbey chocolate medallion. 
West End Theatre – Legally Blonde
Our afternoon was spent at Legally Blonde: The Musical at the Savoy Theatre – the first time for our theatre-loving girls to see a show in London's West End.  The show was campy fun and fortunately most of the jokes went over Emma's head but she thoroughly enjoyed the music and Elle's wardrobe. 
Quite by accident, as we left the theatre, we spotted people waiting outside the stage door for autographs and we decided to wait too.  As a result we got to meet the three stars of the show – Sheridan Smith who played Elle, Duncan James who played Warner, and Alex Gaumond who played Emmett. 
We also saw the dogs from the show out for their afternoon walk – Emma barked at them and got them quite riled up which the crowd of autograph-seekers found quite entertaining. 
Shakespeare Globe Theatre
Another day, another tour – this time a fascinating look at the Shakespeare Globe Theatre which is a faithful re-creation of Shakespeare's open-air theatre.  We walked through the informative exhibition area which explores the life of Shakespeare and the London that he lived in as well as displaying costumes and props that have been used in the theatre. 
This was followed by a backstage tour led by one of the Globe's expert guides who relay colourful stories about the original Globe, the reconstruction which took place in the 1990s and general information about the theatrical space. 
I look forward to returning some time during the summer season (April to October) to take in one of the Shakespearean productions staged at this theatre.   
City of London School
We also had to stop for a photo-op in front of The City of London School – a very, very important spot (practically a shrine to Katie) since this is where Daniel Radcliffe attended school before he became Harry Potter.
Covent Garden
A trip to London would not be complete without an outing to Covent Garden. We had a lot of fun browsing the little shoppes. Emma's favourite was the delightfully girly "Candy Cakes" where she and Katie had cupcakes and cookies.
National Portrait Gallery
We continued on to Trafalgar Square and for the first and only time during our 10 day visit we had intermittent drizzle so we took a few photos in the square and then ducked into the National Portrait Gallery to get dry and have a look at some famous faces. 
The National Portrait Gallery's artwork is a collection of portraits of individuals significant to British life.  Alas, Daniel Radcliffe was not on display so we moved along to do a little shopping in Oxford Circus.
Shopping at Harrods
On Saturday morning we wandered around Harrod's just for the experience before our second outing in the West End. This time J.A. and Emma went to Lion King while Katie and I went to Les Misérables. Les Miz is one of my all-time favourite musicals, which I first saw in London in 1995, so I was thrilled to share it with my daughter.
Madame Tussaud's Wax Museum
Sunday morning we headed out to Madame Tussaud's Wax Museum and waited in an interminably long line to get into this extremely tacky, expensive museum.  As awful as it is, it's one of  those places that you simply have to take your kids when in London because everybody back home is going to ask them if they went.  
Along with the hordes of people there, we dutifully snapped our photos with the wax mannequins and got on our way.  My favourite part was the Spirit of London "cab ride" through 400 years of London's history.  We did not even consider going into the Chamber of Horrors. 
The London Zoo
From Madame Tussaud's we walked through Regent's Park to the London Zoo where we were meeting our friends for the afternoon.  The zoo is very small by North American standards but the girls had a great time regardless. 
There is also a Harry Potter connection to the London Zoo as Harry visits the zoo with the Dursleys in Harry Potter and the Philosopher's Stone and accidentally sets a snake free.   
The Churchill Museum and Cabinet War Rooms
Our last full day in London we started with a visit to The Churchill Museum and Cabinet War Rooms located at Clive Steps.  These are the actual underground bunkers that Winston Churchill and his cabinet used during air raids on the city during the Second World War. 
This museum is far more interesting for adults but had enough interactive hands-on activities to keep the kids engaged while we walked through the exhibit.  Audioguides are used for the tour and there is a children's version available.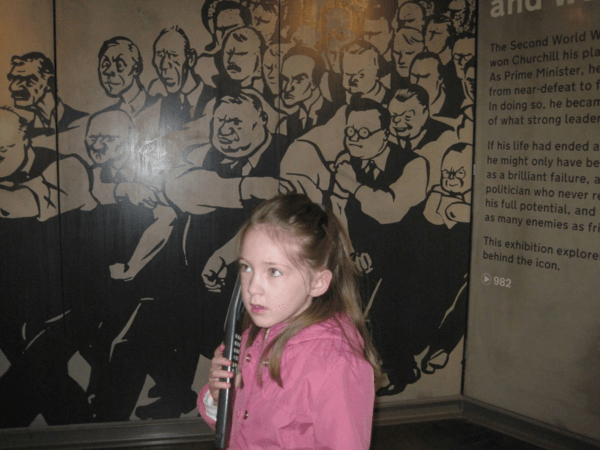 Changing of the Horse Guards
Continuing on foot from Clive Steps we stopped to watch the changing of the Horse Guards at Whitehall and then proceeded to Trafalgar Square to take a few more photos on a nice sunny day.  From there we circled back toward Buckingham Palace and our hotel. 
Our last outing in London that afternoon was a backstage tour at the Theatre Royal Drury Lane which was long considered to be one of the most important theatres in the English-speaking world.  The current theatre is the most recent in a line of four in the same location dating back to 1663.  The tour was conducted by costumed actors playing characters associated with the history of the theatre and was highly entertaining. 
And that concluded our London visit as the next morning we were homeward bound.     
London is a surprisingly family-friendly destination with more to do than any family could fit into one vacation. Samuel Johnson famously said, "When a man is tired of London, he is tired of life; for there is in London all that life can afford." Truer words have not been spoken when it comes to travel to London. A family could return to London over and over again and still barely touch the surface of all that the city has to offer. I know that I am eager to plan a return trip to my favourite city in the world and my kids would certainly not object.
Related Links
London With Kids – 14 Favourite Attractions and Activities
Citadines Trafalgar Square – Ideal for Families Visiting London
Experiencing the Magic of Harry Potter at Warner Bros. Studio Tour London
London Cabs: Our Photo Collection
A Day in Stratford with London Taxi Tour
Emma's Favourite Things: London
London Taxi Tour – Harry Potter
Cruising Along the Thames to Greenwich