The Fairmont Château Montebello is a great resort for families at any time of the year.
The Fairmont Château Montebello is located in Montebello, Québec in the Outaouais region (less than an hour from Ottawa) and is the largest log château in the world. The stunning red cedar log château was built in 1930 and was a private retreat for the next 40 years until it was taken over by the Canadian Pacific hotel chain. 
Today this resort is owned by Fairmont hotels and is famed for its rugged luxury and the abundance of year-round activities it offers to its guests. We have vacationed at the Fairmont Château Montebello three times – once during the summer holidays and twice between Christmas and New Year's. On all occasions our family had a wonderful stay at the resort participating in as many activities as we could fit in. 
Summer Vacations at Château Montebello
Our first visit to Château Montebello was part of a summer road trip. We had spent three days in Québec City before driving to Montebello for a six night stay and after Montebello went to Ottawa for a few days. At the time of this trip our older daughter, Katie, was 8 years old and our younger daughter, Emma, had just turned 2. We arrived in Montebello in time for a relaxing dinner on the outdoor patio and then walked around a bit to familiarize ourselves with the grounds. Emma was particularly delighted with the children's playground area.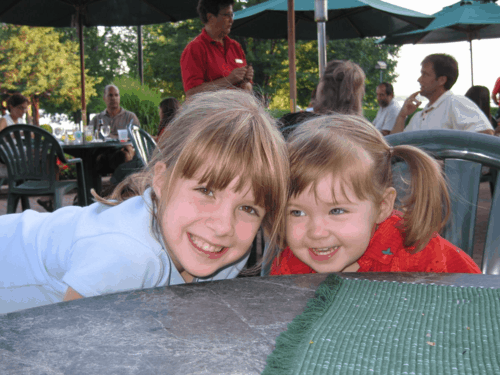 Dinner on the patio at Château Montebello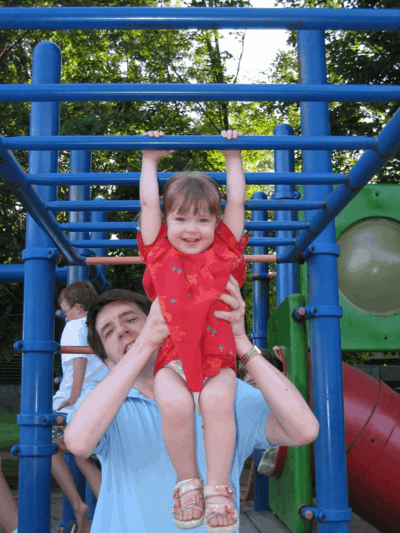 Playing on the playground at Château Montebello
The next morning we headed out after breakfast to continue our exploration of the grounds of the resort and discovered a number of fun activities on site. The resort has a Sports Chalet where there is sports equipment rental available in all seasons (bikes, skies, snowshoes etc.). 
One of the first activities we tried was Miniature Golf which was a lot of fun – even if the clubs were taller than Emma. There are also basketball and tennis courts for families who are looking for some active fun. 
Walking around the beautiful grounds along the banks of the Ouataouais River is enjoyable in and of itself. Emma, my little social butterfly, had a grand time meeting other guests strolling the grounds and soon was being greeted by name by people I couldn't remember having met.
For the afternoon we drove to the Whitefish Lake Picnic Area which is located within the Fairmont Kenauk private reserve. Fairmont Kenauk is one of North America's largest and longest established private reserves. Within the reserve there are more than 70 lakes and 65 000 acres of carefully protected wildlife habitat. 
Whitefish Lake is one of the largest lakes in Kenauk and the picnic area on the western shore is easily accessible. The picnic area with its nice sandy beaches is an ideal location for families to play. There are picnic tables for lunching at and canoes and kayaks (with life-jackets) available to rent for use on the lake. Emma and I had a lovely afternoon playing in the sand on the beach while Katie and J.A. taught themselves to kayak (I wasn't prepared to try it just yet.) 
One of the activities that Katie liked best was being able to go independently to the Movie Nights that were held in the Kids' Activity area on the lower level. We were able to drop her off to watch a movie and have popcorn with other kids in the supervised area and then go back to pick her up later.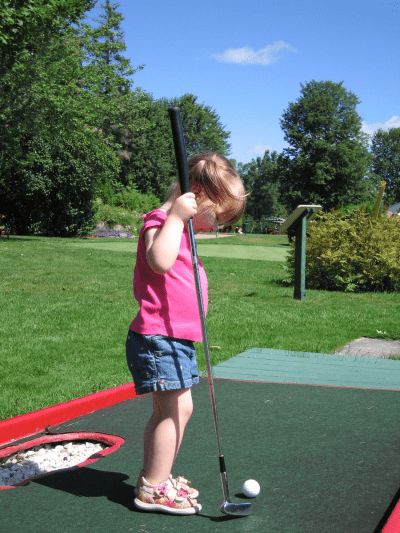 Miniature golf at Château Montebello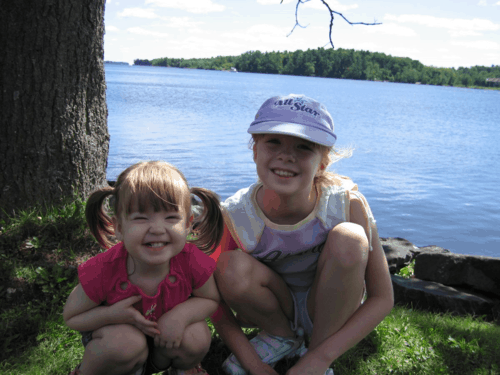 Katie and Emma by the Outaouais River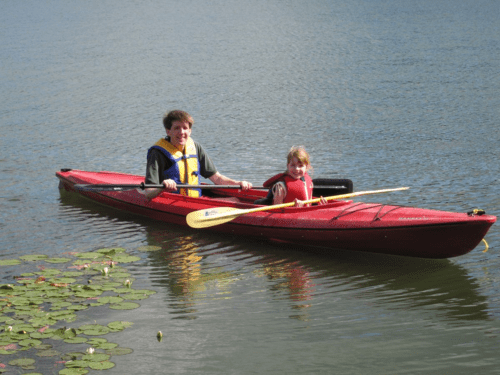 Learning to kayak at Fairmont Kenauk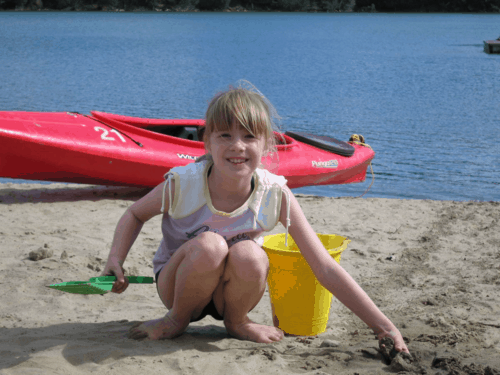 Playing on the beach – Whitefish Lake picnic area
The next day we drove back to Whitefish Lake to have a go at paddling a canoe.  I did eventually try both canoeing and kayaking and must say that I much preferred the kayak as I felt less likely to tip over in it.  All in all though I prefer to keep my feet on dry land.
Later in the day we took a pontoon boat cruise on the Outaouais River.  The cruise leaves from the marina at the resort and is a very pleasant ride on the river – the highlight is probably seeing the resort from the water.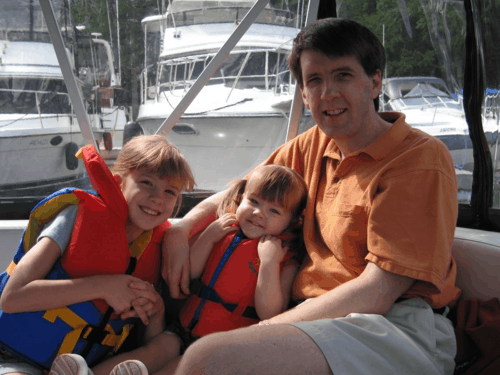 A pontoon boat cruise on the Outaouais River
The resort also has stables on site where guests can go on a guided horseback ride through the woods. I'm not a big fan of horses so my husband agreed to accompany Katie while Emma and I went to the playground. Katie loved her mild-mannered steed named "Tom Pouce" (Tom Thumb in English) and was thrilled with her first experience riding a horse.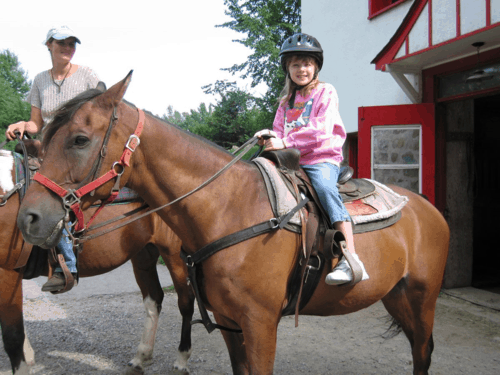 Katie goes horseback riding on Tom Pouce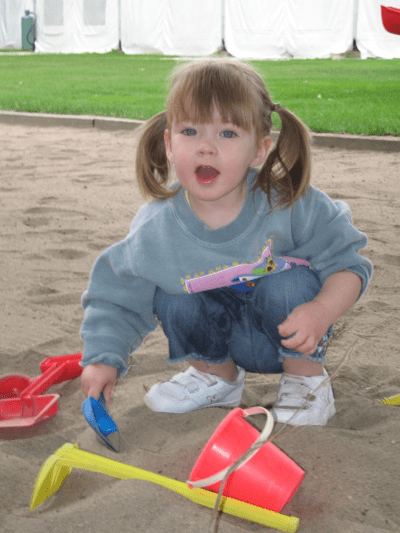 Emma playing in the playground/sand box at Château Montebello
Omega Park
The following morning we awoke to a rainy day so we decided to pay a visit to Omega Park which is located about 10 minutes from the resort. This is a park with 10km of winding roads that you can drive through to see wildlife roaming freely. Guests can buy bags of large carrots on the way in and then feed them to deer/elk through a slightly open window (open it too far and you are likely to have an elk head in your vehicle). 
Moose, bison, wolves, black bears, boars and bighorn sheep may also be seen. There is also an area called The Old Farm where guests can exit the car to feed smaller white-tailed deer and baby goats. 
There are a number of walking paths and hiking trails in protected areas where there are only non-aggressive animals, however, it was too wet on the day that we visited for much hiking. We did, however, find time to visit the snack bar and gift shop because all of that feeding carrots to deer whetted Katie and Emma's appetites for snacks and they had also spied stuffed animals that they just had to have.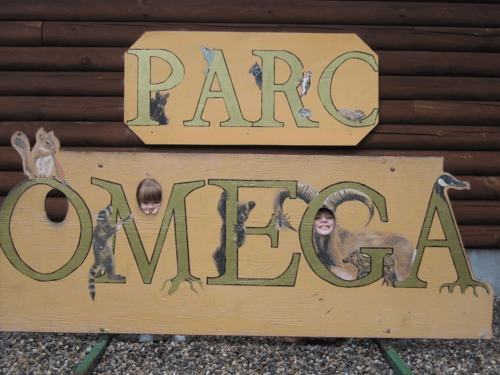 A rainy day visit to Parc Oméga in Montebello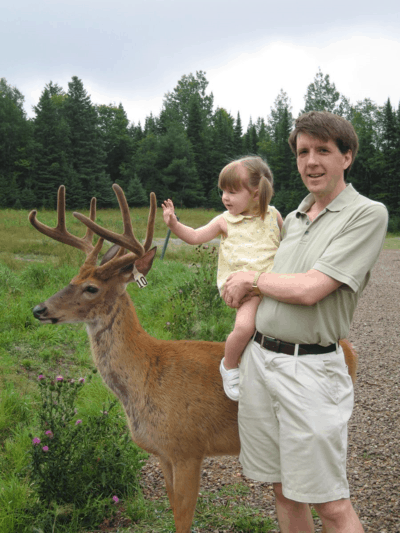 Emma loved the very tame animals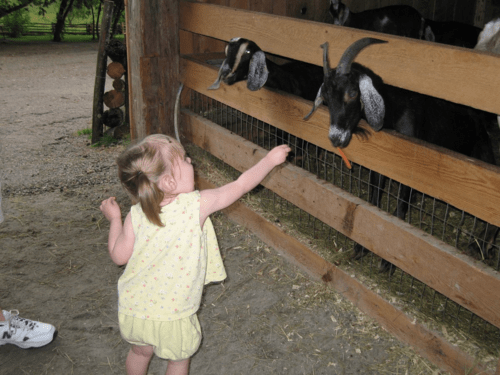 There are goats to feed as well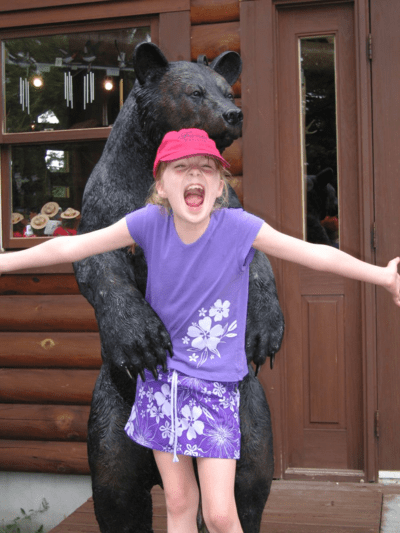 Aaargh!!!  – fortunately he isn't real!
Bear Observation Activity
My husband and older daughter decided that they wanted to participate in one of the resort's organized activities that I wanted absolutely no part of – Bear Observation. (Participants have to be at least 7 years of age so Emma was too young anyway.) This is an activity that is, apparently, perfectly safe as well as educational and exciting and they both loved it! 
A safari type vehicle drives the participants into a viewing platform in the woods which is located several feet above the ground. The vehicle backs into the platform and the space is completely enclosed so that no wildlife can get in. A professional guide informs the participants about black bears and their life in their natural habitat. Apples are thrown out of the viewing platform to entice the bears to come around.  
The day that my husband and daughter were on the tour the bears fully cooperated and they were able to see several. According to the resort's website, bears are viewed 96% of the time.  Unfortunately, there are no pictures because the family photographer (me) was back at the resort.
Outoor Pool
The outdoor pool at Château Montebello has a beautiful location looking out onto the river. We used it a couple of times during our stay. It is only open during the summer months, however, there is also a large indoor pool available. There is also a spa, however, we were far too busy for me to even considering indulging in spa treatments.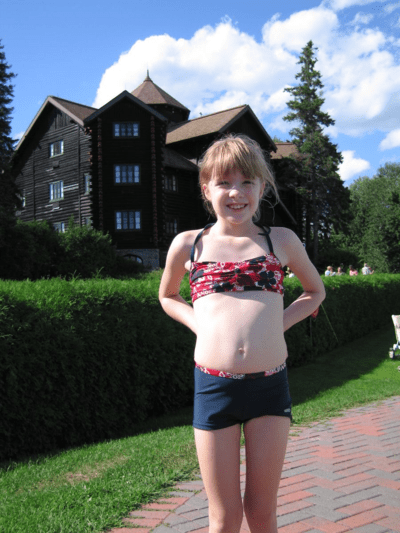 Time for a swim at Château Montebello's outdoor pool
Before long it was the morning that we were leaving Montebello and somehow (I'm still not sure how) I was talked into horseback riding with Katie. I managed to conquer my fear and saddle up a horse named Mambo for a stressful ride in the woods and I will just say that I was okay when he was walking but when he decided to trot I was sure that I wasn't going to make it back alive.  Needless to say I did, however, I don't think that there is any way that I will ever get talked into climbing on the back of a horse again.  
After our ride in the woods it was time for us to pack up and drive to Ottawa for the last few days of our summer vacation after having had a wonderful time at Château Montebello.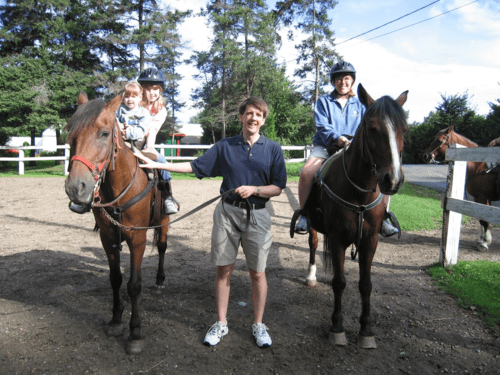 Not sure exactly how I was talked into getting on a horse!
Winter Vacations at Château Montebello
Our  second visit to Château Montebello was for a winter vacation between Christmas and New Year's a couple of years later. At the time of this trip Katie was 11 years old and Emma was 4.  We piled into the car on December 28th for the drive from our home to Montebello and arrived in the late afternoon. (We also visited again during Christmas break several years later with just our younger daughter.)
Not wanting to waste any time, we were out playing in the snow shortly after our arrival. The first thing that Katie tried was snowshoeing while Emma was content just to roll around in the snow. The weather was ideal for the length of our stay – primarily sunny with temperatures hovering just below the freezing mark. The area had received ample snowfall during the month of December so we were able to try many of the winter sports that the resort has available.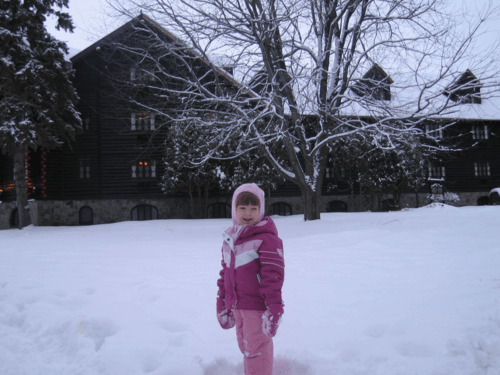 Winter time at Château Montebello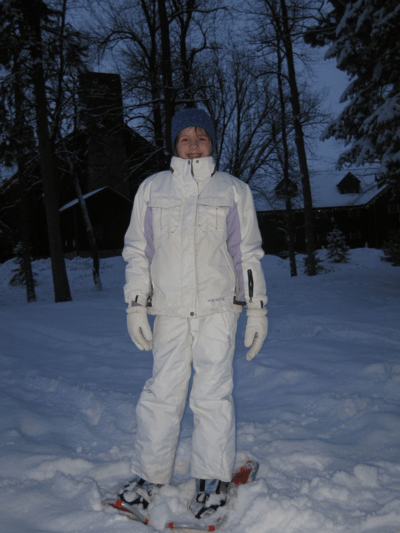 Katie tries snowshoeing as soon as we arrive
The next morning we got up eager to try many of the activities offered by the resort. First on our agenda was a curling lesson which was a lot of fun. I hadn't curled since high school gym class so I quite enjoyed the refresher course – curling is a lot harder than it looks. Katie was starting to get the hang of it, however Emma was simply too small to push a rock without assistance.  She did have a great time trying though.  
Katie and I also decided to try cross-country skiing and booked a lesson in order to get some instruction on the basics before setting out on the trails. The resort has 7 groomed trails (totalling 18.5km) available for guests to use. The trails are graded in terms of skill level from beginner to expert and, needless to say, we never ventured from the fairly short beginner's trail. 
We had a great time skiing through the trails in the woods – apart from the one steep (or so it seemed) hill which we encountered. We were both afraid to ski down so we had to remove our skis and walk down. While putting our skis on at the bottom of the hill we saw several skiers fall down the hill so we were pretty sure that we had made the right decision. 
Cross-country skiing is a great cardiovascular workout and we found that we were quite warm by the time that we returned to the château, ready for some lunch and an activity that was a little less physical.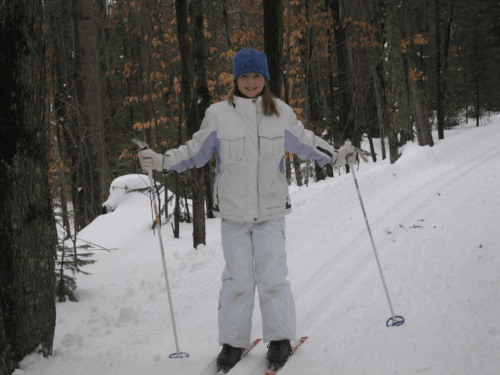 Katie learns to Cross Country Ski
One of the winter activities available to guests of the resort are horse-drawn sleigh rides through the resort's wooded property. A sleigh ride is a nice relaxing afternoon activity after a morning of skiing or other vigorous winter sports. 
Guests can bundle up under blankets in the sleigh and enjoy the beautiful winter landscape as the two-horse open sleigh goes dashing through the snow. This was a big hit with our kids who had never been on a sleigh ride before.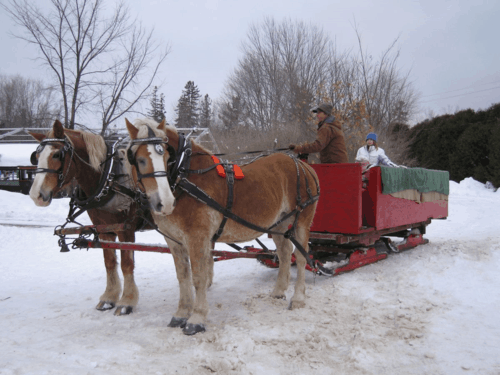 Heading out on a sleigh ride through the woods
I was celebrating my birthday on our second full day at the resort so we decided that my birthday treat was going to be a morning dogsled ride through the woods. We had previously been on a go kart pulled by sled dogs in Alaska but the winter version through the snow is far superior. 
It is impossible to describe how excited the dogs get as they are being harnessed or how exhilarating it is to go racing through the snow-covered trails on the sled. Dog sled rides are expensive but they are definitely a highlight for everyone.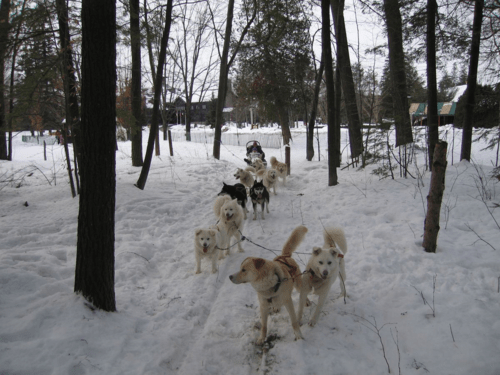 Katie and I go dog sledding for my birthday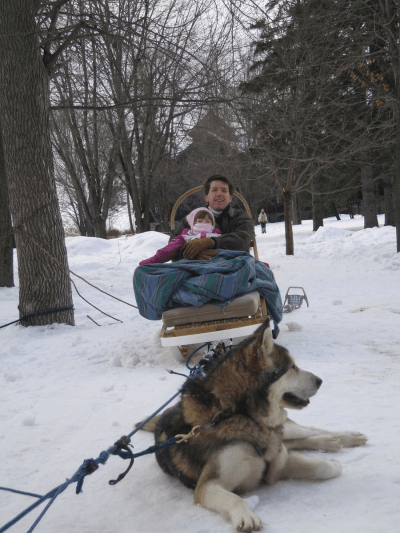 J.A. and Emma on their dog sled
Emma decided that she would also like to try cross-country skiing so we booked another lesson for her to  learn and set off on our skis through the wooded trails. She picked it up very quickly and was able to keep up for quite a distance before she grew too tired and had to call it quits.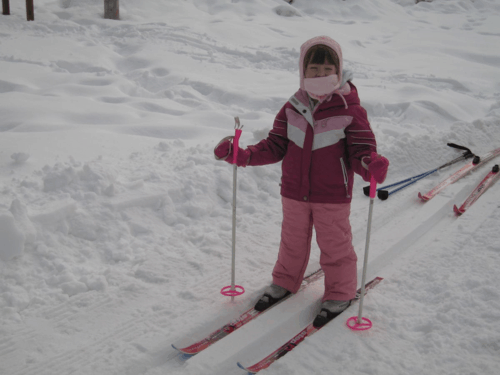 Emma decides to learn to cross country ski
Emma brought her ice skates and helmet with her as well so she was able to try the outdoor skating rink at the resort while the rest of us watched. My husband and older daughter also spent some time tubing on a hill set up for that purpose. There was even a "tube lift" to haul the tubes back to the top of the hill making it easier for everyone.
We went curling one more time the morning before leaving the resort and discovered that we had actually improved a great deal.  Curling is clearly an activity where practice makes perfect.   
After checking out of the resort on the 31st we drove through Omega Park. We stayed in the vehicle for the duration of this visit but the girls still got a kick out of feeding carrots to the elk through the car windows. We saw quite a few animals that we hadn't seen when we had driven through the park on summer vacation, including some large black bears that didn't appear to be hibernating.
After leaving Omega Park we left Montebello to drive to Ottawa for the New Year's Eve festivities. I'm not much of a fan of winter weather but we had a thoroughly enjoyable stay at Château Montebello and discovered that winter sports can be as much fun as summer.
The Fairmont Château Montebello is a great resort for family vacations. Regardless of season, there are many activities to keep families busy and entertained from sun up to sundown. Our children loved both vacations that we spent at the château and I would definitely recommend it as a perfect Canadian destination for families with children of all ages.