A review of the family-friendly Rosseau Muskoka, a JW Marriott Resort & Spa in Rosseau, Ontario north of Toronto.
This year Canada Day (July 1st) fell on a Friday and we needed to drop our older daughter off at Muskoka Woods summer camp north of Toronto on the 2nd so we decided to spend the Canada Day long weekend at The Rosseau Muskoka, A JW Marriott Resort & Spa.  The family-friendly resort is located outside the town of Rosseau in cottage country north of Toronto and a short drive from Katie's camp. 
This post may contain affiliate links. If you click on an affiliate link and make a purchase then Gone with the Family may receive a small commission at no additional cost to you.
We drove up in heavy traffic on Thursday night and arrived in time to have a quick dinner and explore the resort a bit before dark.  We were impressed with the traditional look of the resort as soon as we pulled into the driveway and we were not disappointed as our weekend at The Rosseau was everything we had hoped for. 
The region of Muskoka has been a traditional leisure destination since the mid-1800s when city dwellers would arrive in the area by steamship and train to spend their summer holidays.  Today Muskoka is considered a year-round destination with resorts offering a full range of activities to their guests regardless of the season.  It is also well-known as a region with grand cottages and celebrity residents.  The Rosseau Muskoka is located in the heart of this historic resort area on Lake Rosseau about 2.5 hours north of Toronto (depending on traffic).  The Rosseau is perched atop a 100ft granite bluff (Emma counted 151 steps from the terrace to the beach – though I won't attest to the accuracy of that number) which provides an absolutely stunning view over the lake.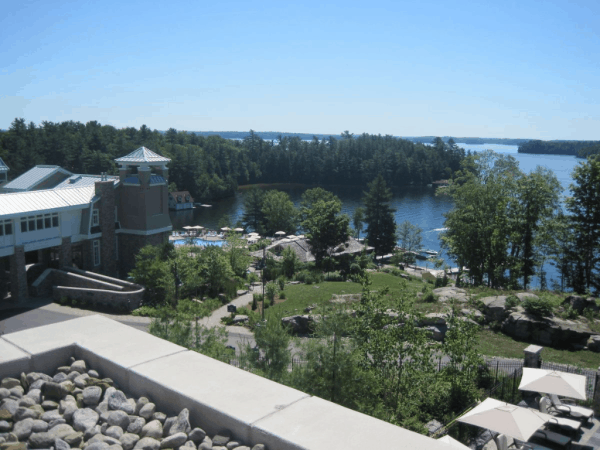 View of Lake Rosseau from the terrace
Accommodations:
We had a spacious 1 bedroom suite with a pull-out sofa and we also requested a roll-away cot for Thursday and Friday night so that Katie and Emma would not have to sleep together (and thus avoiding the need for a UN intervention).  The unit had a kitchen with a small refrigerator/freezer, microwave, dishwasher, and a small cook top.  Apart from breakfast, we ate our meals out but it was nice to be able to keep snacks and drinks in the room.  The unit also had a stone gas fireplace and a large balcony with Muskoka (Adirondack) chairs which were perfect for sitting and reading or just enjoying the beautiful view.  The room was absolutely perfect for our family of four.  We had enough space to spread out so that we weren't tripping over each other and having separate rooms meant that it was easy for my teenage daughter to sleep longer while the rest of us got up, showered and started on breakfast in the morning.  The rooms are luxurious while still being comfortable and having a cottage feel about them.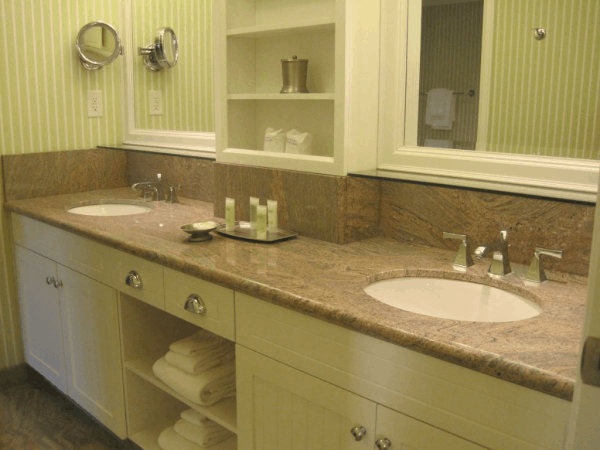 The bathroom (two sinks and separate tub and walk-in shower)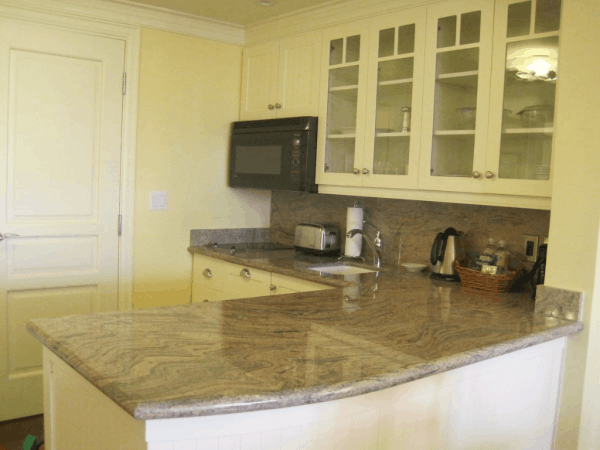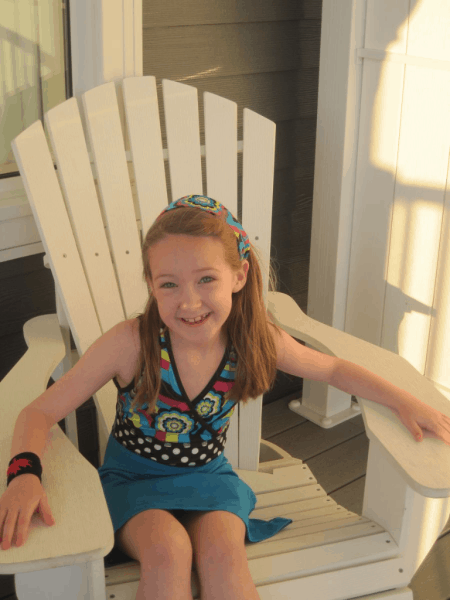 Emma on the balcony of our unit
Resort Grounds, Facilities and Activities:
The grounds of The Rosseau are beautiful and well-maintained.  The resort was busy but it never felt overrun as the grounds are expansive enough for guests to spread out and enjoy the resort amenities as well as the natural surroundings.  Walking around the grounds, one feels a sense of being in the midst of nature and although we didn't get around to hiking in the woods we did still see a deer alongside the resort when we were walking to the parking lot on Saturday afternoon.
The Rosseau Muskoka is part of the Red Leaves development which includes a 700 acre Nature Reserve.  The Red Leaves Nature Reserve features an extensive trail system for hiking, biking and nordic skiing.  The nature reserve is free from light pollution and motorized vehicles.  There is also an Interpretive Centre and Observatory planned for the reserve.  There is a wide variety of animal wildlife which can be observed within the reserve including bears, wolves, foxes, deer, moose, elk and many species of birds.  Resort guests can sign up for guided hikes with the Rosseau Naturalist to explore the reserve and learn about the many plants and animals.  There are also activities where guests can learn about black bears, go on an "owl prowl", attend a birds of prey show or do some stargazing.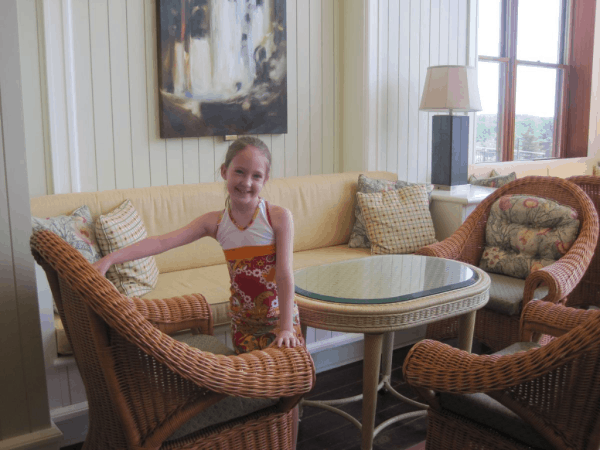 Emma in the Muskoka Room off the main lobby 
When we checked into the resort on Thursday evening we were given a "Summer 2011 Recreational Schedule" – the pamphlet was 10 pages long so needless to say there was an activity available to suit any interest and there was no way we were going to be bored during our three night stay.  The resort has an array of indoor and outdoor activities available for all seasons.  Some of the activities are complimentary and others require a small fee be paid.  The activities range from fitness classes to nature hikes to sketching workshops.  If we had been staying a few more days I definitely would have signed up for a photography hike and Emma would have loved to try the kid's cooking program.  Flipping through the activities brochure definitely provided us with lots of ideas for what to do the next time we stay at The Rosseau. 
There are plenty of opportunities to have fun in the water at The Rosseau beginning with the small, but quite nice, sandy beach alongside the dock on the shore of the lake.  There were communal beach toys available when we were there  and several kids playing in the sand while parents sat in chairs and supervised.  Emma had a great time playing in the sand, filling and emptying sand buckets and building a castle.  She also had a great time swimming in the lake although it was a bit chilly at first.  She is a very strong swimmer but it took her a bit of time to adjust to swimming in a lake rather than our backyard pool.  She and her Dad discussed swimming out to the nearest island but decided against it knowing that I would have vetoed that idea as soon as I caught wind of it. 
The equipment rental booth is near the dock and the beach and has a variety of rentals available to guests.  Single kayaks and canoes were available for rental for $12/hr and double kayaks for $15/hr.  There was also a paddle boat and use of it was complimentary for guests.  Life jackets were also available in a variety of sizes.  Mountain bikes and helmets were also available for guests who wanted to go trail riding but we didn't make use of them.  Water-skiing, wakeboarding, tubing and other boating activities also seemed to be very popular but there simply was not enough time for us to try everything.  A boat ride on the lake will certainly be a priority for our family on a future visit as I can think of nothing more relaxing than floating on the lake on a sunny, summer afternoon.
There are also several pools at the resort for guests who prefer not to swim in the lake.  Spa Rousseau has a pool for spa guests only.  There is an Indoor/Outdoor Year-Round Swimming Pool and hot tub (on the mezzanine level of the main building) which is accessed from the Fitness Centre or exterior pool deck.  There are also the  Paignton House Outdoor Pools which are located one level up from Rosseau Beach.  Here there is a swimming pool, a wading pool for young children and a whirlpool.  We tried out all of the pools except for the spa pool and found that there were always chairs available but it was difficult to find a shady spot as the number of umbrellas were limited.  As is so often the case at any resort there were a number of chairs and umbrellas with belongings left on them but no owners in sight.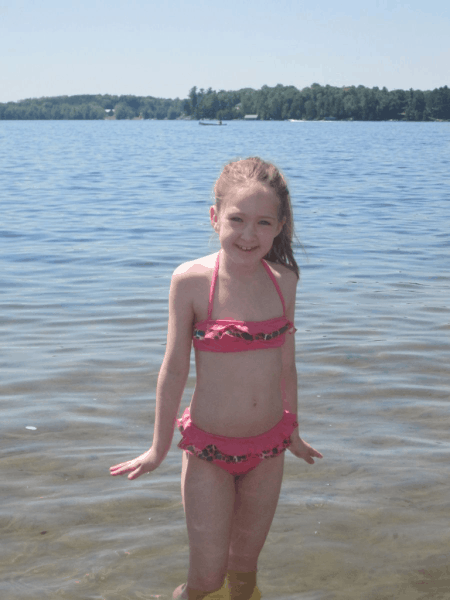 The water is a little chilly at first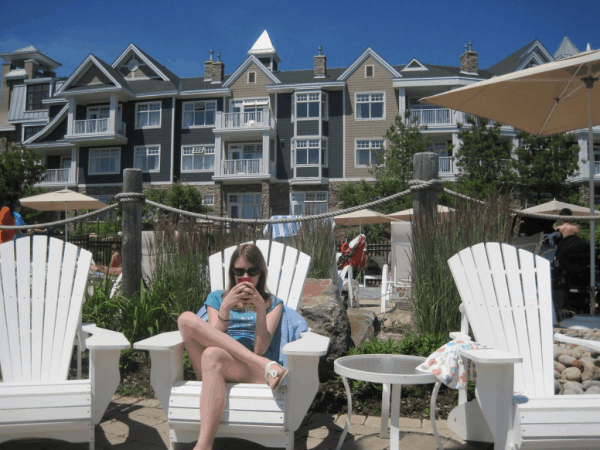 Katie on her cellphone at the lake

Emma at the Indoor/Outdoor Pool
There were special Canada Day activities on July 1st and Canada flags and pins were also distributed at Guest Reception over the course of the day.  Emma had her face painted with a maple leaf and we sampled the Canada Day Cake which was made up of little cupcakes.  There was also a Canada Day Tea for those looking for a more genteel celebration and there was live jazz performance by the Muskoka Jazz Guys on the Lakeview Lawn later in the evening.  We also missed the Water Ski show on the lake because we were just too busy having fun.  The highlight of the day, however, was the Canada Day Fireworks over Wallace Bay which started at 10pm.  We took a blanket and sat down by the lake to watch the dramatic presentation which capped off a perfect Canada Day at The Rosseau. 
Emma's priority for the weekend was to learn to kayak and canoe and she did manage to try both.  It turns out that paddling a kayak is a bit harder than it looks when you are not quite 8 years old and paddling a canoe is even harder.  After a great deal of effort (and a little bit of frustration) she managed to develop a level of proficiency in both which I found fairly impressive for her age and size.  She preferred kayaking because the kayak didn't feel as tippy as the canoe, however, she is keen to try both again.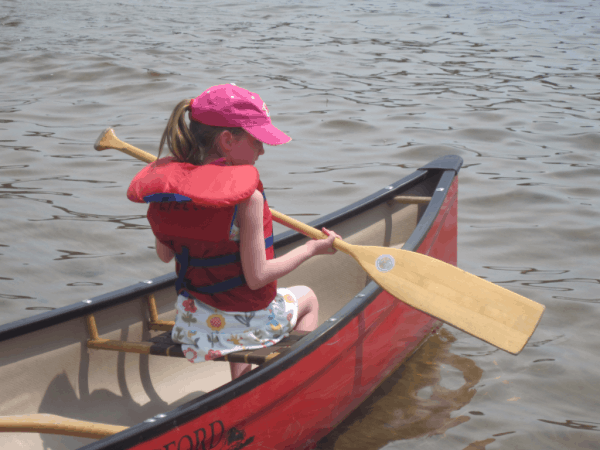 Emma's first canoe trip on Lake Rosseau
The other activity that Emma was eager to try as soon as she saw it on the Activity List was "Build a Muskoka Creature".  We waited until Sunday morning just prior to our departure from the resort to participate in this activity which was set up in the Cranberry Lounge.  There was a choice of several creatures to stuff – a moose, a beaver, a wolf, a bear or a raccoon.  Emma's Muskoka creature of choice was a moose which she then filled with stuffing.  After it was sufficiently stuffed she was given a star to make a wish on and enclose inside the animal before it was closed up.  The Muskoka creature then gets a special shirt to wear and a birth certificate and is ready to head home with her new family.  Emma christened her new moose "Sunny" and was as proud as can be of the new addition to her stuffed animal family.  This is a fun activity which only takes a few minutes but results in a nice souvenir for the kids to remember the weekend.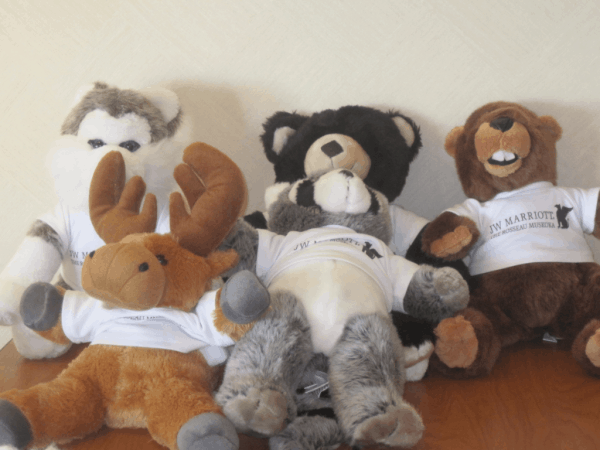 Build a Muskoka Creature Workshop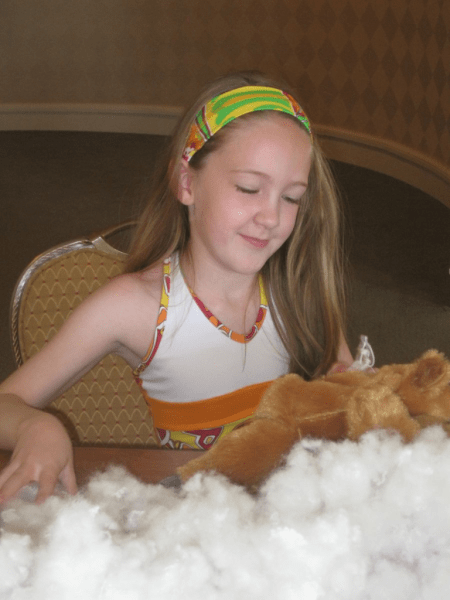 Emma working hard at stuffing her moose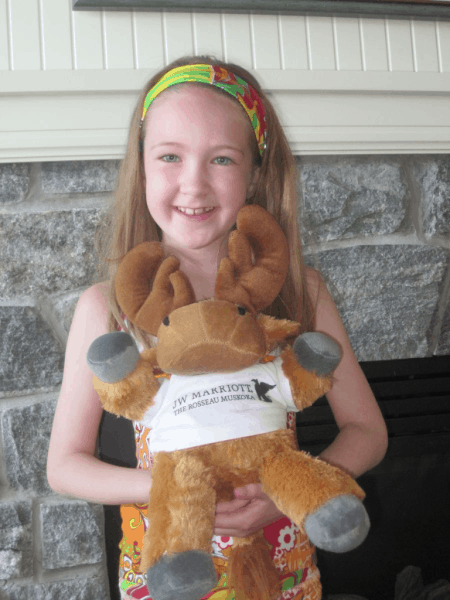 The final product – Sunny the Moose
One of the activities that we meant to try but never did was toasting s'mores over the bonfire.  There is a bonfire at the front of the resort that is available 24 hours a day and s'more kits are available from the Front Desk.
Dining Options: 
There are several options for dining at the resort and we tried nearly all of them. 
Cottages Restaurant is described as a lakeside country grille that serves breakfast, lunch and dinner.  Guests at Cottages can eat indoors or outside on the terrace.  We ate a late dinner indoors after our arrival on Thursday evening and on Saturday evening had dinner outdoors on the terrace.  Both dinners were casual and quite tasty.  I particularly enjoyed the delicious crab cake that I had the first evening.
Teca is a more upscale restaurant featuring Italian cuisine and reservations are necessary.  We dined at Teca on Friday evening and the meal was superb and the dessert to die for.  The service was impeccable and our waiter had Emma so thoroughly entertained that she would have liked to return the next night.
The Country Market is a store on the main level of the resort (near the lobby and elevators) which serves snacks/coffee etc. and sells magazines and miscellany.
Lakes Lobby Bar is a casual dining spot which serves lunch and dinner.  This is the one spot where we didn't eat while we were at The Rosseau.
The Deck is a poolside bistro which is open seasonally.  We had only snacks and drinks, however, they provide poolside service which was very convenient.
Additional Resort Amenities: 
Resort has a smoke-free policy

Free outdoor parking

WIFI – complimentary in lobby; in rooms $15.95 per day includes WIFI and unlimited local and long distance calls within Canada

Cranberry Lounge – Parents and Tots Playroom

Board games, movies and DVDs available for sign out from Concierge

full-service luxury Spa Rousseau with 11 treatment rooms, private terrace and private outdoor swimming pool, hair salon etc. 

Fitness Centre with yoga studio (open 24hrs and accessible with room key)

Nick Faldo designed championship golf course at Red Leaves

Tennis Courts (clinics and private lessons available)

Children may participate in the summer camp program at Clevelands House
Guest staying for more than a couple of nights would also have time to explore the area around the resort a bit more than we did.  The villages of Rosseau, Port Carling and Bala are shopping destinations frequented by visitors and cottagers alike who enjoy browsing the galleries, shops and cafes.  In the nearby town of Gravenhurst guests can tour the lakes on the "Segwun" which is the oldest steamship still in operation in North America.  We had planned to visit the nearby Santa's Village theme park in Bracebridge before heading home on Sunday, however, Emma was having so much fun at The Rosseau that she chose a few more hours at the resort over Santa Claus.   
We had a wonderful family weekend at The Rosseau even though we didn't have time to try many of the activities.  When asked if she would like to come back to this resort, Emma answered, "Every day if I could".  She also spent the car ride home planning a return to the Rosseau every summer – you can't get a much better endorsement than that!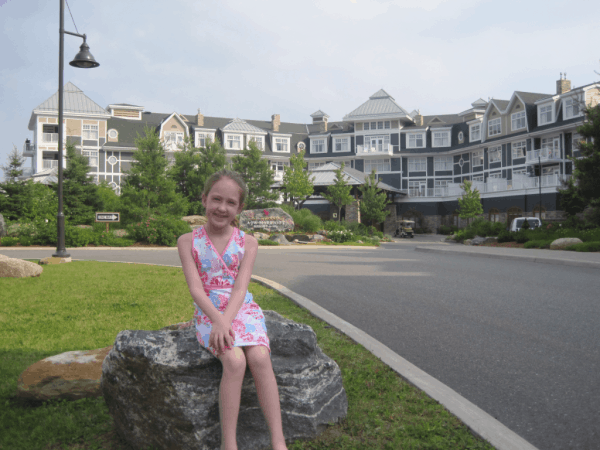 Farewell to The Rosseau Muskoka – we'll be back!
Looking for a family-friendly resort in cottage country? Check current rates and reviews for JW Marriott The Rosseau Muskoka Resort & Spa on Trip Advisor.
Related Links:
Learning is Fun at Science North 
Visiting the McMichael Canadian Art Collection with Kids
Top 10 Things For Families To Do in Niagara Falls
Have you liked our Facebook page yet? I post articles from the blog there as well as photo albums from our travels and other travel news. Or, if you prefer, you can subscribe to the free RSS feed or sign up for an email subscription to keep up-to-date on our travel adventures. 
Pin this for later