Our family visited Catherine's Palace in St. Petersburg Russia and one of our favourite memories is my daughter dancing outside the palace.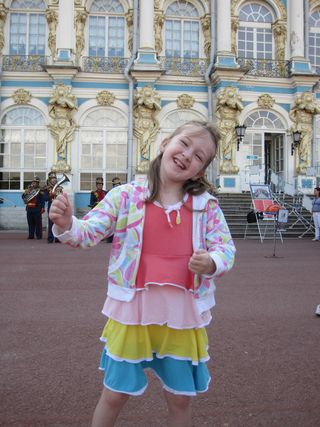 Two summers ago our family spent two days in St. Petersburg, Russia while on a Baltic cruise.  We hired a private guide and driver to escort us for our visit and after meeting them on the first morning we headed out of the city to visit Catherine's Palace in Tsarskoye Selo.  As we approached the entrance to the opulent palace we could hear music and realized that there was a uniformed band playing for visitors.  Much to the embarrassment of her older sister, the music was all the incentive Emma needed to dance around the area while we waited to be admitted to the palace.
We toured the stunning rooms of the palace and Emma oohed and aahed and was very impressed by all the beautiful things inside.  Ask her now what she remembers most about Catherine's Palace though and she will most likely tell you about the band playing and how she danced and danced.  Just another reminder that when you are traveling with children the simplest things can sometimes be more memorable than the spectacular.
Related Links
The Gardens of Peterhof Palace