Review of Lonely Planet's Not-for-Parents series of guide books
Every parent knows that the best way to ensure a successful family vacation is to get the kids excited about where they are going.  Lonely Planet has just made that task a whole lot easier with their new "Not-For-Parents" series of travel guides intended for kids ages 8 and up. 
The series was launched in October with a junior edition of The Travel Book as well as city guides for Rome, New York City, London and Paris.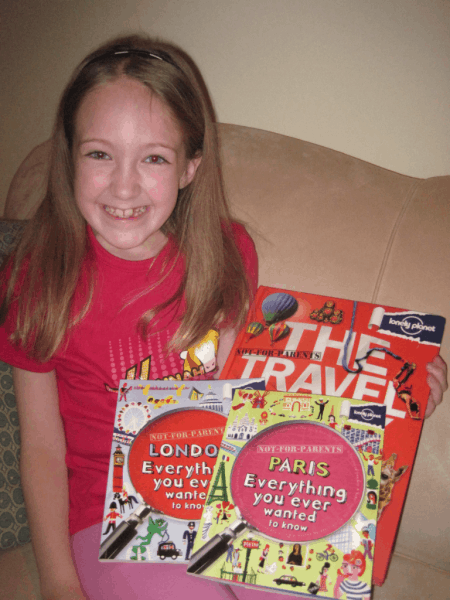 With some assistance from my 8 year old daughter, I reviewed the London: Everything you ever wanted to know and Paris: Everything you ever wanted to know guides as well as The Not-For-Parents Travel Book.  The Not-For-Parents Travel Book is a junior version of Lonely Planet's popular Travel Books, however, it is jam-packed with the kind of facts that kids love to know but nobody ever bothers to tell them.  
This book is an excellent resource for geographical information.  It has a page for each of 200 countries and each entry has lots of pictures as well as basic geographical information such as population, size of country, currency and language spoken.  It's the interesting facts that will really catch your children's attention though and make them want to keep reading.    
The London and Paris books are illustrated like a comic book or a graphic novel and the material is organized by subject matter in order to tell interesting stories about the city.  For example, the London book includes "I Spy the London Eye"; "Harry Potter on Location"; "London Burning"; and "Mummies and Mega Treasures". 
The clever organization provides kids with important historical and cultural information about the city but in a way that intrigues them and encourages them to learn more.  Parents might not care that the London Eye is as high as 26 giraffes standing on one another's heads but those are exactly the kind of amusing facts that resonate with kids. 
Emma loved these books!  They are fun as well as informative and she thoroughly enjoyed reading out interesting facts to me.  Some of the facts even led to some rather interesting discussions.  She was a little bit squeamish about the gory historical bits but I expect that boys would find those sections quite appealing. 
We have been to London before so she had fun reading about the places that she was familiar with as well as learning about new things.  We are planning to go to Paris for the first time next spring so that book provided Emma with lots of ideas for what she would like to see in the city. 
Emma took the books from me almost as soon as the package arrived at the door and informed me several times that they were "not for parents" so I wasn't allowed to read them.  I did manage to sneak a peek or two and I loved these books as well.  This is exactly what I have been searching for in terms of destination-specific information for my kids.  
As part of the planning stage for past family trips I have struggled to find age-appropriate reading material about our destination.  The launch of this series has filled a gap by providing a book full of information on four of the world's greatest cities in a kid-friendly format.  I would have liked the books to include an illustrated map showing landmarks and neighbourhoods in order to convey a sense of the size of the city and relative location of attractions.  Apart from that tiny omission there is nothing to criticize about this series. 
Emma's burning question after browsing these books was whether there were going to be more. Fortunately the answer is yes. Lonely Planet is planning to release more city guides next year and is hoping to develop the series beyond cities. This is definitely welcome news for parents who are trying to involve children in planning family vacations and excite them about the fascinating world that is out there waiting for them to explore. This is definitely a series that parents should check out.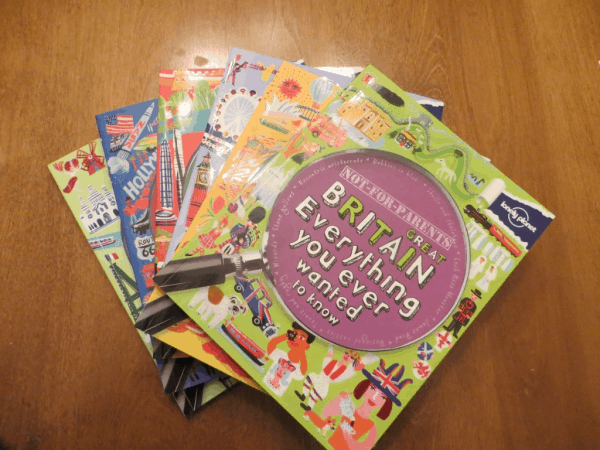 Lonely Planet provided me with copies of these books for the purposes of review but did not request that any particular opinion be expressed.  My opinions are, as always, my own.
We are a participant in the Amazon Services LLC Associates Program, an affiliate advertising program designed to provide a means for us to earn fees by linking to Amazon.com and affiliated sites. As an Amazon affiliate I earn from qualifying purchases.
Related Link