The gardens of Peterhof Palace outside St. Petersburg, Russia were one of the most family-friendly spots that we visited on our Baltic cruise.
One of the most spectacular, and certainly the most kid-friendly, sites that we visited in St. Petersburg, Russia was the gardens of Peterhof Palace (nicknamed the "Russian Versailles") located just outside of the city of St. Petersburg on the shores of the Gulf of Finland.  The palace and it's grounds have been named UNESCO World Heritage Sites and are among the most popular tourist attractions in St. Petersburg.
The palace and the French-style gardens were initially designed by Peter the Great and subsequent generations have added additional fountains to the grounds.  One of the most interesting facts about the elaborate display of fountains is that they are operated without pumps.  Water from natural springs is collected in reservoirs on the upper level and the force of gravity creates the pressure necessary to operate the fountains on the lower level.
We restricted our visit to the grounds of Peterhof rather than trying to tour the palace as well.  It was a warm, sunny day when we visited and the kids loved spending the afternoon outside in the gardens admiring the many fountains and playing on the garden paths.  The fountains are beautiful as well as entertaining as there are some fountains that are rigged to spray unsuspecting passers-by.  So many of the attractions of St. Petersburg are grand indoor places that it provides a nice balance to include a spot like Peterhof where kids are able to spend a casual afternoon outdoors even if it is amidst grand surroundings.
Here are a few of our favourite photos from the gardens.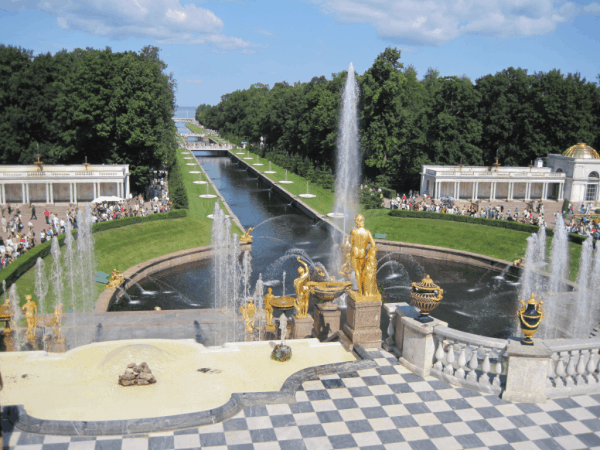 View of Grand Cascade from Palace level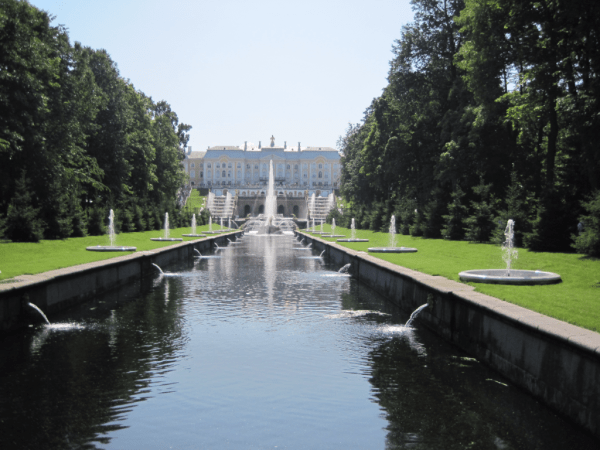 The Canal runs from the Palace to the Gulf of Finland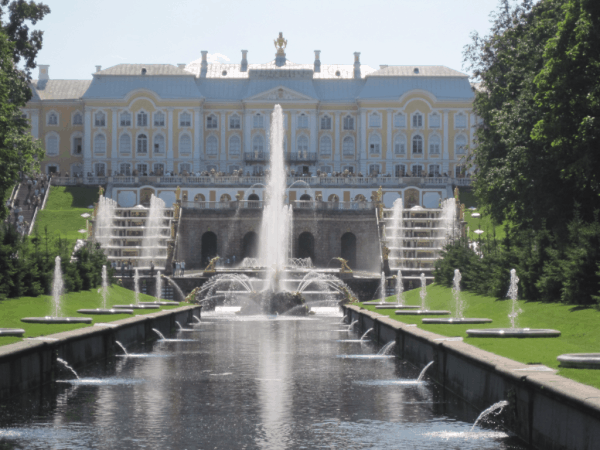 View of Palace, the Grand Cascade and the Samson Fountain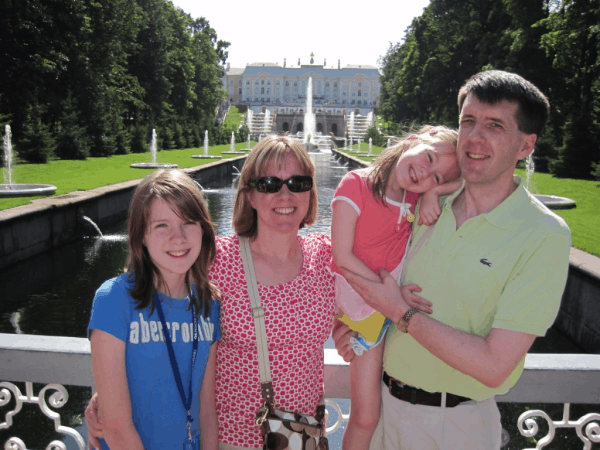 Our family at Peterhof – Fountain Alley in background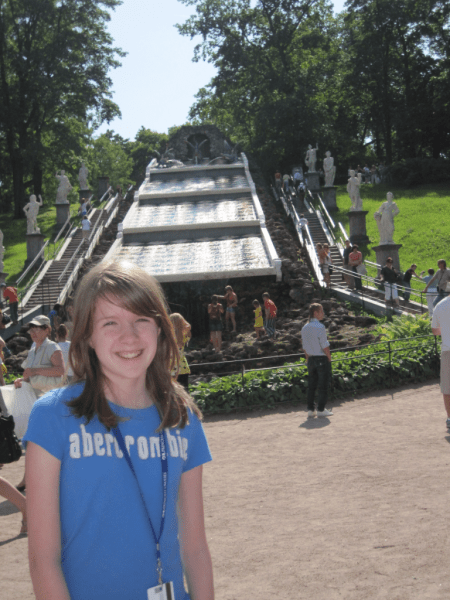 Katie in front of Chess Mountain
Related Links
St. Petersburg, Russia Trip Report
Have you liked our Facebook page yet? I post articles from the blog there as well as photo albums from our travels and other travel news. You may also subscribe to the free RSS feed or sign up for an email subscription to keep up-to-date on our travel adventures. 
Pin this for later