I loved every page of The Sweet Life in Paris. David Lebovitz' account of what it's really like to live in Paris had me laughing out loud and the recipes at the end of each chapter are a delicious bonus. The book left me hoping that there is a sequel in the works to provide a little more of the Parisian sweet life.
In anticipation of our upcoming trip to Paris I selected The Sweet Life in Paris by David Lebovitz for the March Book of the Month. This book chronicles the author's adventures as an American expat living in Paris over the last number of years.
David is a pastry chef and a cookbook author who had been living and working in San Francisco until he decided to start life anew in Paris. With all of his belongings crammed into three suitcases, he arrived in Paris full of hope, only to discover that it was a very different world from the one he had left behind.
The book is comprised of humourous anecdotes about various aspects of life in Paris from the difficulty of getting a good cup of coffee to the inability of Parisians to wait patiently in a queue to the apparent indifference of shopkeepers toward selling their wares.
Each chapter of the book is only a few pages long making it very easy to enjoy in little tidbits whenever time allows. The unique aspect of the book is that each of these short chapters includes a recipe at the end. Each of the recipes sound mouthwateringly delicious and I can't wait to attempt a few.
The author also includes a list of his favourite addresses for chocolates and other edibles in Paris which I may have to look up while in Paris next month – hopefully, they will be willing to sell me some chocolates.
I loved every page of The Sweet Life in Paris. David is a natural storyteller and the book had me laughing out loud as he described the idiosyncrasies of the city and its residents in the good-natured, loving manner of a family member noting the foibles of loved ones. This is a wonderful book for the fan of memoirs, the francophile or the amateur chef. I simply could not put it down – in fact, I'm hoping that there will be a sequel!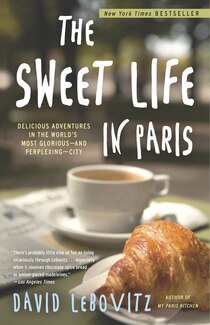 We are a participant in the Amazon Services LLC Associates Program, an affiliate advertising program designed to provide a means for us to earn fees by linking to Amazon.com and affiliated sites. As an Amazon affiliate I earn from qualifying purchases.