Potted Potter is a hilarious 70 minute parody of the Harry Potter series that can be enjoyed by the entire family.
Katie, Emma and I attended a performance of Potted Potter at the Panasonic Theatre in Toronto last evening that was one of the funniest things that I have seen in the theatre in a long time.  Arriving in Toronto direct from London's West End, Potted Potter is an unauthorized parody of the Harry Potter series written and performed by British actors Dan Clarkson & Jeff Turner.
The duo leads the audience in a madcap romp through the seven Harry Potter books in a mere 70 minutes, providing a hilarious summary of the plot and a very original depiction of some of J.K. Rowling's characters, without the benefit of elaborate costumes, sets or props.  Complete mayhem ensues and has the audience roaring with laughter from start to finish. 
Emma's attendance of the performance was a last-minute substitution as I had planned to take only Katie and one of her Potter-mad friends, however, the friend was not feeling well and Emma scored her seat.  I had been concerned that Emma wouldn't understand the show, however, she loved every minute of it.  The highlight for her was being selected to go on stage to play the Gryffindor Seeker in a Quidditch match that the entire audience participated in (well except for the unfortunate folks in the balcony who got a life lesson in the importance of buying tickets early).  Emma was a brilliant seeker who even interrupted Dan for a point of clarification on how this game was actually going to work and received a chocolate for her hard work on stage.  
The mark of a great show is when the audience is still buzzing about it afterward and my daughters could not stop talking about it.  On the car ride home, my theatre-loving girls played back most of the lines from the show for the benefit of their Dad who hadn't been able to enjoy the performance.  It's surprising how amusing "One of you will live……And one of you will die" can be over and over again.  You probably had to be there to get it - and you should definitely be there.  The show has been extended to March 25th in Toronto so there's still a chance to see it while it's in town, although tickets are selling out quickly.  If you aren't in the Toronto area then keep your fingers crossed that the 2012 international tour will bring the show to a venue near you.
If you are a Harry Potter fan then you won't want to miss this lovely send-up and if you haven't had time to read the books then here's your chance to get the highlights in a mere 70 minutes of over-the-top fun.  This is a show that is truly fun for the whole family.
Potted Potter is playing at the Panasonic Theatre at 651 Yonge Street in Toronto until March 25th, 2012.  Tickets are available on-line at Mirvish.com, by calling Ticket King at 416-872-1212 or in person at the box office.  For more information about the show please refer to the Potted Potter website.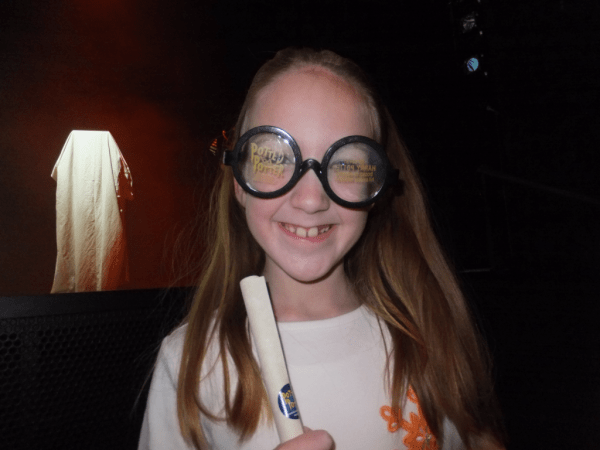 Emma in her souvenir Potted Potter glasses 
Related Links
Experiencing the Magic of Harry Potter at Warner Bros. Studio Tour London
A Day at The Wizarding World of Harry Potter
London Taxi Tours – Harry Potter
Harry Potter and The Forbidden Journey – An 8 Year-Old's View
Have you liked our Facebook page yet? I post articles from the blog there as well as photo albums from our travels and other travel news. Or, if you prefer, you can subscribe to the free RSS feed or sign up for an email subscription to keep up-to-date on our travel adventures.