Our family discovered that a D-Day tour in Normandy can be educational and interesting even for younger elementary school children. Seeing the sites for themselves will have a far greater impact than reading a history lesson from any textbook.
When we started planning a 9 day spring break trip to Paris, my husband expressed a desire to visit Normandy in order to see Juno Beach where the Canadian troops came ashore during the D-Day invasion in 1944.
Apart from the fact that it was going to be a lengthy trip (about 2.5 hours by car) in each direction, I was concerned that our 8 year old daughter, Emma, would be bored by the war sites.
We wavered back and forth on whether it was a good idea and decided that the arguments weighed in favour of going since my husband and I both wanted to visit and since Katie, who is studying World War II in her grade 10 Canadian History class, would definitely benefit from seeing it firsthand. Emma is fairly easygoing so I felt that I could convince her that it would be an interesting day.
Planning our Tour
We looked at various options for the day and concluded that it would be best to arrange a private tour for our family even though it was going to be more expensive than the other options.  The advantages of seeing Normandy by private tour were fourfold.
(1) Our guide would pick us up and return us directly to our hotel which would contain the day's activities to under 12 hours, whereas if we traveled by train it would involve more time getting to and from the train station and to the sites that we wished to see. 
(2) In contrast to a group tour, we would be able to dictate exactly what we would see on our tour and could choose to concentrate on Canadian sites.  We would also have the option of adjusting our itinerary, even over the course of the day of the tour, if Emma was having difficulty with the experience.
(3) A knowledgeable private guide would be able to provide a refresher on the events of June 1944 and put what we were seeing in historical context. 
(4) Emma is a very sociable little girl who loves to meet and chat with new people.  I felt fairly certain that the presence of the guide would increase the likelihood of good behaviour over the course of a lengthy day. 
Paris Luxury Tours
We chose Paris Luxury Tours and the owner, Shahin Akhavi, agreed to customize a tour for us that would be suitable for a family.  We chose Mr. Akhavi's company because he provided us with the most detailed information on what the proposed tour encompassed. 
We decided that a full day of D-Day sites would be too intensive for Emma so it was agreed that we would visit Juno Beach, the Juno Beach Centre and the Canadian Cemetery.  We were then able to choose another post-lunch activity and narrowed it down to visiting either Rouen or Bayeux.  My first choice would have been Giverny, however, Monet's Garden closes for the winter and doesn't re-open until the beginning of April.  Mr. Akhavi informed us that we could choose either option on the day of the tour and, if there was sufficient time, then we could visit both.
While we were still at home, I discussed the D-Day tour with Emma and explained in general terms why it was important.  She expressed some reluctance to visit a cemetery as she had some Hollywood notions of it being a dark and spooky place.  I reassured her that it wasn't like that at all and that it was an important place to visit in order to pay our respects to the soldiers from Canada and the other Allied countries who had fought and sacrificed their lives in order to make the world a safer place for us to live in.  I equated it with what happens at Remembrance Day services and she was satisfied that there wasn't anything to be afraid of.   
On the day of our tour, Mr. Akhavi himself picked us up in a private vehicle at our hotel in Paris at 8am and we headed out of the city toward Normandy.  There was a thick fog for most of the drive so we weren't able to see much, however, Mr. Akhavi spent most of the drive reviewing the events of WWII, and of the D-Day invasion in particular, with us.  It has been a long time since I studied Canadian history so I quite appreciated the refresher course.
Juno Beach
After about 2.5 hours we arrived at Juno Beach where Canadian troops came ashore on June 6, 1944 as part of Operation Overlord.  The weather was much chillier in Normandy than it had been in Paris and the morning's fog still hung thickly over the beach which provided an atmosphere that seemed appropriate to the setting.  We didn't spend more than 30 minutes or so at the beach but walking along a stretch on the boardwalk, reading the memorials and seeing La Maison de Queen's Own Rifles, which is believed to have been the first house on French soil liberated by the Allied Forces, can't help but have an emotional impact as one starts to reflect on what the young Canadian men went through as they landed on Juno Beach that day.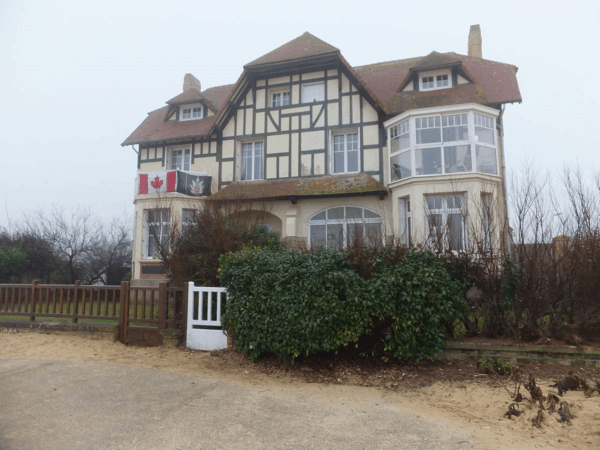 La Maison de Queen's Own Rifles of Canada, Juno Beach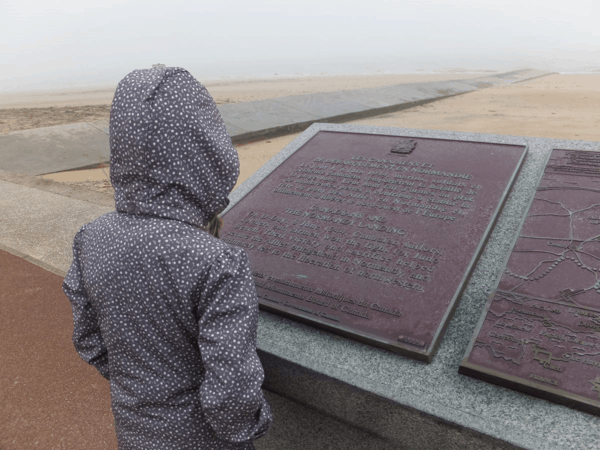 Reading about the role of Canadian forces in the Battle of Normandy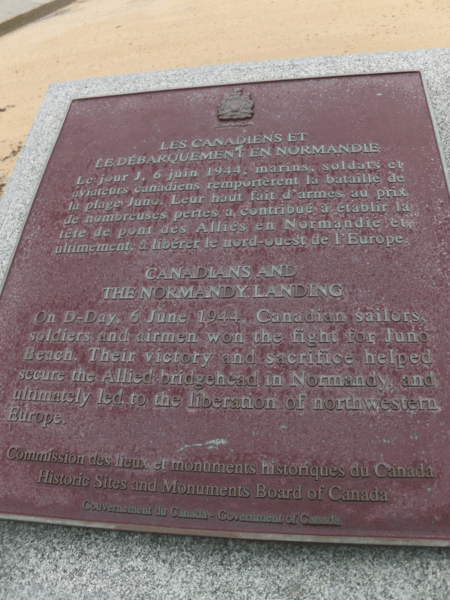 Canadian Historic Site marker at Juno Beach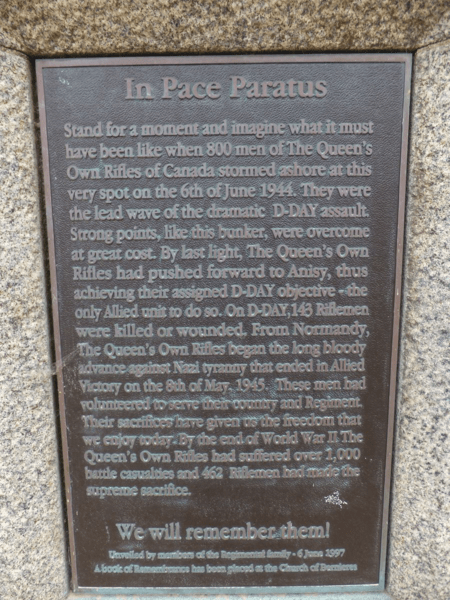 In Pace Paratus ("In Peace Prepared" – the motto
of the Queen's Own Rifles of Canada)
Juno Beach Centre
From Juno Beach we moved on to Courseulles-sur-Mer to visit the Juno Beach Centre which is the only Canadian museum in Normandy.  The Juno Beach Centre is a museum and cultural centre which was opened on June 6, 2003 in order to present the war efforts made by Canadians, both at home and abroad, during World War II.  The Centre is staffed by Canadian university students who apply each year to the Juno Beach Centre's Guide Program.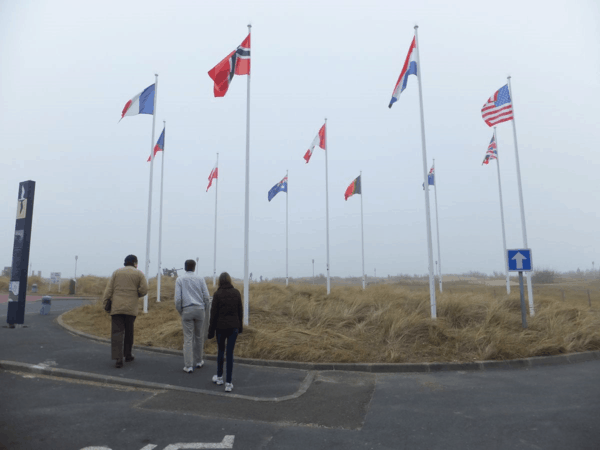 Arriving at the Juno Beach Centre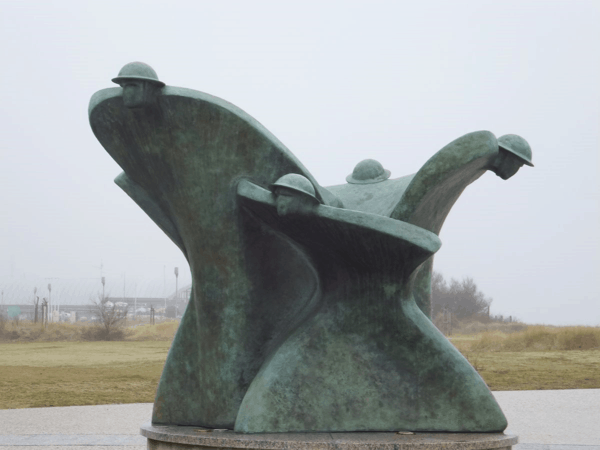 Sculpture at Juno Beach Centre – "Remembrance and Renewal" by Colin Gibson
The Centre has a permanent exhibit consisting of 7 rooms as well as a temporary exhibit, all of which can be toured at your own pace.  The first exhibit is a haunting multi-media presentation which puts visitors in the boats with the Canadian soldiers who are heading toward the shores of Normandy.  Visitors stand in a room which has been designed to simulate a landing craft and are surrounded by moving visual images of young men in boats with voice overs presenting their thoughts as they contemplate what lies ahead, think of their loved ones at home and wonder if they will survive the day.    
As the film ends, the doors open and visitors enter the remaining exhibits where they can learn more about what life was like prior to the war, the events of WWII, the military role of Canadians and war efforts at home.  The exhibits begin by exploring life in Canada in the 1930's before moving into the war-time period and looking at Canadian efforts abroad and at home and at the actual military campaigns in which Canadians were involved.
The exhibits include artifacts such as an antique radio which Canadians at home would have tuned into each evening in order to get wartime news.  My kids found the radio fascinating, particularly after I told them that I could remember my grandmother having one just like it.
One of the most poignant exhibits is in the room titled "Some Came Back, Others Did Not".  This room is dedicated to the approximately 45 000 Canadian men and women who died during the Second World War.  There names scroll slowly across a dark screen on the ceiling of the room as a stark reminder of the sheer number of lives lost.
The final room provides information about life in Canada today and about the role of Canada's military in peacekeeping missions around the globe.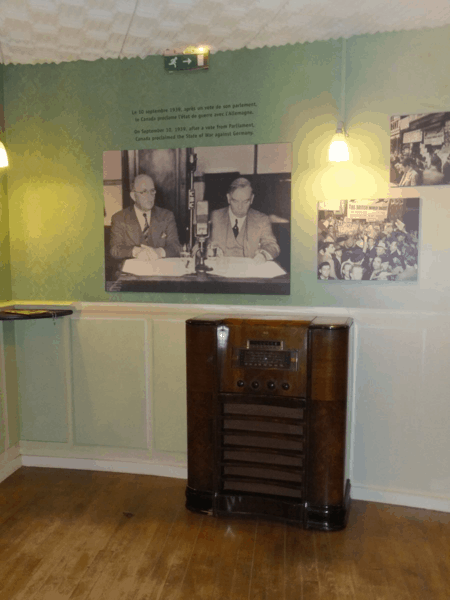 Learning about wartime at the Juno Beach Centre
One wouldn't think that a war museum was a kid-friendly site, however, the Juno Beach Centre does an excellent job of drawing children into the exhibits and educating them about the history of Canada in the 1930's, the D-Day landings and the Battle of Normandy.  There are interactive computer terminals throughout the exhibit where young visitors meet two virtual Canadian children, Peter and Madeleine, who provide information and activities.
The Centre also has a "Quiz book" designed for children aged 8-11 which provides more information about the exhibits and sets out a series of questions that need to be answered by interacting with the exhibits.  After completing the quiz and solving a word scramble then the booklet can be shown at the gift shop on the way out in order to receive a candy reward.  Having the booklet to complete ensured that Emma became completely absorbed in the exhibits as she endeavoured to answer all the questions.  It also allowed us the opportunity to explore the exhibits more thoroughly as we weren't worrying about whether she was bored.  We left the Juno Beach Centre feeling that each member of our family had learned a great deal about World War II and the D-Day operations.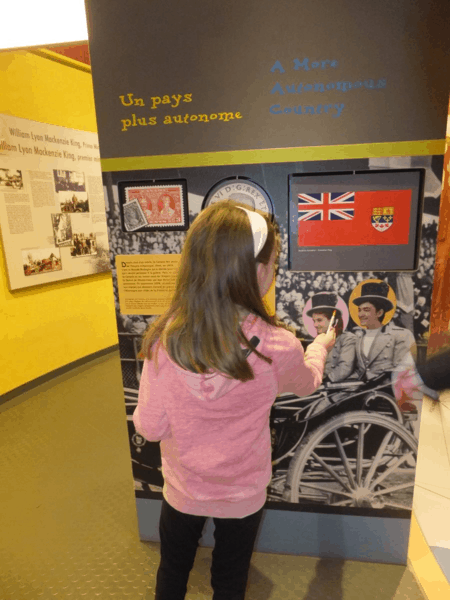 Looking for answers to the Juno Beach Centre Quiz 
We walked a bit outside the Centre in what is known as Juno Park, however, there were no guided tours available at the time of our visit.  The guided tours are available daily from April to October for individuals or by reservation throughout the year for groups.  The tours explore what remains of the Atlantic Wall including the inside of a bunker.   
Canadian War Cemetery
After finishing our visit to the Juno Beach Centre, we had a quick but delicious lunch at a small family-run restaurant alongside the docks in Courseulles before driving to the Canadian War Cemetery located in Reviers (near Bény-sur-Mer).  There are more than 2000 headstones in the beautifully maintained cemetery with a Cross of Sacrifice in the middle section of the field.  There is a booklet available at the entrance for visitors who are looking for the burial spot of particular soldiers.
This is a place to pay respects, to reflect quietly on the sacrifice of so many young men and to shed a few tears at the enormity of the loss.  What hit me the hardest was to see the ages engraved on the headstones and to realize that so many of these young men were only a few years older than Katie and her friends and they were willing to go off to war and sacrifice their lives in fulfillment of their patriotic duty.  Both Katie and Emma walked quietly among the graves absorbing what they were seeing and learning a lesson that will have a far greater impact than anything they could read in a text book.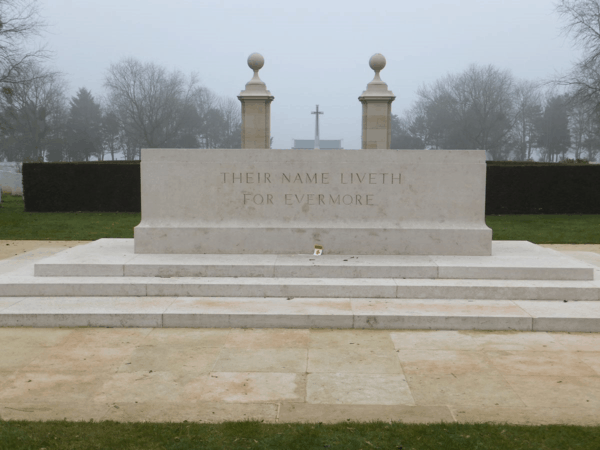 The Canadian War Cemetery at Bény-sur-Mer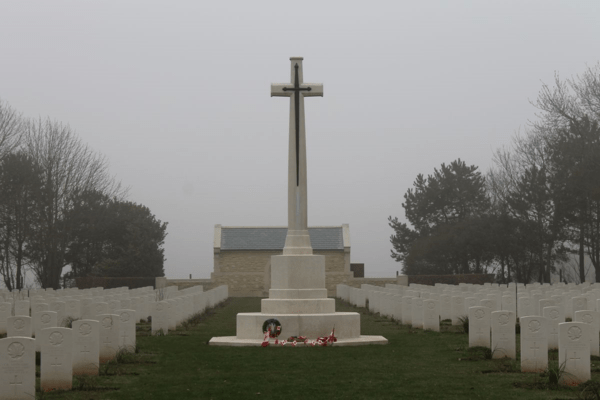 Cross of Sacrifice at Canadian War Cemetery (photo courtesy of my daughter, Katie)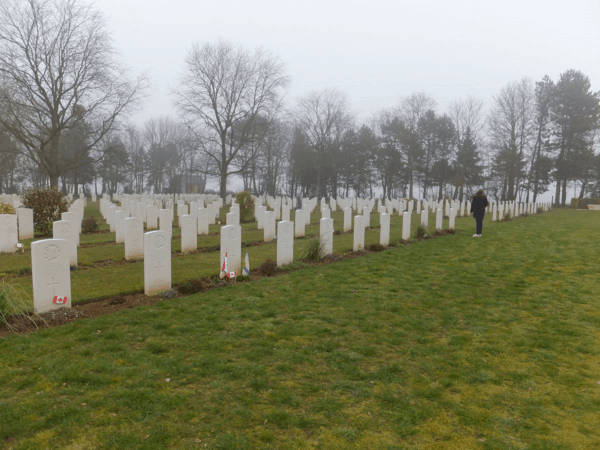 Reflection at the Canadian War Cemetery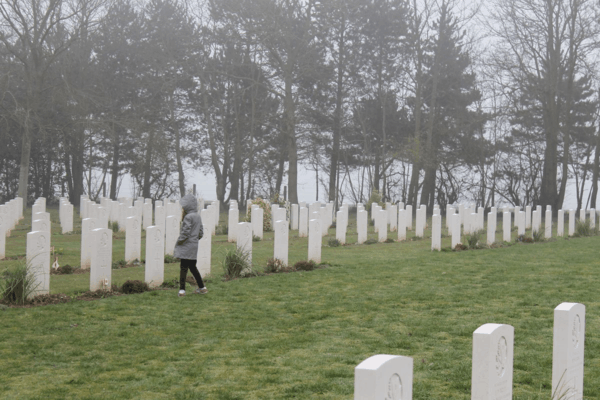 Emma at the Canadian War Cemetery (photo courtesy of my daughter, Katie) 
Bayeux and the Tapestry Museum
After visiting Juno Beach, the Juno Beach Centre, and the Canadian War Cemetery, we needed a change of pace so we decided to head to nearby Bayeux to visit the Tapestry Museum.  The Bayeux Tapestry is a 70m long embroidery (not, in fact, a tapestry at all) stitched in the 11th century to celebrate the conquest of England by William, Duke of Normandy.  It is believed to have been embroidered by monks after the Battle of Hastings in 1066 and illustrates the conflict between William and Harold as they vie for the throne of England.
The tapestry is mounted behind glass and visitors are provided with an audio guide which describes the scenes of the tapestry as they walk past it. There is a junior audio guide available for children and Emma was captivated by the story that she was hearing.  The junior version takes longer than the adult version so we had to keep waiting for her to catch up.  We were actually quite surprised to see just how interested Emma was in the story that she was listening to – not sure how much of it she has retained but, hopefully, the story of William the Conqueror will, at least, be familiar to her when she studies it in school.
After seeing the tapestry we had a stroll around the lovely town of Bayeux before we headed back to Paris.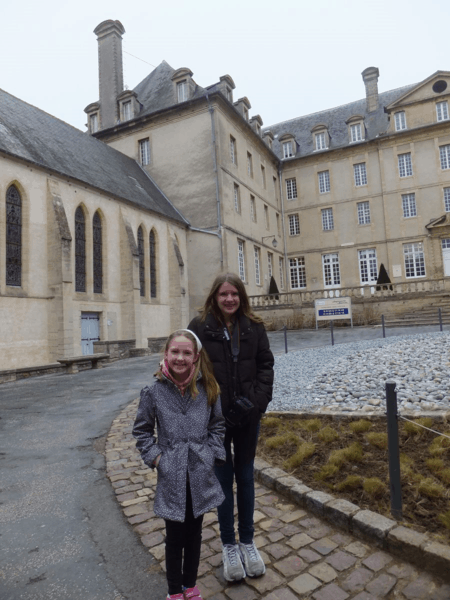 Outside the Bayeux Tapestry Museum
I was very pleased with our tour of Normandy as it played out even better than I had hoped.  Our tour guide did an excellent job of providing the historical context for the day, both kids sensed the sombreness of the sites and behaved accordingly, the educational value of being there and actually seeing where this important battle played out was beyond compare and not one complaint was voiced over the course of what was a very long day.  It was quite simply one of the best days of our trip.
What You Need to Know: 
The Juno Beach Centre is located at 14470 Courseulles-sur-Mer
The Centre is open daily 9:30am-7pm April 1st to September 30th; 10am-6pm in March and October; and 10am-5pm in February, November and December.  The Centre is closed in January and on December 25th.
The entrance fee for adults to Juno Beach Centre is 6.50 Euros; Juno Beach Centre and Juno Park is 10 Euros.  The fee for the temporary exhibit only is 2.5 Euros.  There are reduced rates for groups of more than 20.
Admission is free for WWII veterans, WWII war disables, WWII war widows and accompanied children under 8. 
The Bayeux Tapestry Museum is located in the old Bayeux Seminary which was built in the 17th century.  The main entrance is from the Rue de Nesmond.
Opening hours vary by season.  Winter: November 16th – March 14th the museum is open from 9:30-11:45am and 2-5:15pm.  Summer: March 15th – November 15th the museum is open from 9am-5:45pm.  From May til August the opening is extended to 6:15pm.  Check the website for other closing times – in 2012 the museum was closed for 15 days in January and will close early on December 24th and reopen in the afternoon on December 26th and will close early on December 31st and reopen in the afternoon on January 2nd.
 The full Adult rate is 7.80 Euros; Young Visitors rate – children from 10-18 and students with a student card is 3.80 Euros; Children under 10 are free.
Audio Guides in 14 languages are available free of charge.  There is a Junior Audio Guide for children under 12.
Free parking is available to visitors near the museum.
There is a gift shop selling products related to the Tapestry.
Toilets are available on each level and there are baby changing facilities in the wheelchair-accessible toilet on the ground floor.
Paris Luxury Tours offers a wide variety of guided and escorted tours in Paris and beyond. 
Tours are conducted by bilingual guides who are native English speakers and are university graduates with an expertise in the tour theme.
Guides are also professional drivers, licensed by the French state.
Entry fees, meals, snacks are not included in the price of the tour.
Prices vary depending on the itinerary and the number of persons on the tour.
Related Links
Paris With Kids? Mais, Bien Sûr