The Hundred-Foot Journey is the charming, well-written tale of how a young Indian man becomes a celebrated three-star chef in Paris.
The book that I have chosen for May is The Hundred-Foot Journey by Richard C. Morais. It was my turn to select a book for April for my book club and this is the one that I chose for us to read as a group.
When I saw this book on the shelf, I was initially drawn to it by the beautiful cover. As soon as I read the summary on the jacket, I was hooked by the connections to one of my favourite cities, Paris, and to India, a country that I have been obsessed with visiting for a very long time now.
Read more of our Book Recommendations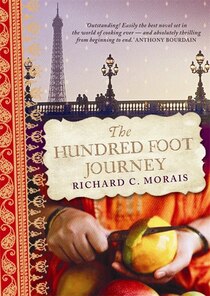 We are a participant in the Amazon Services LLC Associates Program, an affiliate advertising program designed to provide a means for us to earn fees by linking to Amazon.com and affiliated sites. As an Amazon affiliate I earn from qualifying purchases.
The Hundred-Foot Journey tells the story of Hassan Haji, a young man who begins his life in his grandfather's modest restaurant near the slums of Mumbai. His family leaves India for London and then later moves to a small village in rural France where his life becomes intertwined with that of a well-known chef, Madame Mallory, who operates a prestigious restaurant across the road from the property that Hassan's family had purchased. Through a bizarre set of circumstances, Hassan ends up under her tutelage as an apprentice chef and eventually moves on to Paris to further his career.
I thoroughly enjoyed reading this well-written tale of a young man achieving great success despite his modest beginnings. Hassan is a very likable character and I was charmed by his story and the twists and turns it takes for him to reach the top of his profession.
Food is central to the plot and the author's detailed descriptions of many of the dishes in the book are mouth-watering. He even includes recipes for a couple of traditional Indian meals for the reader who feels inspired to immediately try and replicate some of the deliciousness described in the book.
The reviewer from The New York Times Book Review sums up The Hundred-Foot Journey as "…Slumdog Millionaire meets Ratatouille" and I can't think of a more apt way to describe this most unlikely story of a young man starting life in Mumbai and becoming a celebrated three-star chef in the restaurants of Paris.  I'm sure that there will be a movie and I can't wait to see it!