Tivoli Gardens is a perfect family outing in Copenhagen – no matter the weather.
Our first trip to Europe as a family was a summer Baltic cruise that departed from the port of Copenhagen, Denmark. We were able to spend three days prior to our cruise, and one day after, sightseeing in this family-friendly capital city.
This story may include affiliate links for which we receive a small commission at no extra cost to consumers.
Most of the tourist attractions are centrally located and the city is easily walked. There is a great deal to interest children including the statue of the Little Mermaid, palaces, lovely parks, street performers and, perhaps above all else, Tivoli Gardens.     
Tivoli Gardens, the popular Danish amusement park, was established in 1843 and is said to have been the inspiration for Walt Disney to establish his own theme park in Florida. Tivoli was founded by Georg Carstensen who was inspired by his European travels and wished to establish a romantic pleasure garden in Copenhagen. When the park first opened the only rides were a merry-go-round and a switchback (simple roller-coaster), however, the park grew over the years and is now one of the most popular attractions in Copenhagen with more than 28 rides, lovely gardens, a concert hall, a theatre, an aquarium and numerous eateries.  
We were planning our visit to Tivoli Gardens for the late afternoon and early evening of the second full day of our trip. Awaking to drizzle and overcast skies, we ventured out for some sightseeing hoping that there would be improvement as the day wore on. The weather didn't clear over the course of the day, however, we decided to visit the amusement park anyway and discovered that there are advantages to visiting when the weather is less than perfect.
Soon after our arrival at Tivoli Gardens we realized that the rain was keeping people away and the park was virtually empty.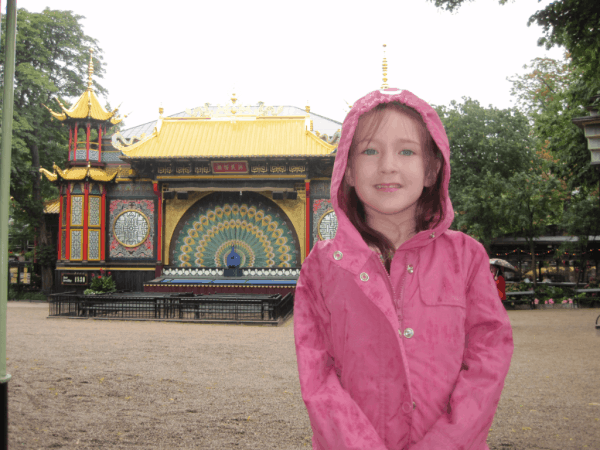 Emma outside the Pantomime Theatre in Tivoli Gardens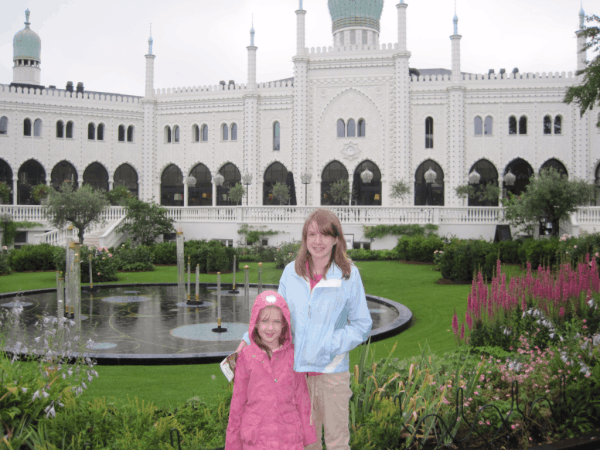 Katie and Emma outside Tivoli Gardens Concert Hall
The absence of crowds meant that lines for the rides were non-existent and with little waiting time we were able to ride a lot in a short period of time and the kids were able to go on their favourite rides repeatedly.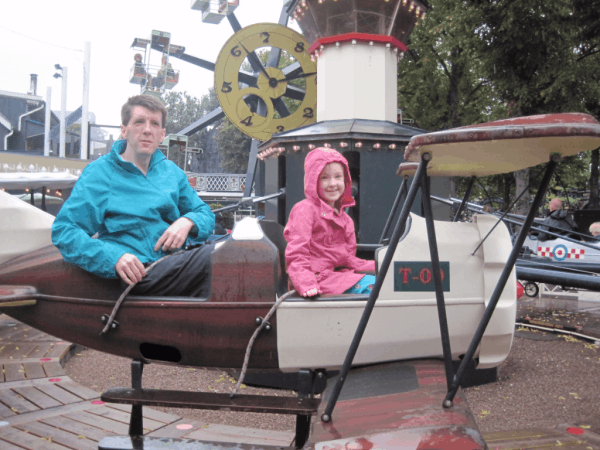 Enjoying the rides at Tivoli Gardens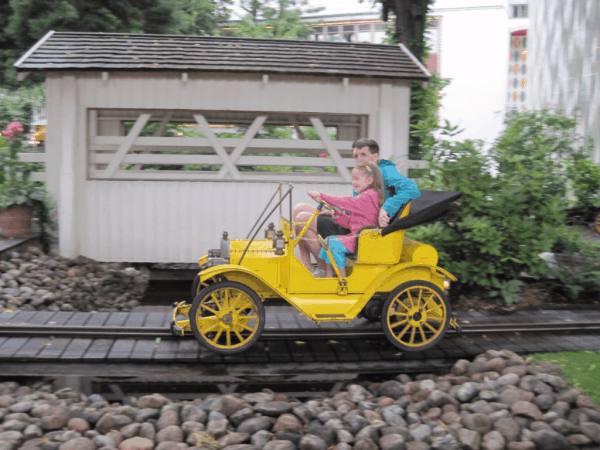 Emma learns to drive in The Vintage Cars at Tivoli Gardens
Most of the rides are old-fashioned and charming. It's definitely a different experience than a North American theme park so parents of older kids should make them aware of this in order to avoid disappointment. One of the most attractive rides is the Classic Carousel with its painted African animals as steeds.  Emma was very excited to climb aboard her lion for a thrilling ride…
…but was disappointed that the ride was VERY slow.
One of the more interesting rides is The Flying Trunk which depicts 32 scenes from the fairy-tales of Hans Christian Andersen. This was Emma's favourite ride in the park and we were able to ride it repeatedly since the crowds were very thin. The ride is quite similar to Peter Pan's Flight at Disney World. Riders sit in a trunk which flies through scenes from Andersen's most famous fairy-tales. I was amazed at the fact that there were several well-known fairy-tales which I had no idea had been written by him.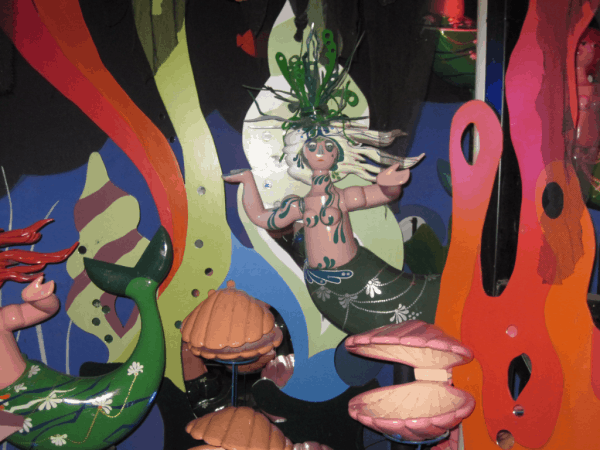 The Flying Trunk ride – The Little Mermaid
The park has a vast number of restaurants and food stands to choose from.  We had a quick dinner at an Italian restaurant (La Vecchia Signora) before continuing on our quest to ride as much as possible in as short a time as possible. It wasn't long before Emma needed another snack though because cotton candy tastes even better in the rain.
Despite the damp weather we had a great time at Tivoli Gardens, however, we spent so much time focused on the rides that we didn't really have an opportunity to explore the rest of what the gardens have to offer visitors.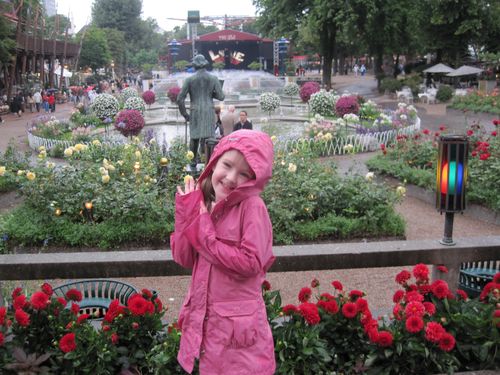 Rainy Day Fun at Tivoli Gardens
In fact, the girls enjoyed Tivoli Gardens so much that when we returned to Copenhagen at the end of our cruise they wanted to visit the park again and we discovered that it is just as much fun on a pleasant afternoon.
Later from our hotel room window we watched the lights twinkle as darkness fell and bid farewell to Tivoli Gardens and Copenhagen.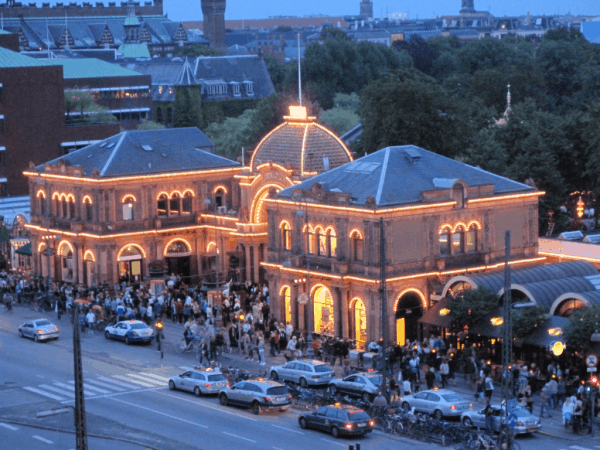 Tivoli Gardens at night with the lights coming on (from our hotel window) 
Looking for a hotel in Copenhagen? Check reviews and current rates on Trip Advisor.
What You Need to Know
Tivoli Gardens is located in central Copenhagen at Vesterbrogade 3, 1630 Copenhagen V and is serviced by public transportation.

Tivoli Gardens is open from mid-April til late September as well as for Halloween and Christmas. Opening hours vary but generally the park opens at 11am and closes between 10pm and midnight.  Check the website for exact times. 

Admission and rides are paid separately.  Admission is free for children aged 7 and under.  Admission for ages 8 and up is 95 DKK (April 12- September 23, 2012).  A multi-ride ticket is 199 DKK.  Individual ride tickets are 25 DKK and rides require 1-3 tickets per ride.

There are 38 different restaurants and food stands in the park ranging from fast food to traditional Danish cuisine to a Michelin starred restaurant.
Related Links
Copenhagen, Denmark Trip Report 
Copenhagen and the Master of Fairytales 
Have you liked our Facebook page yet? I post articles from the blog there as well as photo albums from our travels and other travel news. Or, if you prefer, you can subscribe to the free RSS feed or sign up for an email subscription to keep up-to-date on our travel adventures.