The Jet d'Eau in Geneva, Switzerland is a major tourist attraction and a great spot to take photos.
One of the major tourist attractions in Geneva, Switzerland is Le Jet d'Eau, a fountain situated near the left bank of Lake Geneva.
The Jet d'Eau sprays water at a speed of 200km/hr and 140 metres into the air making it one of the largest fountains in the world.  The water is aerated as it is pumped which accounts for the whiteness of the spray.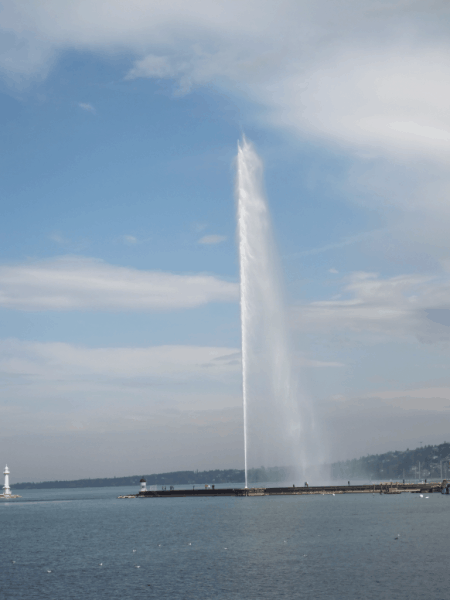 Visitors can walk out to the fountain on a narrow stone jetty, however, the walkway becomes wet with spray as the fountain is approached and a sudden change of wind can lead to a soaking.  Emma had in mind walking all the way to the fountain, however, I stopped her once we were close enough to feel the mist as I had no desire to be soaked on a slightly chilly day in March.
The fountain closes when the temperature falls below 2 degrees Celsius and also when winds are exceptionally high.  Fortunately, it was a nice day when we visited because the Jet d'Eau makes a great backdrop for silly photos.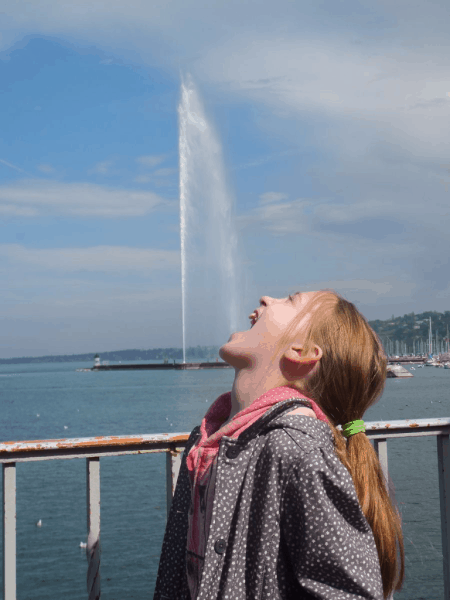 Related Links
Have you liked our Facebook page yet? I post articles from the blog there as well as photo albums from our travels and other travel news. Or, if you prefer, you can subscribe to the free RSS feed or sign up for an email subscription to keep up-to-date on our travel adventures.