A book review of National Geographic's 100 Countries, 5000 Ideas
If you are looking for a book that will provide some inspiration in planning future travels then National Geographic's 100 Countries, 5000 Ideas would be an excellent choice.  It is described as a guide to help readers decide "where to go, when to go, what to see, what to do".
The guide provides the kind of information that people who are strapped for time in planning their holidays want to get from a trusted source and since it's published by National Geographic there are beautiful photographs to tantalize and awaken the reader's wanderlust.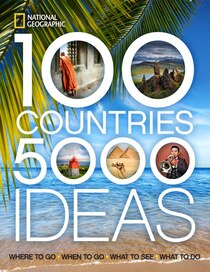 The first question when planning a vacation is "where to go" and this guide is packed with destination information to help you make that decision.  The information is organized by theme, interests, lifestyle and simply by alphabetical country listing.  For example, one of the themes is In Search of Marine Wildlife and there is a handy chart which lists the places where one can see whales or dolphins and the time of year when they can best be seen.  
If there is a particular country that you are interested in then you can flip to that country's section to learn more about its landscape, cities, cultural heritage, wildlife, festivals etc.  There is even a listing of pros and cons of visits to each country.  
Traveling with kids, longing for luxury or seeking adventure?  There's a chart which specifies which countries are best for a number of different travel styles. 
Once you have a list of choices to work from or have settled on one country then you can refer to the more comprehensive descriptions of the country's main attractions in order to decide "what to see and what to do" in the categories that you find interesting.
The final question is "when to go" which can be determined by reading the detailed climate and geography descriptions for a country and the When To Go charts within each listing that show which seasons are best for specified activities.
I enjoy flipping through this book while brainstorming places that I would like to visit soon.  The pictures are beautiful and there's a fair bit of detailed information although not enough for me.  
I can see where someone who doesn't like planning a vacation would be satisfied with the amount of detail provided here but I love to plan and read everything that I can get my hands on before leaving on vacation so a book like this just provides a wonderful jumping off point for me to go off and do more research on a destination that I would like to visit.
Related Links
Book of the Month: Frommer's Far and Wide 
Book of the Month: Lonely Planet's Not-For-Parents Series
Book of the Month: 500 Places To Take Your Kids Before They Grow Up
Book of the Month: Book Lust To Go

We are a participant in the Amazon Services LLC Associates Program, an affiliate advertising program designed to provide a means for us to earn fees by linking to Amazon.com and affiliated sites. As an Amazon affiliate I earn from qualifying purchases.