Piccolo Grande in Ottawa's Byward Market is the place to go on a hot summer day for mouthwatering gelato.
The recent long weekend that we spent in Ottawa was hot and humid – more like a midsummer day than the middle of May – which made it perfect weather for ice cream or gelato.  Fortunately, we had a recommendation from one of the third grade teachers at Emma's school for the best gelato in Ottawa so we headed for Piccolo Grande in Byward Market after our visit to the National Gallery of Canada on Sunday morning.
We found the shop without any difficulty and discovered that it is located in a historic limestone building called The Carriageway.  The building, which is a designated heritage property, was built in 1872 and housed four separate hotels with taverns.  A central walkway was used as an entrance for the horse and carriages of hotel guests which is why the building was given its present name.  The building itself is so lovely that I was already impressed with Piccolo Grande before we had even set foot inside the shop.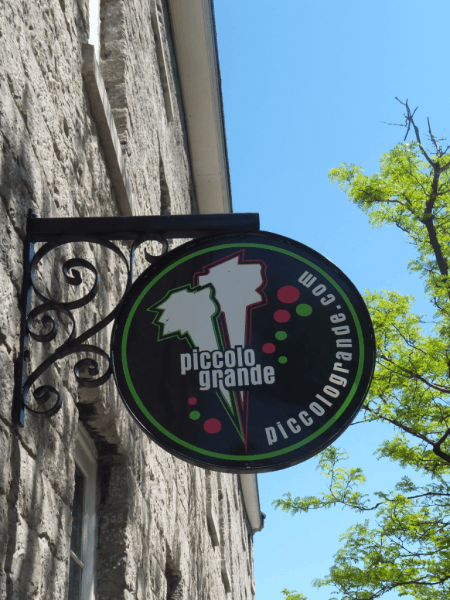 Piccolo Grande in Ottawa's Byward Market
We entered Piccolo Grande to find that there was an incredible selection of flavours – making it very difficult to choose.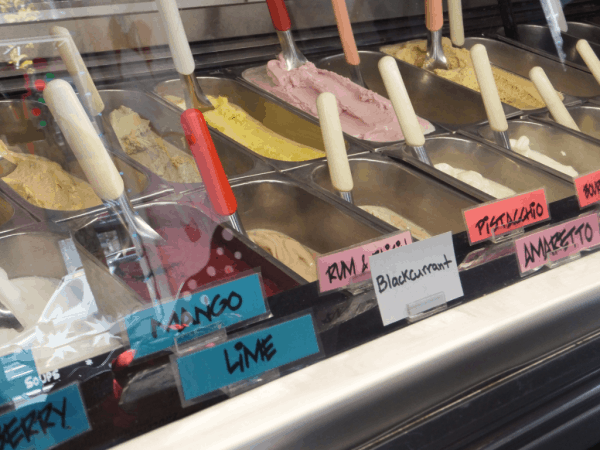 So many delicious looking flavours
Eventually we settled on a blueberry cone for me and peanut butter for Emma.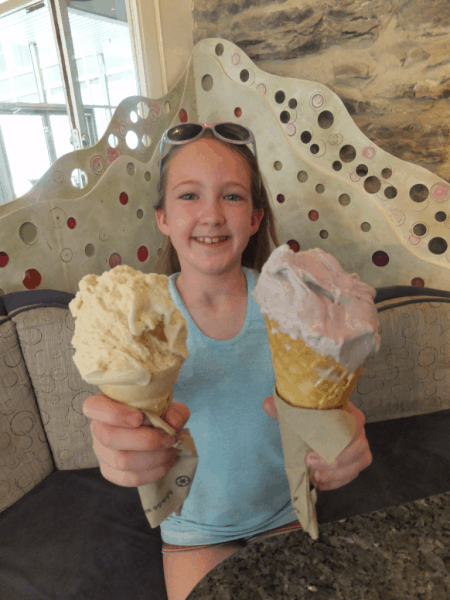 Peanut butter and blueberry cones – yummy!
Emma gave it an enthusiastic two thumbs up and pronounced it as good as the gelato that she had in Italy last summer.  
If you are in Ottawa and looking for a refreshing treat then you should definitely stop by Piccolo Grande for some mouthwatering gelato.  Thanks Mrs. S. for the recommendation!!
What You Need To Know 
The Piccolo Grande flagship store is located in the heart of Ottawa's Byward Market at 55 Murray Street.  There is a second location at 96 Bank Street.
The Murray St. location is open Monday to Thursday 9:00am – 6:00pm; Friday 9:00am – 9:00pm; and Saturday and Sunday 11:30 – 9:00pm. (check website to confirm hours of operation)
Related Links
Ottawa with Kids: Fun in Canada's Capital Region
Searching for Tulips in Ottawa
A Stroll Around Parliament Hill In Ottawa
National Arts Centre – Oscar Peterson Sculpture 
Have you liked our Facebook page yet? I post articles from the blog there as well as photo albums from our travels and other travel news. Or, if you prefer, you can subscribe to the free RSS feed or sign up for an email subscription to keep up-to-date on our travel adventures.