Disney Wordless Wednesday – Theme: Disney Weenies
The theme for Disney (Almost) Wordless Wednesday this week is Disney Weenies.  I had no idea what that meant but it turns out that Walt Disney and his team of imagineers coined the phrase "Weenies" for the iconic structures which are focal points in each of the parks or lands. 
Most of the parks have several of these "weenies" that dominate the skyline and beckon guests to come closer for a better look.  One of my favourites is Big Thunder Mountain at Disneyland Paris.  It's similar in appearance to the mountain at the other parks but at the Parisian park it's located on an island in the middle of the Rivers of the Far West and there is an excellent view of it from Phantom Manor.  There's also a very elaborate backstory involving the mining town of Thunder Mesa that ties the Big Thunder Mountain and Phantom Manor rides together.  Of course, I didn't ride Big Thunder Mountain but I did enjoy looking at it, listening to the riders scream and wondering why exactly it is that people like roller coasters.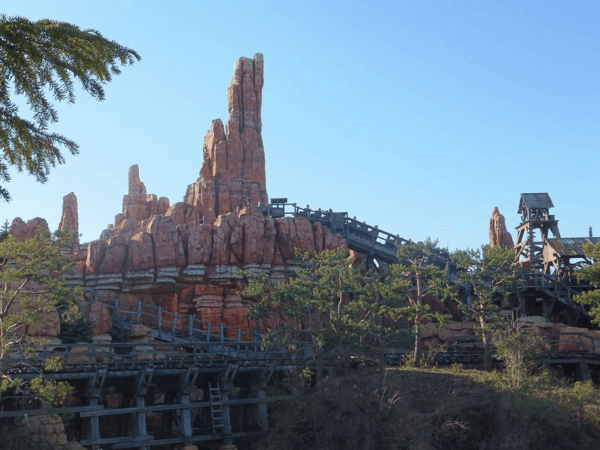 Related Links
A Tribute to Storytelling at Disneyland Paris
Phantom Manor at Disneyland Paris
This post may contain affiliate links which help to support this site at no additional cost to you.
Have you liked our Facebook page yet? I post articles from the blog there as well as photo albums from our travels and other travel news. Or, if you prefer, you can subscribe to the free RSS feed or sign up for an email subscription to keep up-to-date on our travel adventures.