As a tribute to late Irish author, Maeve Binchy, I am recommending her novels for August's Book of the Month.
I was incredibly saddened to learn this week of the passing of Irish novelist Maeve Binchy at the far too young age of 72.  I have devoured every book that she has written over the years, enjoyed every single page and every character and fell in love with Ireland in the process.
My heritage is Irish but I believe that it was reading her stories set in Ireland and all her wonderful characters that really ignited the desire for me to visit years ago.  Once I was there I made a point of seeking out places mentioned in her books, including the University College Dublin that she, and many of her characters, attended and the Ireland of her novels came to life for me.  To honour Maeve, I'm featuring her novels as my recommended books for this month.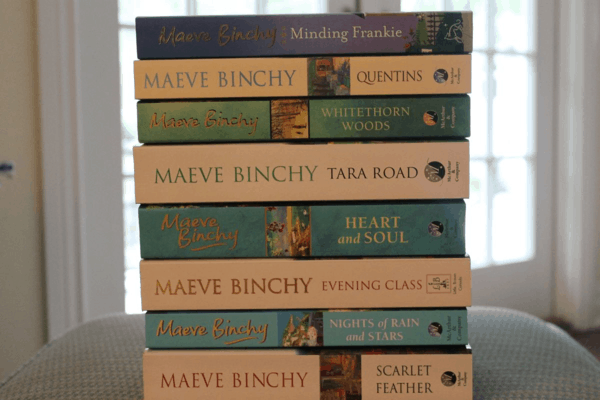 Maeve Binchy was one of Ireland's most popular authors, selling more than 40 million copies worldwide of her books about the lives of everyday Irish people in rural Ireland and in Dublin.  I discovered Maeve Binchy early in the '90s about the same time that Circle of Friends was published.  I was charmed by the tale of two small town Irish girls who go off to the big city of Dublin to study – and the happiness and heartbreak that they experienced along the way.
The author's talent lay, not in weaving complex narratives, but in telling simple tales about believable characters that her readers could relate to and cared about – characters that a reader would like to sit down and have a cup of tea and a chat with.  As soon as I had finished that first novel, I read her previously published books and then waited eagerly for her next book – a pattern that I repeated until she published her last book, Minding Frankie, in 2010.
One of the things that I love in several of the later books set in Dublin is that many of the same characters reappear in each book as their lives intersect with other Dubliners.  One of the hardest things to do with a good book is to say goodbye to the characters and I appreciated that I was able to pick up a new book and find out how an old friend was doing a few years later.  You can't go wrong choosing any of her books to read, as you will be sure to get lost in any of her stories, but my personal favourites are perhaps Evening Class, Tara Road, Quentins and Heart and Soul.  
Thank you, Maeve, for the many, many hours of pleasure that I have had over the years reading your books and laughing and crying along with your characters.  Rest in peace.
Maeve Binchy's Novels
Light a Penny Candle (1982)

Echoes (1985)

The Lilac Bus (1984)

Firefly Summer (1987)

Silver Wedding (1988)

Circle of Friends (1990)

The Copper Beech (1992)

The Glass Lake (1994)

Evening Class (1996)

Tara Road (1998)

Scarlet Feather (2000)

Quentins (2002)

Nights Of Rain And Stars (2004)

Whitethorn Woods (2006)

Heart and Soul (2008)

Minding Frankie (2010)
We are a participant in the Amazon Services LLC Associates Program, an affiliate advertising program designed to provide a means for us to earn fees by linking to Amazon.com and affiliated sites.
Have you liked our Facebook page yet? I post articles from the blog there as well as photo albums from our travels and other travel news. Or, if you prefer, you can subscribe to the free RSS feed or sign up for an email subscription to keep up-to-date on our travel adventures.