Cooper's Pack Travel Guides are an excellent series to introduce kids to a destination and get them excited about an upcoming trip.
For July's Book of the Month I am featuring Cooper's Pack Travel Guides, a fabulous series of guidebooks for younger kids. While I only reviewed the guides for Seattle, Alaska and New York City, there is also one currently available for London, England and upcoming guides are to be published for Paris, Athens, Hawaii, Bangkok, Amsterdam and other destinations.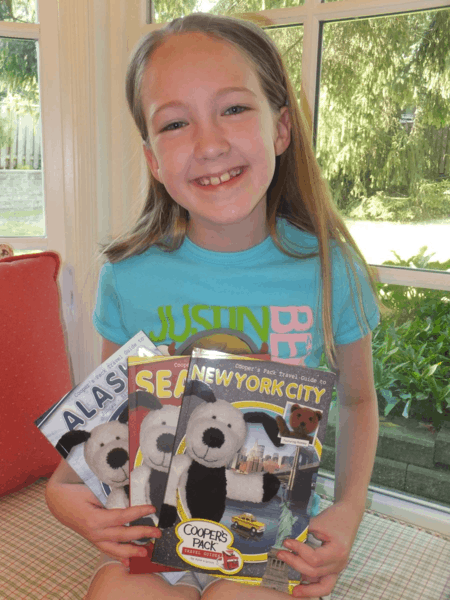 Cooper is a stuffed dog who loves to travel around the world and at each destination a local friend (another stuffed animal) acts as his tour guide and shows him the sights.
The travel guides are packed with information on the major attractions in each destination, lots of appealing photos and interesting facts.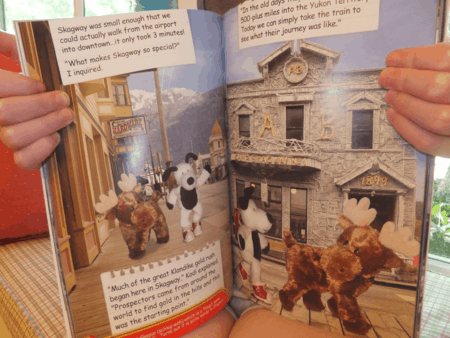 In addition to the books, there is also a website with a playground for kids and interactive guides that can be downloaded for the iPad.  Interactive guides include buried bones of additional facts that kids can search for.  Kids can even purchase their very own plush Cooper to accompany them on their worldwide adventures.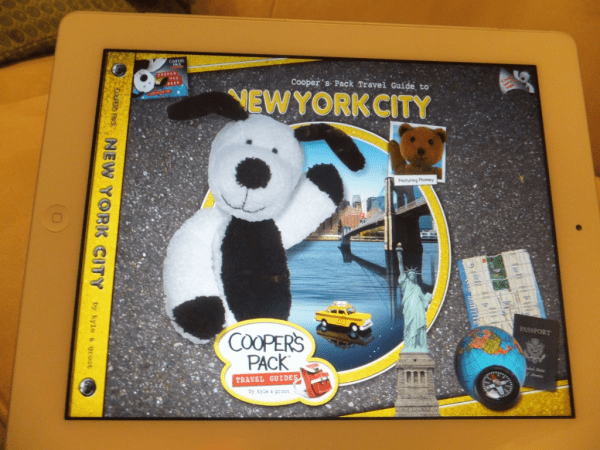 If you want to get young children excited about an upcoming trip then this is a series that will do the work for you.  The books educate kids by using Cooper and his pals to introduce them to what they are going to see and do at their destination while the visually appealing layout of fun photos helps to familiarize kids with the landmarks that they will be thrilled to recognize upon arrival.
 Cooper's adventures are also stories that kids will want to read again and again after they return from their travels which will reinforce memories of the places that they have visited and all that they have learned.
My younger daughter, Emma, is about to turn 9 years old and is just on the cusp of being too old for this series but she did enjoy flipping through the Alaska and New York City guides and reliving our family trips to both places.  She thoroughly enjoyed the interesting facts in the "More to Explore" section as she loves learning trivia and facts about countries and cities.  
We also downloaded the iPad version of the New York City guide ($1.99 on iTunes) and the fun interactive games appealed to her even more.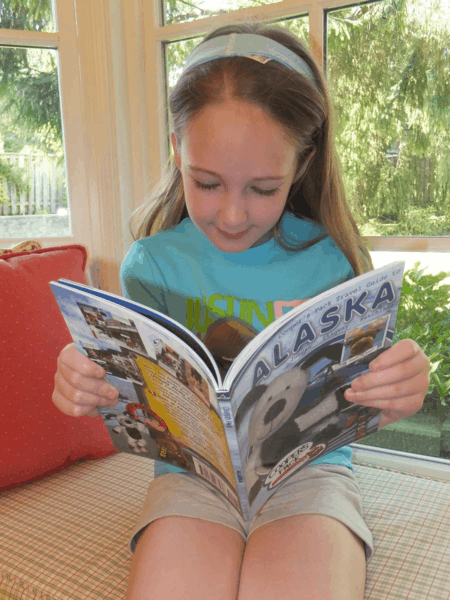 This is a great guidebook series that I think is ideally suited to kids ranging in age from 3 or 4 to 9 or 10.  The books are designed specifically to educate and entertain these younger kids so parents will still need to do their own research and read their own guide for planning purposes.
I would definitely recommend Cooper's Pack as an educational planning tool for traveling families – these are exactly the kind of guides that I searched for high and low when my kids were younger.  
You can learn more about Cooper's Pack Travel Guides for Kids on the website or on their Facebook page.
Cooper's Pack provided me with copies of these books for the purposes of review but did not request that any particular opinion be expressed.  My opinions are, as always, my own.
We are a participant in the Amazon Services LLC Associates Program, an affiliate advertising program designed to provide a means for us to earn fees by linking to Amazon.com and affiliated sites. As an Amazon affiliate I earn from qualifying purchases.