A guest post from my teenage daughter about her visit to Glasgow while studying abroad in St. Andrews, Scotland.
This is a guest post by my daughter, Katie, who is currently in St. Andrews, Scotland attending a 3 week summer program at the International Summer School of Scotland.
On Saturdays all of the students at ISSOS go on a day trip to a location in Scotland. This past Saturday we went to Glasgow. We were all required to visit the Kelvingrove Museum for a couple of hours and after that our bus brought us downtown and we were given the rest of the day to go shopping.
The city of Glasgow was such a big change coming from St. Andrews.  While St. Andrews is a quaint little town, Glasgow was a busy city filled with people and tall buildings. In many ways, Glasgow was similar to other cities I have visited such as New York City and Chicago.  It was even very similar to Toronto which is the city closest to where I live.  But there was something different about Glasgow, something that made it unique and different from these other cities.  The buildings in Glasgow were, for the most part, very old looking from the outside.  Whereas in most cities there are now many skyscrapers, I did not see any in Glasgow.
One thing that I really enjoyed about Glasgow is that a lot of the shops were located on a pedestrian pathway so it was much easier to get around rather than having hundreds of people crowded onto a small sidewalk.
I found the architecture of the Kelvingrove museum very interesting on both the outside and inside.  The exterior of the building was amazing as it looked almost like a castle or a university.  The architecture was very complex and the building looked to be very old.*  (I couldn't take any photos outside though because it was pouring rain.)  We didn't go on a tour at the museum – we just walked around in groups for awhile looking at the exhibits and the art until our time was up.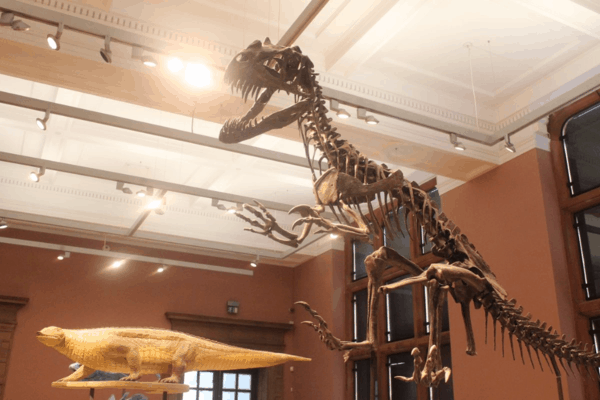 Kelvingrove Museum dinosaur exhibit
*Editor's Note: While the building may look very old by North American standards it was actually built late in the 19th century and opened in 1901 as the Palace of Fine Arts for the Glasgow International Exhibition.  The museum has recently undergone a refurbishment that was completed in 2006.
What You Need To Know
Kelvingrove Museum

 is located on Argyle Street in the west end of Glasgow and is one of Scotland's most popular free attractions with wide-ranging collections including natural history, arms and armour and art.  (There may be a fee for some special exhibits.)

The museum's displays have been designed with children in mind and there are many interactive exhibits.

The museum is open Monday – Thursday and Saturdays from 10am-5pm.  On Fridays and Sundays it is open 11am-5pm.  The museum is open year-round but closed on December 25, 26 and January 1, 2 and closes at 12:30pm on December 31.
Related Link
Have you liked our Facebook page yet? I post articles from the blog there as well as photo albums from our travels and other travel news. Or, if you prefer, you can subscribe to the free RSS feed or sign up for an email subscription to keep up-to-date on our travel adventures.