A tribute to Terry Fox.
In 1977, an 18 year old young man named Terry Fox from Port Coquitlam, British Columbia was diagnosed with bone cancer and had his right leg amputated below the knee.  Terry was so affected by the suffering of fellow cancer patients that he decided that he was going to raise money for cancer research by running across Canada.  He chose to call his journey the Marathon of Hope as he intended to run a marathon a day as he traveled the country from sea to sea. 
Terry started his journey in St. John's, Newfoundland on April 12, 1980 by dipping his leg into the Atlantic Ocean.  As news began to spread about this young man and his dream of raising money for cancer research, people were touched by his story and began lining his route along the Trans-Canada Highway to hand over donations and cheer on the young man who was becoming a national hero.  I was young but I remember quite clearly the day that he ran past my home and just how proud everyone felt about how much he had accomplished by then. 
Terry ran close to 42km (26 miles) a day for 143 days and a total of 5,373km (3,339 miles) before he was forced to stop on September 1st outside of Thunder Bay, Ontario.  Cancer had appeared in his lungs and he needed to return home for treatment.  Terry passed away on June 28, 1981 and an entire nation grieved along with his family.
In Terry's words: "Even if I don't finish, we need others to continue. It's got to keep going without me."  Family and supporters weren't about to let Terry's dream die with him and the first annual Terry Fox Run Day was held the September following his death.  Every September since, participants have walked, run or rode in Terry Fox Runs held across Canada and around the world.  The Terry Fox National School Run Day is also held in September for students in schools across the country to do their part in fundraising.  T0 date the Terry Fox Run has raised more than $600 million dollars for cancer research – a legacy that Terry would never have imagined when he first started his journey.  
Terry Fox is a true Canadian hero who demonstrated that anyone can accomplish great things if they set their minds to it.  Our schools have done an excellent job of celebrating those accomplishments and making sure that children like my daughters, growing up decades after his death, understand and admire the man and his spirit.  
There are monuments to Terry Fox in Ottawa, St. John's and Thunder Bay and, in the last few months, we have visited two of them to pay our respects.  Earlier this year, Emma and I visited the Terry Fox statue which stands across from Parliament Hill in Ottawa.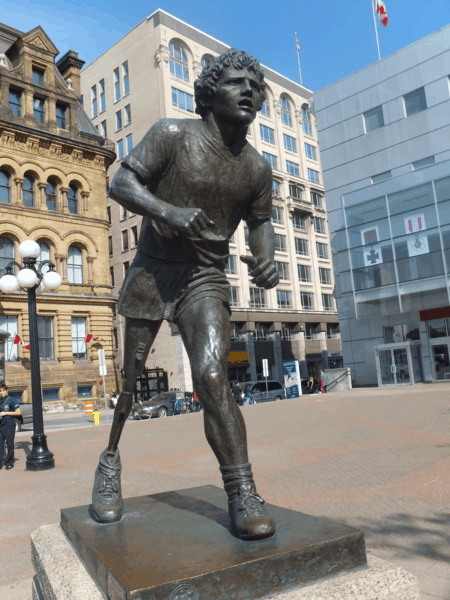 In St. John's, Newfoundland last month we stopped by to see the spot where Terry started the Marathon of Hope by dipping his artificial leg into the Atlantic Ocean.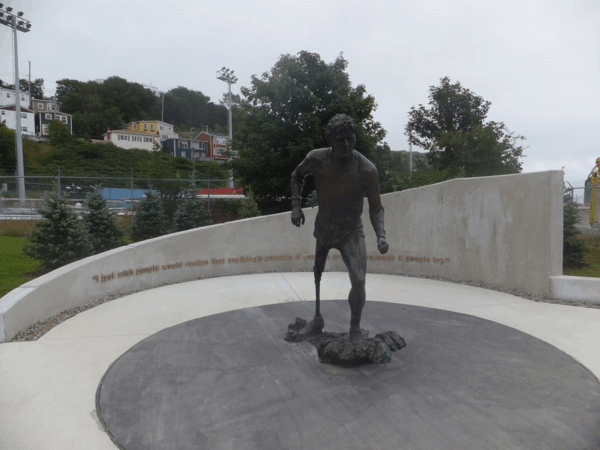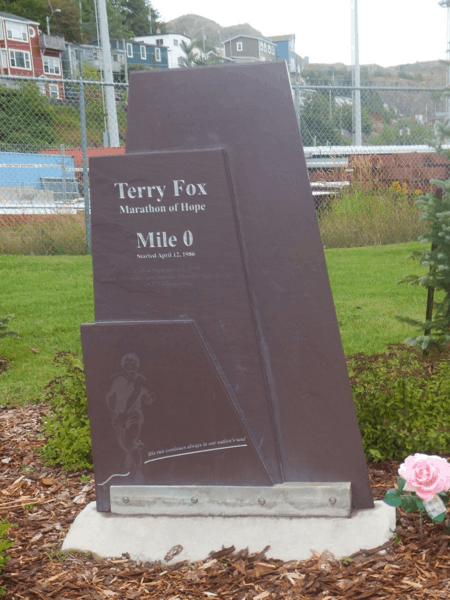 The monument in St. John's bears a quote from Terry –  "I just wish people would realize that anything's possible if you try; dreams are made possible if you try."  And that is perhaps Terry Fox's most important legacy – his spirit and his determination inspired first a nation, then the world and, more than 30 years later, continues to provide hope that, if we don't give up, this horrible disease will one day be beaten.
This year (2012) the Terry Fox Run will be held on Sunday September 16th and the National School Run Day will be on Thursday September 27th.  More information is available on the website for the Terry Fox Foundation.
Related Link
Have you liked our Facebook page yet? I post articles from the blog there as well as photo albums from our travels and other travel news. Or, if you prefer, you can subscribe to the free RSS feed or sign up for an email subscription to keep up-to-date on our travel adventures.