A boat tour of the Witless Bay Ecological Reserve should not be missed when visiting St. John's, Newfoundland.
Since the Wilderness and Ecological Reserves Act was passed in 1980, the provincial government for Newfoundland and Labrador has had the power to designate wilderness and ecological reserves as a means of protecting the province's natural heritage.  These reserves are designed to preserve wilderness, wildlife, and biodiversity for future generations. 
There are currently 20 of these designated reserves in the province, one of which is the Witless Bay Ecological Reserve.  This reserve is located a few miles off the coast of the Avalon Peninsula about a half an hour south of the city of St. John's and is home to North America's largest Atlantic puffin colony.  More than 260,000 pairs nest on the islands of the reserve (Gull, Green, Great, and Pee Pee islands) during the late spring and summer months.  There are also several other species of sea birds that nest in the area.  Sea birds spend most of the year at sea and return to land generally from May to September which is when they breed and raise their young.
Public access to the islands of Witless Bay is restricted so visitors who wish to observe the puffins and other sea birds must book with one of the approved boat operators that are licensed to conduct tours of Witless Bay.  From the list of available tour operators, we chose O'Briens Whale & Bird Tours based on the recommendation of a friend.  O'Briens is a family business that has been operating tours from Bay Bulls for over 25 years.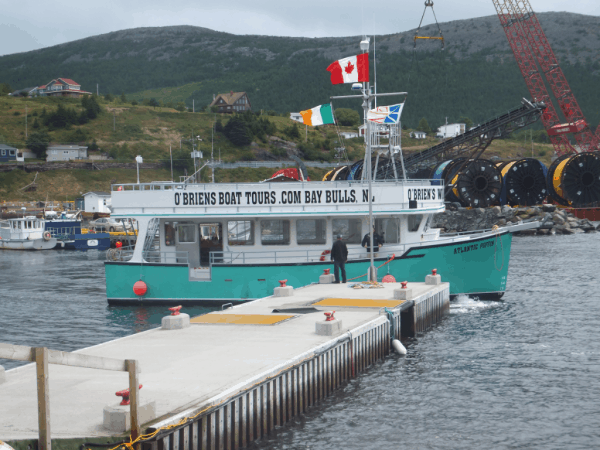 We drove from St. John's to Bay Bulls on our second full day in Newfoundland for our much anticipated boat tour with O'Briens.  The day got off to a fantastic start as we actually saw a moose standing on the side of the road as we drove to Bay Bulls.  Emma was very excited about the tour because she was looking forward to seeing Atlantic Puffins which are the provincial bird of Newfoundland and Labrador.  We were too late in the season for viewing icebergs but there was a chance that we would see whales as well.  Emma could have cared less about the prospect of sighting a whale though – it was all about the cute puffins for her.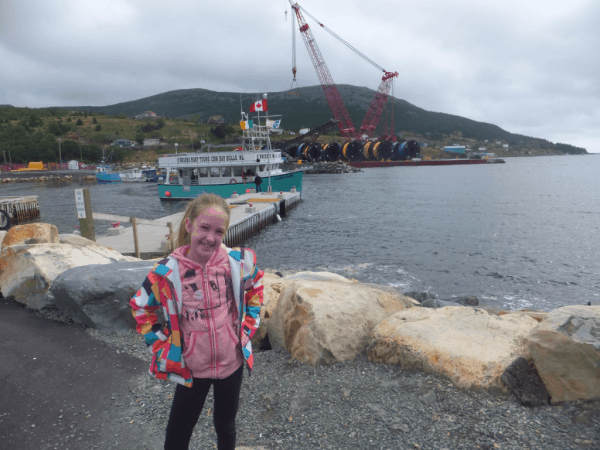 Waiting for our tour of Witless Bay
After a not-so-patient wait, we boarded the aptly named Atlantic Puffin, and headed out to sea for our 2 hour tour.  The previous couple of days had been quite windy and tours had been cancelled as a result.  Although the wind had died down considerably, it was still blowing and we realized as we sailed out of the bay that we were in for a bumpy ride.   The sea was rougher than I have ever experienced and it didn't take long for Katie to start feeling a bit seasick.  Emma was quite frightened by the swells and shed more than a few tears.  She complained of a tummy ache too but I think that she was mostly afraid due to the rough ride.  To his credit, our guide on the boat (I believe his name was Joe) did an excellent job of distracting her and reassuring her that everything was going to be okay.  There were quite a few people on the boat who were feeling rough and using the sea sickness bags so I had to try and keep Emma away from them as I was worried that she would feel worse if she witnessed others being sick.
After what seemed like an eternity, we reached the islands of Witless Bay where the sea birds make their nests and the boat slowed so that passengers could have a good look at the thousands of birds and snap plenty of photographs.  Unfortunately, the girls had lost interest in bird-watching after our rough journey to Witless Bay but I was thrilled at the sight of so many puffins and other sea birds nesting on the cliffs.  I just wish that I had a better zoom lens!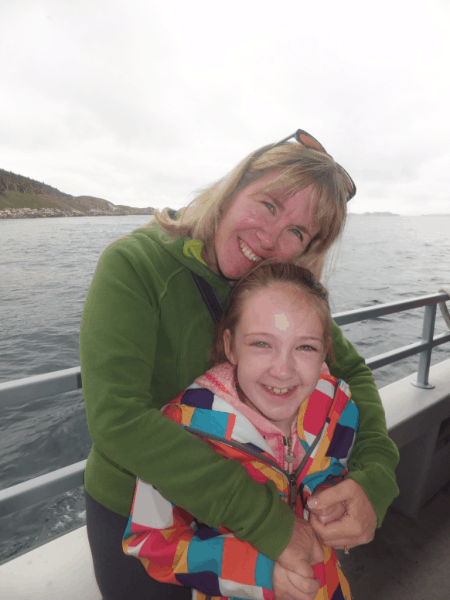 Trying to get excited about the puffins she had waited to see
As our boat slowed in Witless Bay we sailed in close to the islands to see the many sea birds nesting on the cliffs, soaring through the skies above us, diving for fish and simply floating on the waves.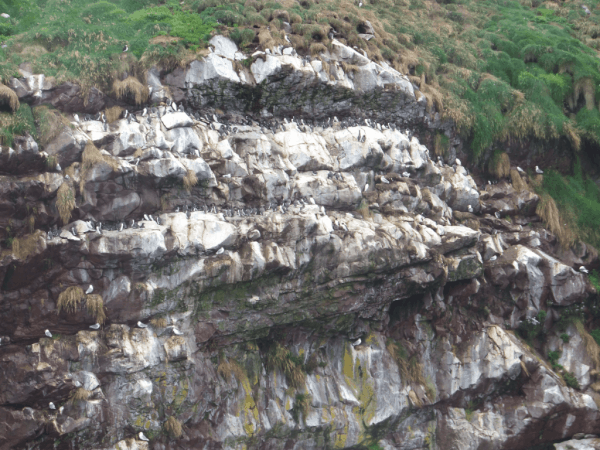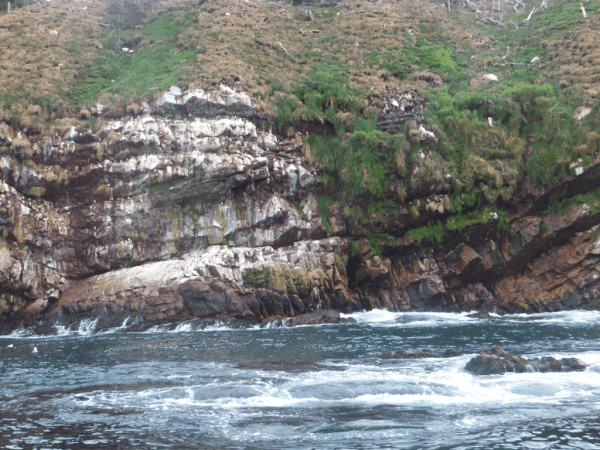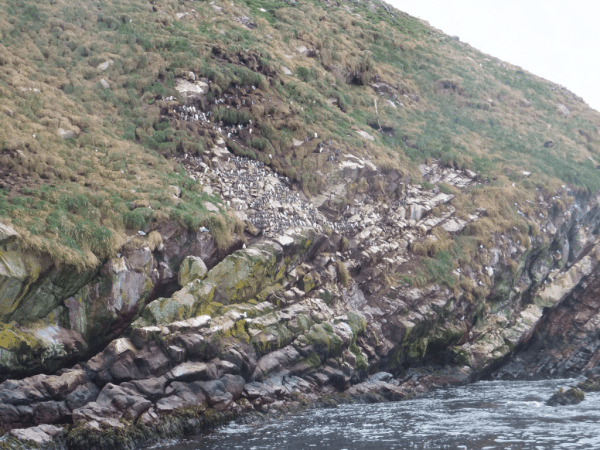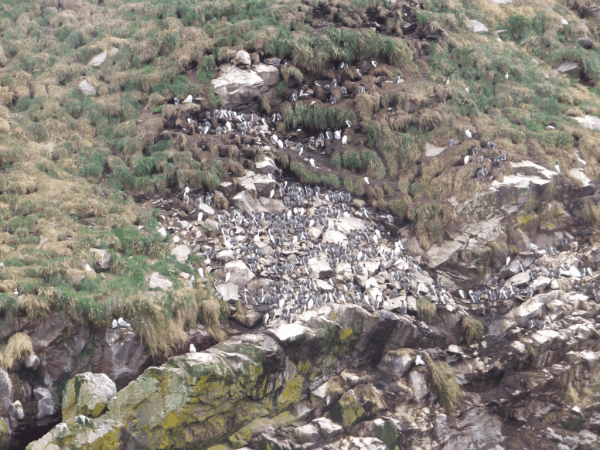 As we sailed around the island, we were able to see many of the distinctive puffins sitting on the cliffs.  These puffins have a triangular bill which turns bright orange during breeding season.  The puffins nest on steep cliffs for the protection from predators and build their nests either between rocky crevices or by burrowing a hole in the soil.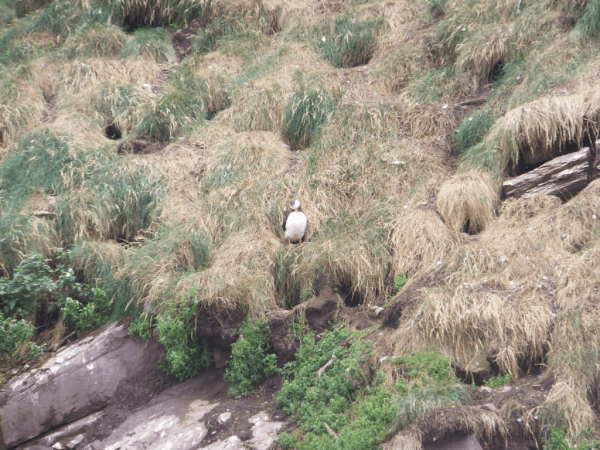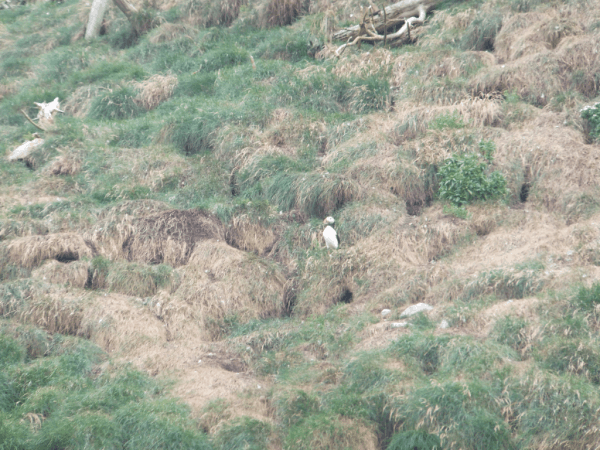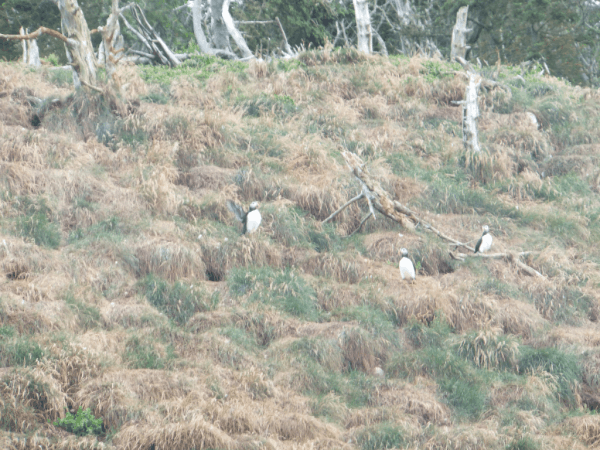 Our boat continued to maneuver around the cliffs to provide the passengers with incredible views of the sea birds.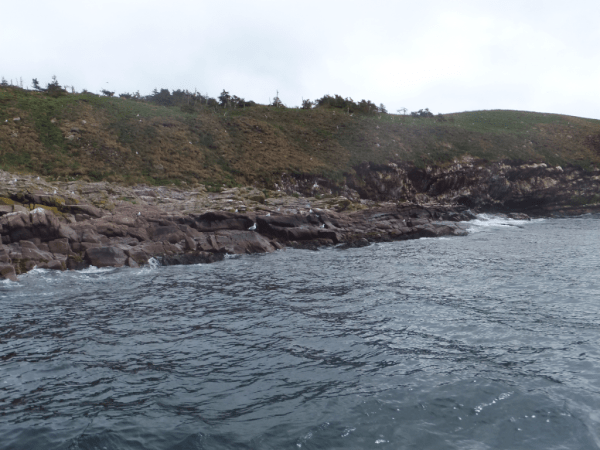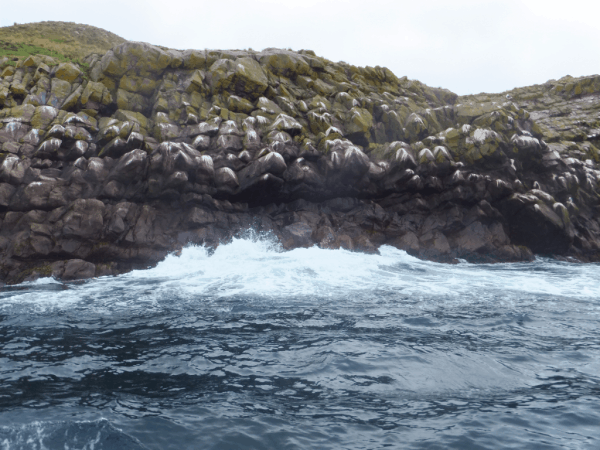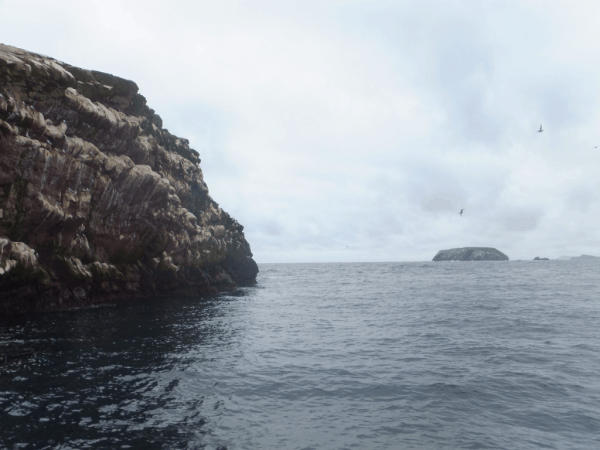 As the boat circled around away from the cliffs we were treated to the sight of puffins diving for fish and floating on the waves that we had created.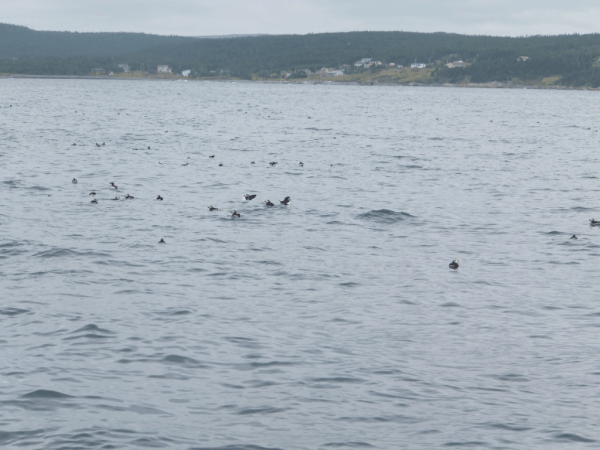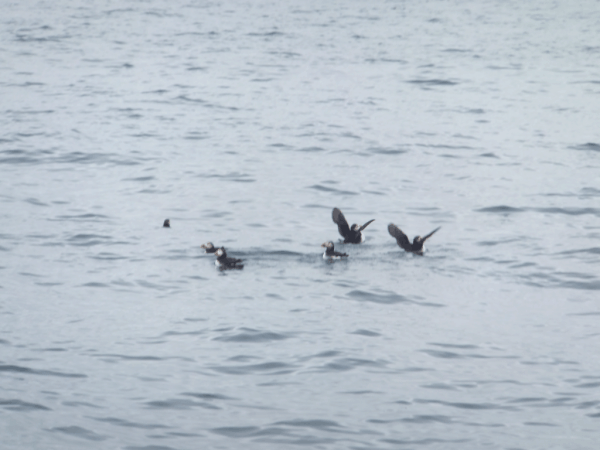 As we sailed back toward Bay Bulls the boat's pace slowed, the ride was smoother and Emma's mood brightened as we found another family to chat with.  Our tour didn't go quite the way we had anticipated – the rough sea was frightening and we didn't see any whales but we did see thousands of puffins and that is a memory to be cherished.
What You Need To Know
 O'Briens operates two large passenger vehicles that depart 4 times a day on 2 hour tours.  Both vessels have an enclosed heated cabin, washrooms, and a canteen/bar and are wheelchair accessible – pricing is available here;
More intimate tours are available on the Kingfisher which carries only 12 passengers on a 90 minute tour – departs three times weekly at 11:30 – pricing is available here;

Reservations for the tours are highly recommended;

The Sailor's Galley Restaurant is located on the top level of the O'Briens building in Bay Bulls;

There is a gift shop and very clean washrooms located on the lower level where guests check in for their tours.
Related Links
A Picnic at the Ferryland Lighthouse
Standing on the Edge of North America at Cape Spear
Courtyard by Marriott in St. John's, Newfoundland

Pin this for later