Top 10 Family-friendly things to do in St. John's, Newfoundland plus places to eat and places to stay.
One of the oldest cities in North America, St. John's is rich in history, rugged natural beauty and the unique culture of Newfoundland and Labrador. Newfoundlanders have a reputation for being friendly and welcoming and that holds as true here in the capital city as it does in rural communities making it a fun destination for anyone to visit but especially so for families with kids.
Whether St. John's is your ultimate destination or whether you are passing through on the way to explore the province, there is much to see and do for a few days in St. John's.
We are a participant in the Amazon Services LLC Associates Program, an affiliate advertising program designed to provide a means for us to earn fees by linking to Amazon.com and affiliated sites. As an Amazon affiliate I earn from qualifying purchases.
This post may contain affiliate links which help support the site. If you click on an affiliate link and make a purchase then we will receive a small commission at no additional cost to you.
These are my recommendations of the top 10 things to see and do in St. John's (including a few that are within a short distance of the city). Each one is as suitable for families with children as it is for anyone else.
We were able to do all of these over the equivalent of about three full days in the city as we spent three nights here at the start of our week in Newfoundland before driving to Terra Nova Resort for three nights and then returning to St. John's for one night before flying to Nova Scotia.
1. Cape Spear Lighthouse National Historic Site of Canada
It's worth visiting Cape Spear, located on the Avalon Peninsula 15 kilometres (about a 20 minute drive) outside St. John's, just to be able to say that you have stood at the most easterly point of North America. Be sure to take a photo by the sign that says "Canada begins here!…or ends depending on which way you are going". Between May and September you might even catch a glimpse of migrating whales in the water surrounding the cape.
While there you will learn more about the history of the province as the Cape Spear Lighthouse has been designated a National Historic Site of Canada for two reasons – unique heritage value as the oldest surviving lighthouse in Newfoundland and Labrador and significance as a gun battery during the Second World War.
The Cape Spear Lighthouse was operational from 1836 until 1955 when a modern lighthouse was built which uses the light from the original lighthouse. The historic lighthouse has been restored to its original appearance and furnished as a light keeper's residence from the mid-19th century. 
Travel Tip: Cape Spear's geographic location makes it susceptible to rapid and unpredictable weather changes due to wind shifts so it's important to dress appropriately for high winds and cold temperature even when it seems to be a pleasant day in St. John's. Be aware as well that the coastline at Cape Spear can be treacherous. It is important to stay on designated hiking trails and keep off the rocks near the water's edge.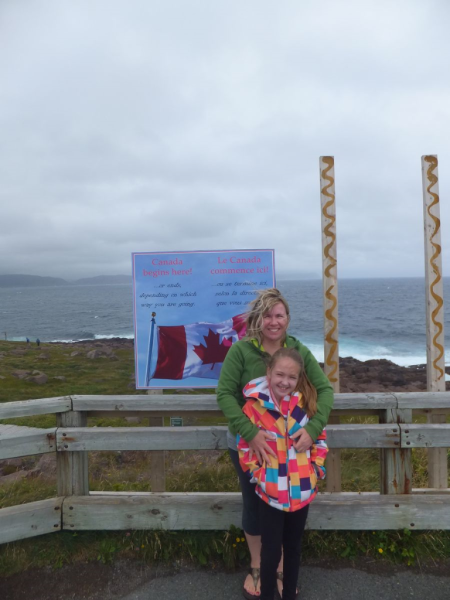 2. Signal Hill National Historic Site of Canada
Another must-see historic site in St. John's is Signal Hill National Historic Site of Canada where visitors can enjoy the panoramic views of St. John's harbour and the Atlantic Ocean while learning about Canada's defense and communications history on the spot where Guglielmo Marconi received the first transatlantic wireless signal in 1901. The impressive looking Cabot Tower on Signal Hill was built to commemorate the 400th Anniversary of John Cabot's voyage to North America and the 60th anniversary of Queen Victoria's reign.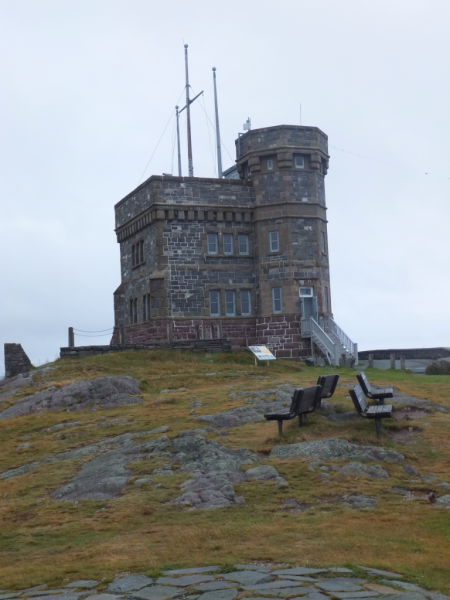 3. Johnson GEO Centre
The Johnson GEO CENTRE is a science museum, located on Signal Hill in St. John's, which focuses on geological history – including glaciers and icebergs.  One of the popular exhibitions at the centre is The Titanic Story – a complete account of the disaster including information about the construction of the ship, the passengers, the course of events that led to hitting the iceberg and the aftermath of the disaster.
When we visited our younger daughter was fascinated with the story of the Titanic so it was difficult to pull her away from that exhibit but we did enjoy browsing the geological exhibits as well. The centre also features a theatre showing Dolby 3D and high-definition 2D films so be sure to check the schedule to see what will be playing when you visit.
Travel Tip: Take a photo with the statue outside the museum of the Newfoundland and Labrador Retriever dogs which were sculpted by Luben Boykov. A second set can be found in Harbourside Park.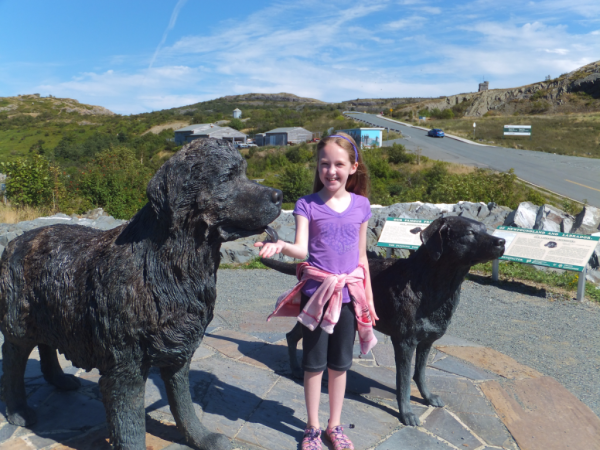 4. The Rooms
The Rooms is a unique cultural facility which opened in downtown St. John's in 2005 and houses an art gallery, a natural history museum and the provincial archives. The Rooms is located on the historically significant site where Fort Townshend once stood and the distinctive building was designed to mirror the fishing rooms where families came together to process their catch.
There are a number of engaging permanent exhibits where visitors can gain insight into the history and culture of Newfoundland as well as travelling exhibits from around the world. 
Travel Tip: Be sure to check out the incredible view of St. John's harbour from the Observation Deck on the 4th floor of The Rooms.
5. The Terry Fox Memorial
This bronze sculpture of a Canadian hero by Luben Boykov sits on the Terry Fox Mile Zero Memorial Site (1 Water Street behind the St. John's Port Authority building) near the spot where Terry Fox started his Marathon of Hope to raise money for cancer research in 1980.
Terry's journey started in St. John's when he dipped his artificial leg in the Atlantic Ocean and he then ran a marathon a day (an average of 42km or 26 miles) for 143 days straight until he was forced to stop in Thunder Bay when the cancer spread to his lungs.
Friends and family organized the first annual Terry Fox Run in the September following his death in June 1981 to keep his dream alive and it became an annual event with runs held around the world each September. To date, more than $750 million has been raised in Terry's name to fund cancer research.
6. Jellybean Row Houses
Like the Painted Ladies in San Francisco, the rows of unique brightly coloured houses known as Jellybean Row are a must-see for all visitors to St. John's. Jellybean Row isn't just one street, however, as the nickname is used for the entire downtown area where these houses are found on some of the oldest streets in North America.
It is not entirely clear why the houses were originally painted such vibrant colours. Perhaps the bright colours were intended to help fishermen find their way home or perhaps it was just an antidote to grey and foggy weather. Regardless, you will want to walk around downtown to see as many as possible and to decide which colourful house you would want to live in. 
7. Newfoundland Chocolate Company
It would be a terrible mistake to visit St. John's and not stop by the Newfoundland Chocolate Company's flagship Chocolaterie on Duckworth Street to purchase some artisan chocolate. The chocolates are delicious and I loved that they are sold in boxes decorated with Newfoundland scenes.
My favourite were the bars of chocolate in wrappers decorated with the iconic St. John's Jellybean Row houses. Be sure to check out the mermaid outside the shop and the New Founde Chocolate Lande mural painted on the side of the building while you're there.
8. Village of Quidi Vidi
The historic fishing village Quidi Vidi (pronounced Kiddy Viddy) located on the outskirts of St. John's provides a glimpse of rural Newfoundland just minutes from the heart of the city. The quaint village is known for artisans working at the Quidi Vidi Village Plantation, Quidi Vidi Brewery (a craft brewery that makes iceberg beer) and the Mallard Cottage restaurant. We stopped only briefly on our way from St. John's to Terra Nova National Park to walk around and take photos but I would love to return to explore more thoroughly.
9. Witless Bay Ecological Reserve
Witless Bay Ecological Reserve is one of twenty designated wilderness and ecological reserves in Newfoundland and Labrador. This reserve is located a few miles off the coast of the Avalon Peninsula (about a half an hour drive along Route 10 south of the city of St. John's) and is home to North America's largest Atlantic puffin colony.
Public access to the islands of Witless Bay is restricted so visitors who wish to observe the puffins and other sea birds must book with one of the approved boat operators that are licensed to conduct tours of Witless Bay. We included a bird watching cruise from Bay Bulls on a day trip outside of St. John's along the Irish Loop Drive.
Depending on the time of year it is possible to see icebergs and whales but we booked the cruise expressly because my younger daughter was very excited by the prospect of seeing puffins. 
Travel Tips: The waters here can be quite rough on a windy day so if you are prone to seasickness at all then take medication ahead of time. Fortunately, we weren't among the many seasick passengers on our cruise but the ride was rough enough to upset my younger daughter.
If you are venturing beyond St. John's then consider a trip to the Puffin Viewing Site in Elliston, Newfoundland on the Bonavista Peninsula where you can see puffins from dry land. Exercise care when walking near the cliff edges at this site.
10. Picnic at the Ferryland Lighthouse
In combination with our day trip outside of St. John's and a cruise of Witless Bay we drove farther along the Irish Loop scenic drive to visit Ferryland which is one of the oldest communities in North America – settled by Europeans in the 17th century.
The Colony of Avalon, an active archaeological dig, is located here but we headed directly to the 19th century lighthouse where we hoped to get a bite to eat. The walk from the parking lot to the lighthouse is about 2 kilometres (approximately 30 minutes) – well worth it as you will be rewarded with stunning coastal views.
Picnic lunches made with fresh local ingredients can be purchased at the lighthouse and you will be provided with a blanket to enjoy your lunch outside on the headland with a breathtaking view of the sea.
Read about our Picnic at the Ferryland Lighthouse
Travel Tip: Reserving your picnic lunch ahead of time is a must or you will most likely be disappointed. We got lucky as we hadn't known that we needed to reserve and there was a cancellation while we were there.
What and Where to Eat in St. John's
Given its proximity to the fishing grounds of the North Atlantic, it should come as no surprise that seafood lovers will be thrilled with the options in St. John's with everything from Atlantic salmon, lobster, mussels, scallops to the humble fish and chips and much more available.
If you are feeling a bit adventurous then you must try traditional cod tongues while visiting. Wild game and traditional Newfoundland dishes also figure prominently on menus in St. John's.
The city has become a foodie destination in recent years and you will have no difficulty finding great restaurants to try particularly downtown on Duckworth Street and Water Street. On busy summer weekends, however, you would be wise to make a reservation.
We made multiple visits to Rocket Bakery & Fresh Food on Water Street while staying in St. John's. Rocket Bakery is known for its baked goods, tasty coffee and delicious hot and cold prepared foods. Everything is made from scratch on-site with the freshest ingredients and both dine-in and take-out options are available.
Where to Stay in St. John's
We have personally stayed at two hotels in St. John's – the Courtyard by Marriott St. John's and the Delta by Marriott St. John's.
The Courtyard by Marriott St. John's is conveniently located on Duckworth Street in the heart of the city's historic downtown area making it an ideal choice for anyone who would like to explore downtown St. John's on foot. The hotel also has spacious junior suites and suites available with kitchenettes that are ideal for families.
The Delta by Marriott St. John's, located at the south end of downtown and connected by an overhead walkway to the convention centre, has floor to ceiling windows with excellent views of either the city or the harbour. 
The Newfoundland and Labrador official tourism site is a great source of information for planning a trip to St. John's, Newfoundland as is the Destination St. John's website. Also check the hashtage #ExploreNL on Instagram for visual inspiration prior to your trip.