A field trip to Medieval Times Dinner & Tournament is a fun way to learn more about life in the middle ages.
I recently had the pleasure of attending Medieval Times Dinner & Tournament in Toronto as a chaperone with Emma's grade 4 class.  This is probably the most anticipated field trip of the year for the students as many of them have heard glowing reports from older siblings that participated in previous years.
This article contains affiliate links. If you click an affiliate link then Gone with the Family may earn a small commission at no additional cost to  you.
Check reviews and book tickets in advance for Medieval Times Dinner & Tournament Toronto on TripAdvisor
The Medieval Times franchise has 9 North American locations, however, this is the only one in Canada.  The general public would attend a dinner and show but there are also matinées available for school groups such as ours.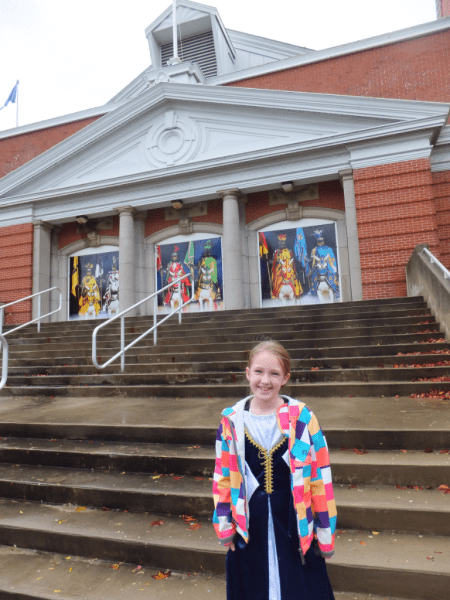 Arriving at Medieval Times Toronto
The excitement began even before the bus ride to the medieval castle at Exhibition Place in Toronto as Emma and quite a few of her classmates chose to dress up as medieval princesses or knights.
We arrived at the castle and had plenty of time prior to entering the arena for the show to browse the numerous shops, check out the arms display and meet the Royal Falconer and one of his birds of prey.  
Medieval Times is a dinner show that transports guests to 11th century Spain for a feast and tournament at the king's castle and nicely complements the grade 4 curriculum which includes a medieval studies unit.  The show begins with a short lecture about what life was like in the middle ages and then the competition begins.  
There are six knights who compete in a number of events and guests are seated in sections around the arena corresponding with their designated knight.  Our group was seated in the Blue Knight's section so the kids donned blue paper crowns and readied themselves to cheer our knight to victory.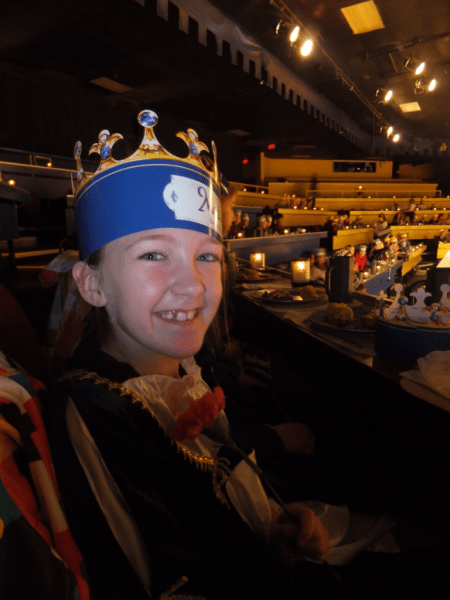 While the knights are engaged in competition, guests are served a meal which includes garlic bread; oven-roasted chicken with herb-basted potatoes and buttered corn on the cob; and a pastry for dessert.  Meals are eaten medieval-style – that is with fingers rather than utensils.  Most kids seem to enjoy this but my princess doesn't like to get her hands sticky so she dined on garlic bread alone.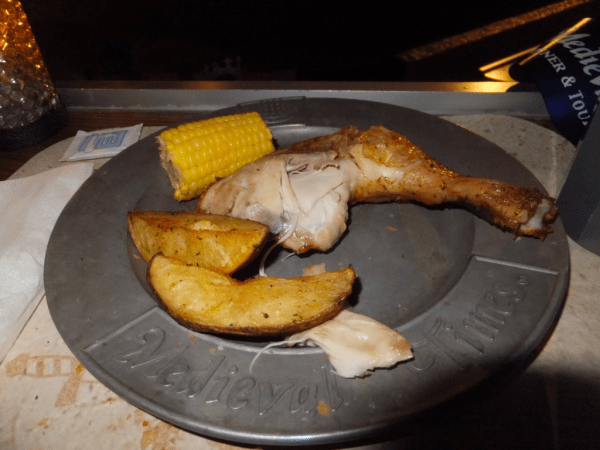 The jousting tournament is presided over by the royal court and introduced by the Lord Chancellor.   
As the crowd cheers them on, the knights compete in games that display their horsemanship and skills in jousting, swordsmanship and hand-to-hand combat until a winner is finally declared.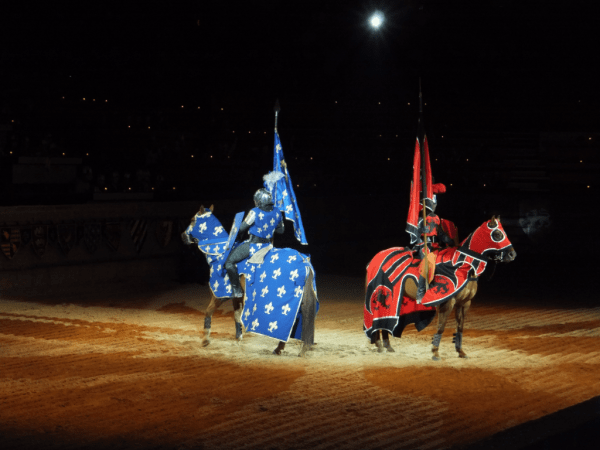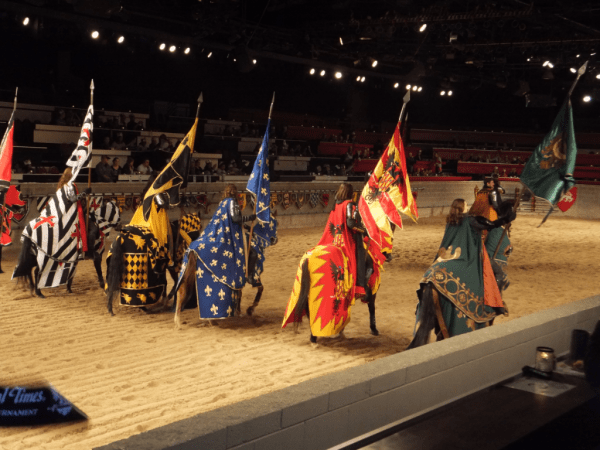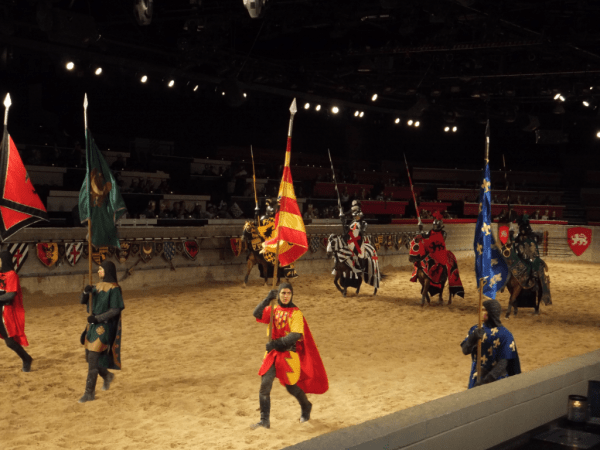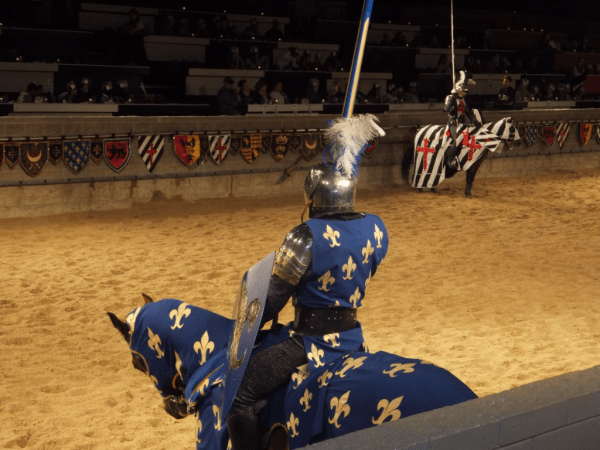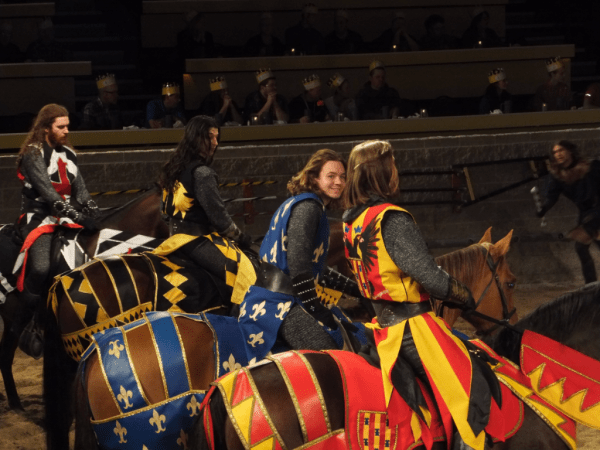 The 2 hour show passed by quite quickly and, even though our knight did not prevail in the competition, the kids were still chatting excitedly as we headed back to school about all that they had learned about "chivalry, rivalry, and revelry".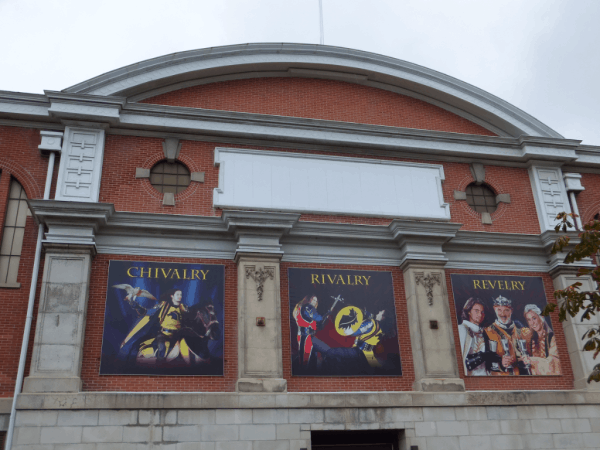 What You Need To Know
Medieval Times is located at 10 Dufferin Street, Exhibition Place, Toronto;
2012 rates and package details are available at the website here;
The castle opens 75 minutes prior to the show and seating is first come, first served;
Vegetarian meals are available if requested at the time that reservation is made;
Dress is casual;
Children under 3 years of age may enter free provided that they will be sitting on a parent's lap and eating from the parent's plate – if they need their own seat and meal then the children's rate applies;
Public parking lots are available on the Exhibition Grounds – rates vary.
Related Links
Royal Ontario Museum – Ultimate Dinosaurs Exhibit
Have you liked our Facebook page yet? I post articles from the blog there as well as photo albums from our travels and other travel news. Or, if you prefer, you can subscribe to the free RSS feed or sign up for an email subscription to keep up-to-date on our travel adventures.