A review of our family's stay at the Four Seasons Las Vegas.
Announce that you are taking your 9 year old daughter to Las Vegas and you are bound to raise a few eyebrows. While there's no escaping the fact that this is a city that targets adult visitors, it can be enjoyed by families as well and we found the perfect way to do it – a stay at the Four Seasons Las Vegas which is a luxurious oasis of calm and serenity for families amid the hustle and bustle of the Strip.
This article may contain affiliate links. If you click an affiliate link and make a purchase then Gone with the Family may receive a small commission at no additional cost to you.
We checked in early on a Sunday afternoon and within moments of walking into our room my daughter was breathless with excitement. We had not yet settled into our room before a knock on the door heralded the arrival of a "welcome" treat that was soon followed by delivery of a kid-sized bathrobe and Emma's very own bath products. The Four Seasons Las Vegasknows how to pamper kids and make them feel special and every parent knows that if the kids are happy then the rest of the vacation is going to be a breeze.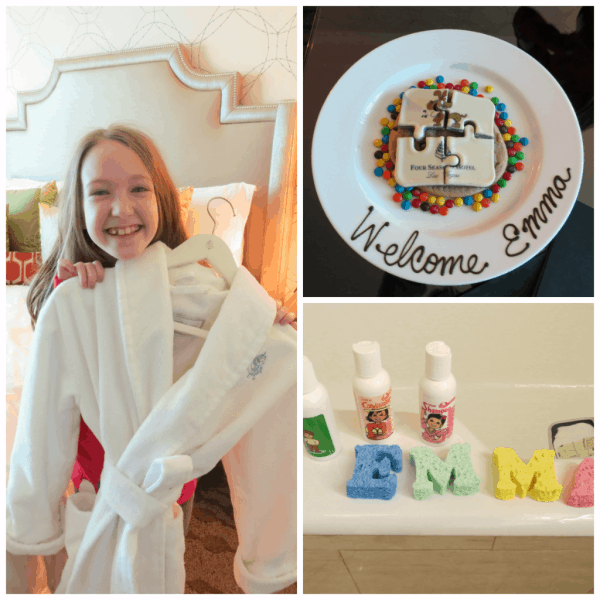 Accommodations at the Four Seasons Las Vegas
The rooms at Four Seasons Las Vegas had been recently renovated and were both stylish and comfortable. Our spacious 1100 sq. ft. one bedroom suite featured a separate bedroom with a king bed, a dressing area and a marble ensuite bath with a walk-in shower that I loved. It's all very chic but not in a "I shouldn't have brought my kids here" way so families can relax and enjoy their stay.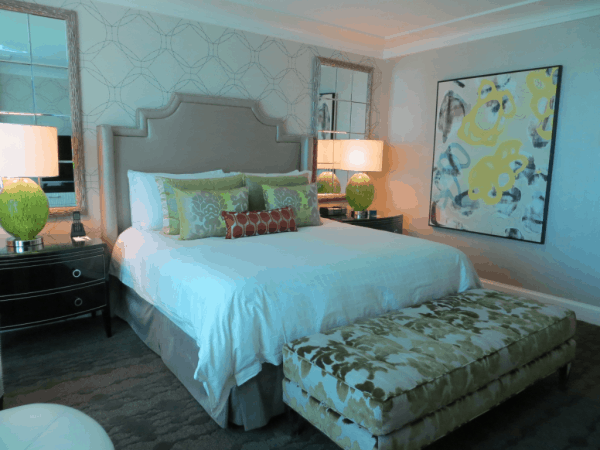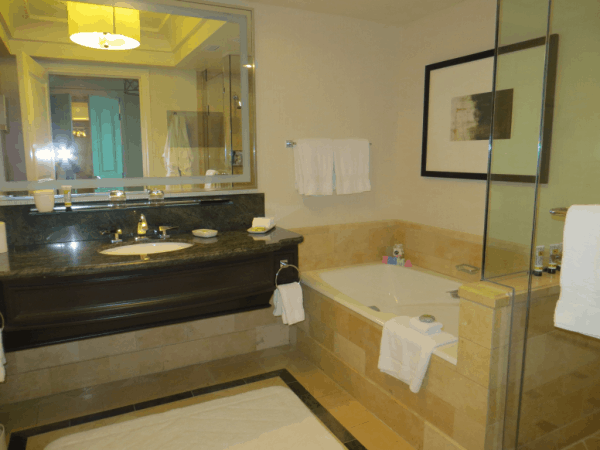 The living area was furnished with a double pull-out sofa where Emma slept. The convenience of having separate rooms so that we don't have to sit in the dark when she's ready to go to sleep has become a priority when choosing hotel accommodations. Our teenage daughter was on a school service trip this spring break but it's even more important to have such spacious quarters when she's traveling with us. We also appreciated the powder room in the foyer which allowed us to get ready quickly in the morning without tripping over each other.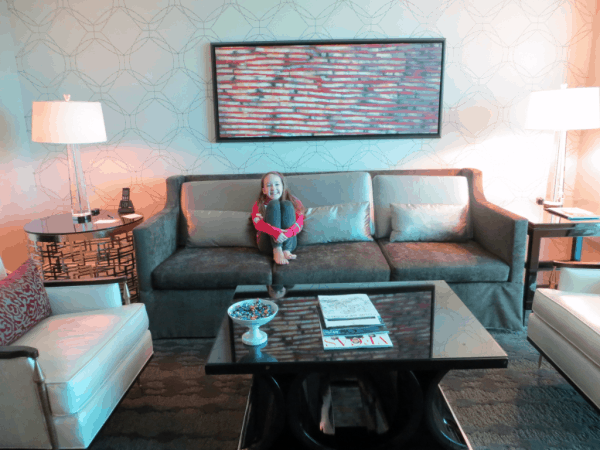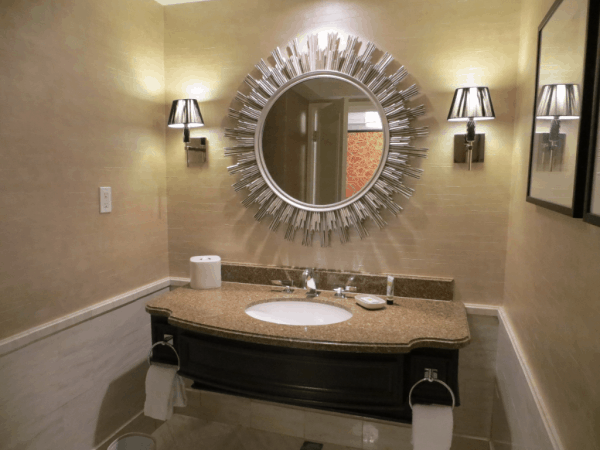 Emma was particularly impressed by the integrated television in the mirror of the master bath. If we had let her then she might have spent far too much time standing in the bathroom flicking channels!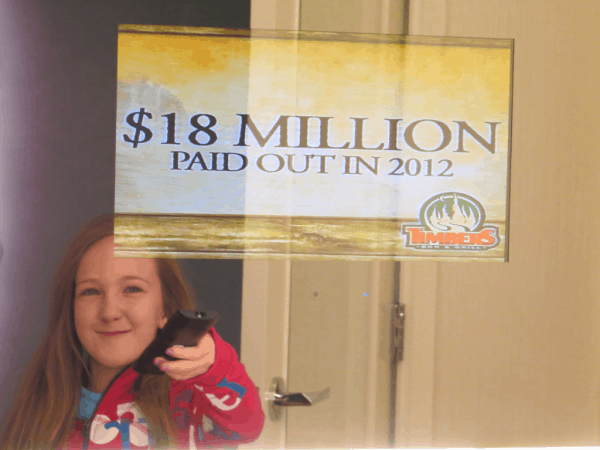 Four Seasons Las Vegas Pool
We were fortunate that the pool at the Four Seasons had just been opened a few days prior to our arrival. It has also been recently renovated and is a luxurious haven from the livelier activity around the Mandalay Beach pool complex. The weather was sunny and hot for the duration of our visit and if there hadn't been so many attractions to take in on the Strip then I could have easily whiled away hours reading on one of the comfortable pool-side chaise lounges.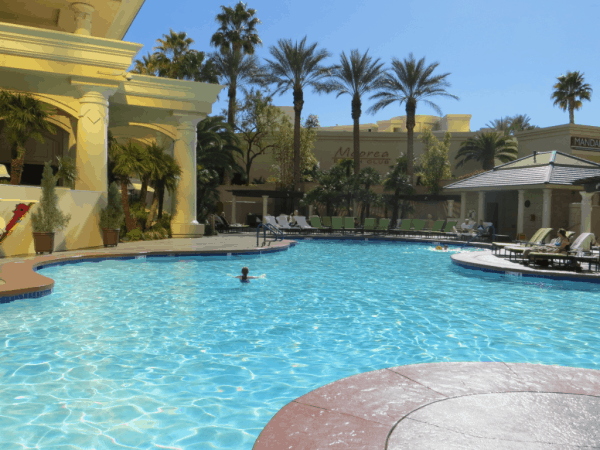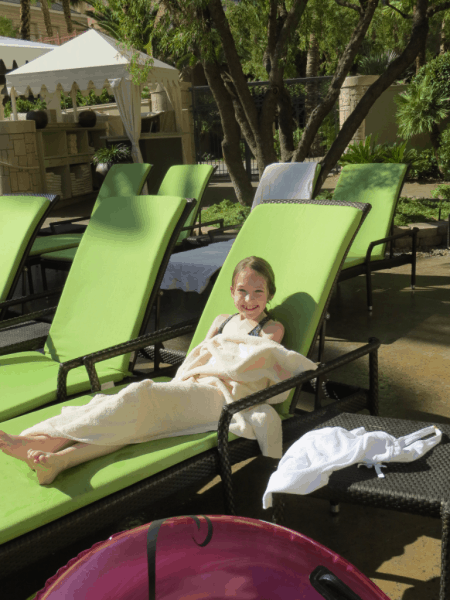 Mandalay Bay Pool Complex
Guests of the Four Seasons Las Vegas also have access to the Mandalay Beach pool complex and its real sand beach which was a big hit with my 9 year old. Emma couldn't get enough of floating down the Lazy River or splashing in the Wave Pool.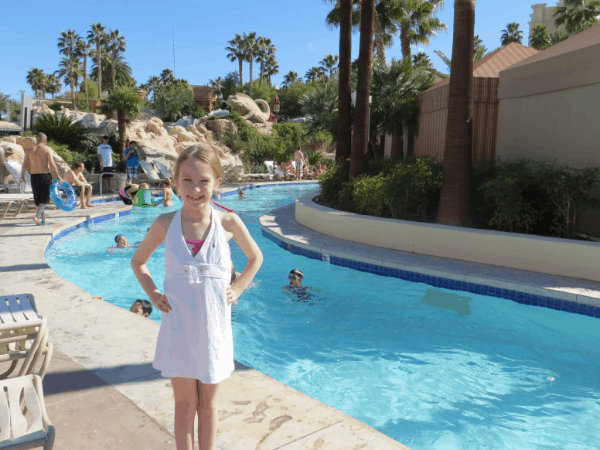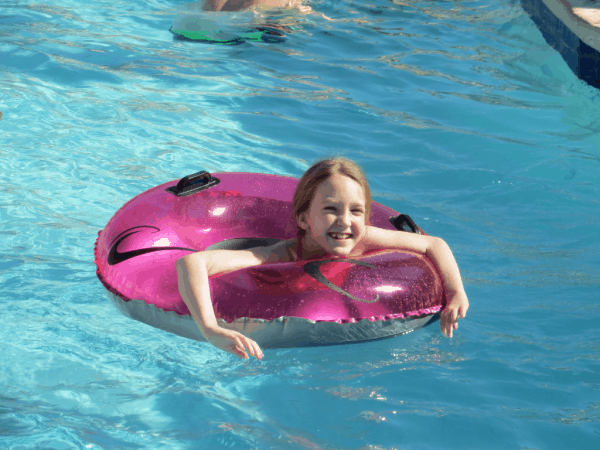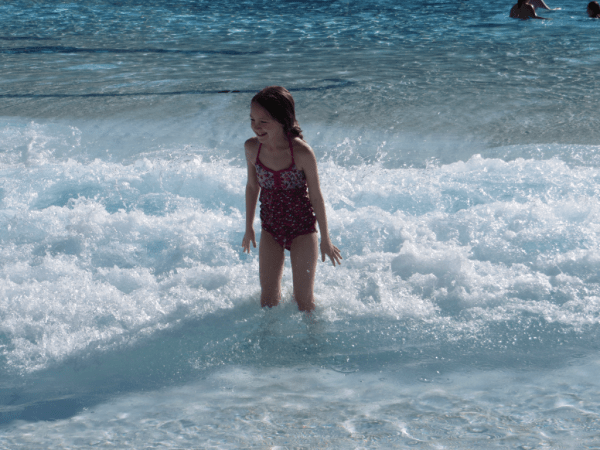 Dining at the Four Seasons Las Vegas
We dined at the family-friendly Verandah two of the four nights that we spent at the Four Seasons as we enjoyed the relaxed dining experience and the delicious Italian fare.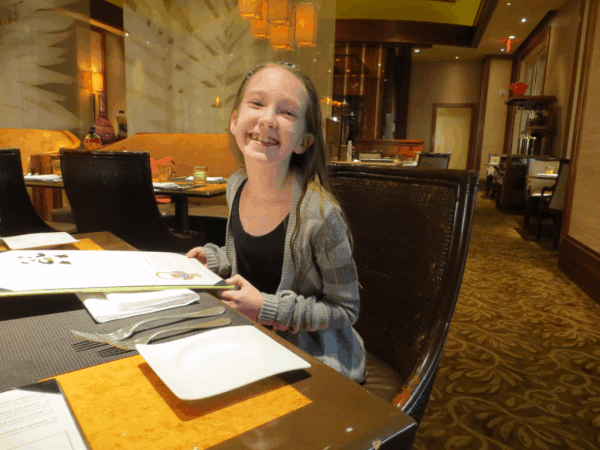 The Bottom Line
This hotel is ideal for families who wish to see the sights around Las Vegas Boulevard but have a quieter home base to which they can retreat. The rooms are stunning, the service is exemplary and even the weather is perfect with warm temperatures and sunshine that provide a welcome escape from winter. It doesn't take long for a family to start feeling like this is their home away from home.
On our way to the airport the morning of our departure, we chatted with the cab driver about our first trip to Las Vegas and what we thought of various hotels when it suddenly occurred to Emma that each hotel had a theme. "But did our hotel have a theme?" she wanted to know. I thought for a moment before answering "yes, the Four Seasons does have a theme. Luxurious relaxation – my favourite theme of them all." 
What You Need To Know
The Four Seasons Las Vegas is located at 3960 Las Vegas Blvd. S. on floors 35-39 of Mandalay Bay. The location at the end of the Strip means it is much quieter than hotels located in the centre of the action.
The hotel has 424 guest rooms, including 81 luxurious suites.
The Four Seasons is a non-gaming hotel but is connected to Mandalay Bay Resort & Casino.
Infants and children can be accommodated in their parents' room in a crib or rollaway (there's an extra charge for a rollaway). Childproofing services are also available.
WIFI is included as part of the daily resort fee.
Dining available on-site at Verandah and Charlie Palmer Steak. Four Seasons guests also have signing privileges at Mandalay Bay's restaurants.
There are 2 Starbucks locations in the Mandalay Bay resort.