A review of the memoir Here We Are and There We Go by Jill Dobbe.
I have just finished reading Jill Dobbe's inspirational memoir, Here We Are & There We Go, which chronicles her family's unconventional lifestyle of living and teaching abroad with two young children.
The memoir covers the period from 1991 when the family moved with toddlers to Guam for their first overseas experience to their move home to the United States in 2001. In between they also lived in Singapore, Ghana, and Guadalajara, Mexico.
I enjoyed reading Jill's account of their time spent abroad and what she learned from the experience. Jill doesn't sugarcoat some of the difficulties that they had living abroad and adjusting to lifestyles that were much different that what they were accustomed to at home in the United States. Relying on her journals from the time, Jill transports the reader along with her family to each of these foreign locales as she describes the life that she, Dan, Ian and Ali led as expatriates.
Even more enlightening is the description of the reverse culture shock that they experienced upon returning home to Wisconsin to live after so many years abroad. Getting accustomed to the new norms of North American lifestyle was as much of an adjustment as it had been learning the ropes of foreign cultures. Jill describes visiting an American supermarket and being completely overwhelmed by the number of choices in the cereal aisle – a poignant reminder of how different the consumer culture is here from the way people live in most of the world.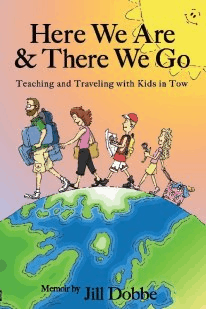 Ian and Ali have now graduated from college and have embarked on careers and their own travel adventures while Jill and Dan continue to teach abroad and explore the world. The couple are currently working as administrators at the American school in Tegucigalpa, Honduras but only until they decide "here we go again", pack up their lives and head out on a new adventure abroad.
This is an easy-to-read and inspiring tale of how one family satisfied their wanderlust with kids in tow and I enjoyed it from start to finish. I would have loved to have had so many more details of the experiences that the Dobbe family had in each of their homes.
I'm sure that Jill could have written an entire book about each of the countries that she lived in had she done it at the time rather than many years on. While I was reading I couldn't help but think that Jill's story would have made for some incredible blog reading if the medium had existed at the time!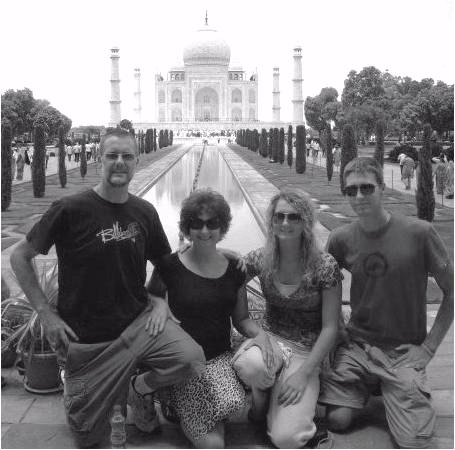 The book is available in Kindle format at Amazon and at Barnes & Noble in paperback version. I was provided with a copy of the book for review purposes by the author.
We are a participant in the Amazon Services LLC Associates Program, an affiliate advertising program designed to provide a means for us to earn fees by linking to Amazon.com and affiliated sites. As an Amazon affiliate I earn from qualifying purchases.